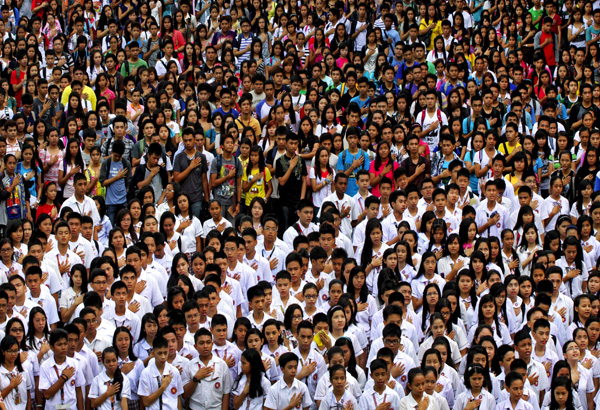 DepEd said data in its learner information system showed that there are 1,009,139 students enrolled in Grade 11. Philstar.com/File photo
LGBT students face bullying, discriminatory policies in schools
MANILA, Philippines — Students in the Philippines face bullying and discrimination over their sexual orientation and gender identity and many schools are not equipped to give them the support they need, a Human Rights Watch report released Thursday said.
"LGBT students in the Philippines are often the targets of ridicule and even violence," Ryan Thoreson, a fellow in the LGBT rights program at Human Rights Watch, said, citing interviews with 76 high school students and recent graduates who identified as LGBT or questioning.
HRW also interviewed 22 students who did not identify as LGBT or questioning, and 46 parents, teachers, counselors, administrators and experts.
"When I was in high school, they'd push me, punch me," Carlos M., a 19-year-old gay student from Olongapo City, said in the HRW report called "'Just Let Us Be': Discrimination Against LGBT Students in the Philippines." Carlos added that the abuse did not end when classes did, saying he was followed, pushed and verbally abused after school.
This, despite a law against bullying and Department of Education guidelines prohibiting bullying on the basis of sexual orientation on the basis of sexual orientation and gender identity, HRW said. Many of the respondents said they were not aware of policies against bullying or did not know who to turn to in case they were bullied or harassed.
"President Duterte has spoken out against bullying and discrimination against LGBT people in the past, and he should do so now," Thoreson said.
The bullying and harassment can have long-term effects, as Benjie A., 20, says in the report. "I was depressed, I was bullied, I didn't know my sexuality, I felt unloved, and I felt alone all the time. And I had friends, but I still felt so lonely. I was listing ways to die," he said.
HRW said schools can address these issues by educating students, teachers and the staff on LGBT people and issues.
"Unfortunately, positive information and resources regarding sexual orientation and gender identity are exceedingly rare in secondary schools in the Philippines. When students do learn about LGBT people and issues in schools, the messages are typically negative, rejecting same-sex relationships and transgender identities as immoral or unnatural," HRW, which notes the influence of the Catholic Church on issues dealing with sexuality, said.
It does not help that many school policies like those on uniforms and hairstyles forced LGBT students to sometimes appear in a manner inconsistent with their gender identity, which, HRW said, "made them unhappy and uncomfortable, lessened their confidence, and impaired their concentration."
For some, these policies "were sources of intense anxiety and humiliation, and in some cases led to extended school absences and even leaving schooling entirely."
Although there have been moves to pass an Anti-Discrimination Bill, which will prohibit discrimination on the basis of sexual orientation and gender identity, legislation has been met with opposition from the church and allied groups that tie the passage of the bill to same-sex marriage, which the bill does not seek.
HRW said that aside from speaking out against bullying, President Rodrigo Duterte can voice support for legislation "that prohibits discrimination on the basis of sexual orientation and gender identity, including in education, employment, health care, and public accommodations."
The president's PDP-Laban party enjoys supermajorities in both chambers of Congress and he can certify pieces of legislation as urgent to speed up the legislative process.
Local government units, meanwhile, can pass similar ordinances or release the implementing rules and regulations for already existing ordinances against discrimination.
HRW also urged the Department of Education to train staff on LGBT issues and terminologies through training sessions with LGBT groups.
DepEd should review compliance with the Anti-Bullying Law and the department's policies against bullying in schools and recommend that schools address sexual orientation and gender identity issues, the rights watchdog said.
It said DepEd can also order schools to respect students' gender identity "with regard to dress codes, access to facilities, and participation in curricular and extracurricular activities."
HRW said the DepEd should also "immediately review all curricula, including textbooks and teaching materials, to ensure that LGBT issues are incorporated" while also removing material that is inaccurate or derogatory of LGBT people.