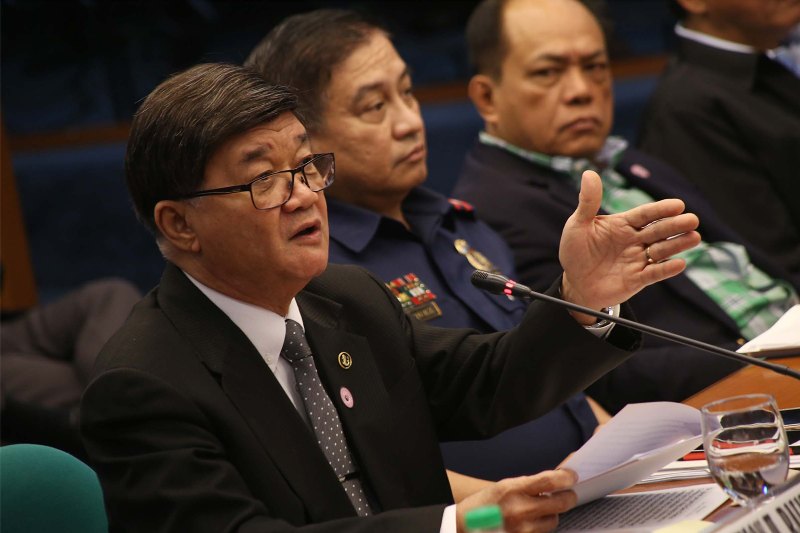 Justice Secretary Vitaliano Aguirre testifies at the Senate hearing on Tuesday (January 31) at the Senate Building in Pasay City. PNA/Avito C. Dalan
Duterte officials hold drug suspects, criminals not human
Philippine Constitution, UN rights declaration say suspects and criminals actually also human
MANILA, Philippines — Justice Secretary Vitaliano II on Wednesday dismissed concerns raised by an international human rights watchdog that drug-related killings in the country may constitute crimes against humanity under international law.
Amnesty International has raised the alarm over what it sees as the deliberate, widespread and systematic killings of alleged drug offenders which appear to be planned and organized by authorities.
The Justice secretary, however, said that he does not consider criminals part of humanity.
"The criminals, the drug lords, drug pushers, they are not humanity. They are not humanity," Aguirre said despite a pledge posted on the Department of Justice website to "provide every person equal access to justice, to faithfully safeguard constitutional rights and to ensure that no one is deprived of due process of law."
Aguirre's statement also flies in the face of the Universal Declaration of Human Rights, of which the Philippines is a signatory and which holds that "all human beings are born free and equal in dignity and rights."
The same declaration holds that all people are entitled to rights and freedoms "without distinction of any kind, such as race, colour, sex, language, religion, political or other opinion, national or social origin, property, birth or other status", including being suspected of involvement in a crime.
Aguirre's statement, one that has also been expressed by other government officials, also contradicts the 1987 Constitution that he swore to uphold and that declares that the state "values the dignity of every human person and guarantees full respect for human rights."
The same constitution, ratified 30 years ago on Thursday, also holds that "no person shall be deprived of life, liberty, or property without due process of law, nor shall any person be denied the equal protection of the laws."
Aguirre not alone
Aguirre is not the only member of the Duterte administration who has expressed disdain for the rights of suspects, whom they view as less than human. House Speaker Pantaleon Alvarez on Wednesday said that he personally has no problem with vigilante killings and that he would prefer a shoot-to-kill order on criminals.
In July 2016, Solicitor General Jose Calida, the country's top lawyer, said in reaction to the deaths of people suspected of being involved in drugs that: "To me, that is not enough."
President Rodrigo Duterte has also justified the killings of drug suspects in the country saying they are not human.
"Crime against humanity? In the first place, I'd like to be frank with you: Are they humans? What is your definition of a human being?" Duterte told soldiers while visiting an army camp in August last year.
"Human rights? Use it properly in the right context if you have the brains," the president said.
'Killings not state-sanctioned'
The international watchdog called on Duterte to order an immediate halt to all extrajudicial executions in the country.
The Palace has said that there are no extrajudicial killings in the country but stressed Wednesday that "the extrajudicial deaths are not state-sanctioned."
Presidential spokesperson Ernesto Abella also said that a Senate investigation determined "there is no state-sponsored policy of extrajudicial deaths and that there is relentless effort on the part of the PNP (Philippine National Police) to carry out the campaign properly and within legal processes."
AI Crisis Response Director Tirana Hassan said that the Philippine should move away from lawlessness and lethal violence. She also asked the government to reorient its drugs policies based on the protection of health and human rights.
"We are also calling on the Philippines Department of Justice to investigate and prosecute anyone involved in these killings, regardless of their rank or status in the police or government," Hassan said.
Hassan warned that the international community may turn to the prosecutor of the International Criminal Court to carry out a preliminary investigation into the killings, including the involvement of state authorities. ?— with Jonathan de Santos