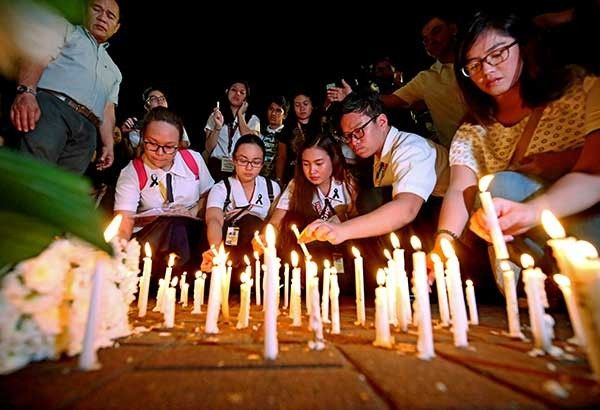 LATEST UPDATE: October 8, 2019 - 7:59pm
LOCATION:
+ Follow Story
October 8, 2019
The family of Darwin Dormitorio, the Philippine Military Academy cadet who died after beatings from his fellow cadets, filed hazing, torture and murder raps against seven PMA cadets Tuesday afternoon at the Baguio City prosecutor's office.
Named as respondents in the complaint were 1CL Axl Rey Sanupao, 2CL Christian Zacarias, and 3CLs Rey David John Volante, Julius Carlo Tadena, John Vincent Manalo, Felix Lumbag Jr. and Shalimar Imperial.
They face complaints of violating the anti-hazing law, anti-torture law and murder filed by the Dormitorio's, represented by the family's eldest, Dexter.
The Dormitorios also named Maj.Rex Bolo and Capt. Jeffrey Batistiana, already relieved from their posts in the academy, as accomplices in the anti-hazing law violation.
— The STAR/Artemio Dumlao
October 3, 2019
Dexter, older brother of fourth class Philippine Military Academy cadet Darwin Dormitorio, arrived in Baguio City on Thursday in fighting form. He wants an airtight case against the cadets responsible for his brother's death at the academy.
The older Dormitorio, assisted by lawyer Jose Adrian Bonifacio, met with the heads of the Baguio City Police to iron out the nitty-gritty of the cases to be lodged against 1CL Axl Rey Sanupao, 2CL Christian Zacarias, and 3CLs Rey David John Volante, Julius Carlo Tadena, John Vincent Manalo, Felix Lumbag Jr. and Shalimar Imperial.
Earlier, Police Col. Allen Rae Co of the Baguio City police said they are thinking of filing murder and/or anti-hazing law violation charges against the seven cadets.
Bonifacio, who will act as a private prosecutor in the case, hinted that as far as he is concerned, he wants all those involved in Dormitorio's death be indicted, including the two physicians and even tactical officers. — The STAR/Artemio Dumlao

September 26, 2019
Aside from being beaten up, Philippine Military Academy cadet Darwin Dormitorio was also electrocuted with a flashlight-taser, police say.
PNP Baguio City & PRO-Cordillera Regional Director BGen Israel Dickson says they have 2 additional suspects on the death of PMA Cadet 4th Cl Dormitorio, who harmed him with a kick to the head, and electrocuted him with a flashlight-taser @News5AKSYON @onenewsph pic.twitter.com/gycn6hWxKU

— Pat Mangune TV5 (@PatMangune) September 26, 2019
Police also announce that they have two more suspects in Dormitorio's death.
According to reports, Dormitorio was beaten after losing an upperclass cadet's combat boots.
September 25, 2019
Three cadets dismissed from the Philippine Military Academy over the hazing death of 20-year-old Darwin Dormitorio will face charges of violating the Anti-Hazing Law, the Baguio police say.
Col. Allan Rae Co, city police chief, says dismissed cadets Shalimar Imperial and Felix Lumbag–both squadmates of Dormitorio–and Axl Ray Sanupao, who reportedly "encouraged" the hazing will be charged for violation of Republic Act 11053 (Anti-Hazing Law) in civilian courts.
Brig. Gen. Bartolome Bacarro, who has resigned as commandant of cadets, on Tuesday said Imperial and Lumbag were dismissed from the Cadet Corps of the Armed Force of the Philippines for their direct participation in the maltreatment of Dormitorio leding to his death while Sanupao was also dismissed for encouraging the brutalities inflicted on the fourthclassman. – The STAR/Artemio Dumlao
September 24, 2019
The Philippine Military Academy should "relentlessly pursue" justice over the death of Darwin Dormitorio, a military cadet believed to have died from hazing, Senate President Pro Tempore Ralph Recto says.
Recto, former chair of the Ways and Means committee, points out that PMA cadets are also public scholars and that the government spends more for their education than it does on University of the Philippines students.
"Using the previous four years' appropriations and reported number of cadets admitted, the cost of producing one PMA graduate is about P2.982 million. Compare this to the P507,000 to produce a UP graduate of a four-year course," he says.
"As such, PMA cadets are 'the people's investments', to whom the defense of the Republic will later be entrusted. Bawat isa sa kanila ay mahalaga.
If they will have to drop out, then it must be on their own steam, and not on a stretcher out of a hospital or morgue."
September 24, 2019
Army Lt. Gen. Ronnie Evangelista announces he has resigned as superintendent of the Philippine Military Academy as an investigation into the alleged hazing death of Darwin Dormitorio, a cadet there, continues.
The announcement comes less than a day since he said he would stay on unless President Rodrigo Duterte tells him to quit over the controversy. He said he would rather stay at least until the PMA weathers the crisis.
In a briefing streamed by the Philippine Information Agency in the Cordillera Administrative Region, Evangelista says what happened to Dormitorio was an isolated case.
"Accidents happen, not only in the PMA," he says, pointing out that the last time that a cadet died of "maltreatment" was 18 years ago.
"Nobody wants this kind of fatal accident to happen," he says, adding he wants to assure the more than 33,000 who applied to study in PMA that they are safe.
September 23, 2019
The Armed Forces says there are two more PMA cadets recovering in the hospital due to injuries believed to be due to hazing inside the academy.
September 23, 2019
Justice Secretary Menardo Guevarra orders the National Bureau of Investigation to launch a probe into and build a case over the death of Philippine Military Academy Cadet 4th Class Darwin Dormitorio.
Guevarra also directed Dante Gierran, director of the investigation bureau, to submit reports on the progress of the case to the Justice secretary.
The government last week admitted that Dormitorio's death on Wednesday, September 18 was likely due to hazing in the military training camp.
September 23, 2019
President Rodrigo Duterte is angry over the recent hazing death at the Philippine Military Academy, says his spokesperson Salvador Panelo at a press briefing.
Malacañang vowed to prosecute those behind the incident.
Panelo added that the PMA superintendent should resign over the death of cadet Darwin Dormitorio, but clarified that the call is only his, not the president's.
September 20, 2019
Philippine Military Academy officials say they believe that the death of 4th class cadet Darwin Dormitorio was caused by blunt force trauma due to hazing.
Dormitorio, 20, died after vomiting and complaining of stomach pain inside the barracks of the PMA on Wednesday.
The physician initially said that the cause of death was cardiac arrest secondary to internal hemorrhage. — with report from Artemio Dumlao
Monitor updates on deaths caused by hazing in the Philippines.