Bela Padilla to launch platform for filmmakers and fans to co-create films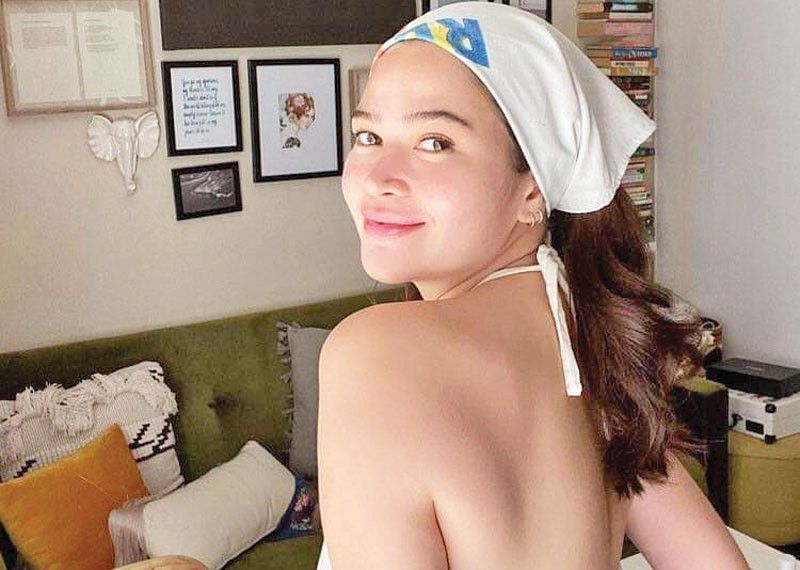 MANILA, Philippines — Bela Padilla is eyeing to release end of this year an NFT-centric platform that enables fans to be involved in the production of films and TV series.
"We have a website already called AndRoll.The idea of AndRoll is, hopefully, we change or we kind of disrupt the system as gently as we can but in a positive way," the actress-filmmaker told The STAR in a recent interview.
"It's an NFT-centric platform. So, basically the NFT holders are people who get to have a way in the projects that AndRoll releases through my production house," she said.
NFTs are non-fungible tokens representing digital and real-world items that can be purchased and sold on a platform.
According to its website, AndRoll is a "community of filmmakers and fans in the metaverse and real world," which allows "movie and TV fans" to be part of the production and decision-making process — alongside directors, producers, screenwriters, artists and actors — with access to script excerpts, pre- and post-production discussions and voting.
"Collaborators, on the other hand, get to strengthen their community of fans, backers and supporters by picking their brains and co-creating their film projects," the site further said.
Bela cited as an example her last film, Spellbound, co-starring Marco Gumabao. If it were enrolled in the platform, she said, "The fans can vote what Marco will wear in a certain scene," etc.
As per website, the "roadmap" for AndRoll has two phases. The ongoing first phase includes setup of landing page with its first movie project, White Noise, the release and mint or sale of White Noise NFT, and release of a co-creation platform and marketplace, as well as setup of external recordings of production meetings, and Q&As with Bela being the film director.
For the second phase in 2024, Bela and her team are looking to turn the platform into a real-life masterclass for filmmaking. There will be access to production meeting recordings within the platform; commenting and posting options; and next-gen releases of new film and TV projects, among others.
Her first project with AndRoll, White Noise, is a father-son drama in the aftermath of the COVID-19 pandemic. It will be shot in Switzerland December of this year. The film is written, directed and produced by Bela.
Through the platform, she said, fans "can read blogs that I personally write about filmmaking processes such as writing, why this part of the script is important. Basically, a masterclass in writing and directing, and anything production-related."
"So, I tapped several members of the productions I've worked with to also help me, I guess, in areas na 'di naman ako expert."
She continued, "So, it's really like a deep dive into filmmaking because I noticed we don't have enough courses in the Philippines. Or, aspiring filmmakers just don't know where to start. So, yes, that's why we're doing AndRoll."
Bela is one of the first Filipino celebrities who joined the NFT community. Asked how she got interested in it, she said, "I have friends in the UK that are very active in this. They've all released their own NFTs there that became very successful. There's some of them na parang the first few talaga, the pioneers.
"So, I go a lot to their talks, to their events. I flew to Dubai last year to join the finance blockchain."
Her developers for the platform are based in Vietnam "but my team is kind of a global team. I have consultants in the UK, from the UAE."
"But since I'm kind of spearheading this, if it's successful, hopefully, then we're going to be the first NFT platform na sana globally recognized because we're aiming to tap aspiring filmmakers worlwide, not just in the Philippines," added Bela, who's been shuttling between the Philippines and London these past two years.
She was inspired to establish AndRoll by a Spanish film bankrolled by NFTs.
"Honestly, I got this idea because there's a Spanish film and film festival completely funded by NFTs. So, I was thinking, wala silang middleman, wala silang big production house na gusto i-produce sila."
Bela appeared to be referring to Calladita, touted as the first European film fully funded by NFTs. It tells the story of a Colombian woman who works in Spain as a maid. It was reportedly acquired by HBO recently.
"They sourced the money through NFT, so I was like, that's really brillant. You know, kids nowadays, if they have a goal, if they want to create a film, sila na maghahanap ng budget nila, maghahanap ng crew nila, parang na-inspired ako," she said.
"Through AndRoll, I want to give (an opportunity) to the young and aspiring, or not necessarily young filmmakers, but who have a dream."
Bela will be next seen in Viva Films' Yung Libro Sa Napanood Ko, one of the official entries to the 2023 Summer Metro Manila Film Festival.
Written and directed by the actress herself, it follows Lisa (Bela), a Filipino author who meets her fan, a Korean man named Kim Gun Hoo (Yoo Min-gon), at her book-signing event. But their history, it turns out, is not as simple as that. The movie starts screening in theaters on April 8.