TV5's Sing Galing is first to air live from the newly restored MET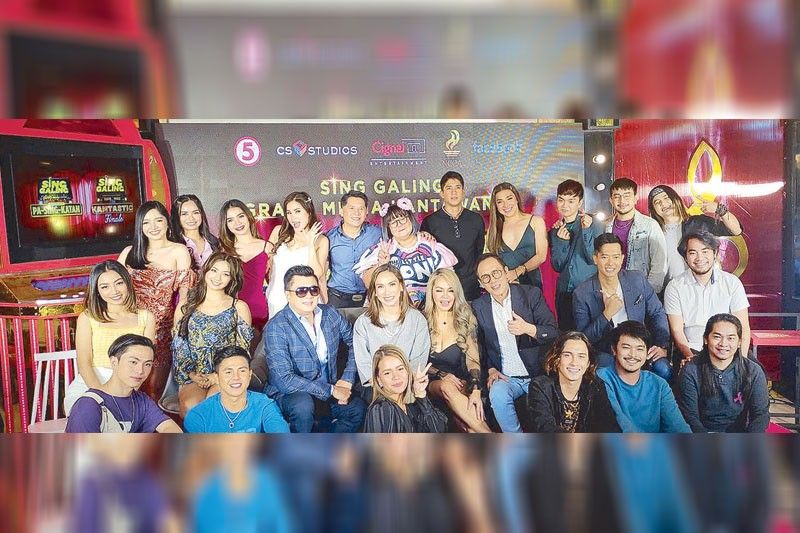 Historical was the most repeated word when TV5 held its first "new normal" on-site press conference at The Metropolitan Theater, which was recently restored and re-opened to the public after 25 years. The MET, as the 90-year-old architectural art deco structure is known, has been announced as the venue for the back-to-back grand finale of Sing Galing, the Philippines' original videoke game show which made a comeback on TV5 last year.
For two consecutive Saturdays, Sing Galing will be airing live from the MET its Sing-lebrity Edition Pa-Singkatan today and the Sing Galing Kantastic Finale on March 12. This marks the first time a live grand finale will be airing from the Philippines' oldest existing theater since its much-awaited restoration.
Nostalgia hung thick in the air as Sing Galing Sing Master Randy Santiago, Juke Boss Rey Valera and Sing-lebrity Edition grand finalist Chuckie Dreyfus all shared their fond memories of the MET during its glory days. Santiago and Dreyfus recalled their tapings for the variety show Vilma in the '80s while Valera had countless memories of the MET's sentimental halls and stage.
"It's like stepping into something so familiar yet somehow new. Everything is the same, but you know that something has changed," they all agreed, adding that they had goosebumps when they first set foot inside the MET in decades.
"It's an honor to be here again and to be part of the TV program that will be the first-ever to air a live show in this historical theater. It's fitting because Sing Galing is also making history with the many 'firsts' that it is announcing today. This program is very close to my heart. All of us here treat each other as family. We've bonded with the writers, the staff, the tech crew, everyone in the show. The contestants are like my children. In fact, I'm composing songs for each of the 10 semi-finalists. I've finished four songs so far, and I plan to write six more for the rest of the team. Even if they don't win, I want them to have a song they can call their own. I have high hopes for these kids," Valera shared.
Aside from being the first to air live from the MET, Sing Galing's "many firsts" include the show's partnership with Meta's Facebook for the first-of-its-kind online voting in the country where viewers can vote for their choice of Ultimate BidaOke Sing-lebrity and Ultimate BidaOke Star via Facebook Messenger for free. This is a broadcast innovation that marks the first time a Philippine television show utilizes Facebook Messenger as its official voting platform.
To vote, viewers can either scan the QR code shown on-air and online or comment VOTE in Sing Galing's Facebook page to be redirected to Sing Galing's Facebook Messenger. They can also directly go to Facebook Messenger and look for Sing Galing's account to send a message.
Voting via Facebook Messenger will be opened to all viewers from Luzon, Visayas and Mindanao during the live airing of Sing Galing's finale today, March 5, and March 12.
Another first for Sing Galing is the recognition of its country-wide Pambansang Videoke Day on March 12 as supported by the National Commission for Culture and the Arts (NCCA), which now owns the MET and is responsible for its restoration. This partnership with NCCA further promotes Filipino culture and our common love for videoke singing.
"Music plays a big part in our culture as a people, and videoke is as Filipino as you can get," Valera said. "In every barangay, everywhere in the country, you will find people singing videoke. You're a Filipino, you've probably once in your life sung videoke, if not multiple and countless times. This is why Sing Galing has earned that distinction of promoting the Filipino's videoke culture. It's not a singing show per se, but a venue for music lovers to sing videoke. Hindi siya puro biritan. Our contestants sing the way they will sing in a regular videoke session, the way we Filipinos sing videoke with our friends and family. That's what makes this show unique and close to every Filipino's heart."
The first-ever Pambansang Videoke Day coincides with the March 12 Sing Galing grand finale, where contenders of the show's regular edition will battle it out for the title of Ultimate BidaOke Star and the jackpot prize of P1 million plus a house and lot. Prior to that, the March 5 finale features Sing Galing's Sing-lebrity Edition's grand finalists Aljur Abrenica, Pepe Herrera, Patrick Quiroz, Boobsie Wonderland, Jerald Napoles and Chuckie Dreyfus who are all vying for the Ultimate Sing-lebrity BidaOke title which comes with a P1 million grand prize.
True to the MET's distinction as the oldest existing theater in the country, Sing Galing makes a fitting tribute to this national treasure by making history with its live back-to-back grand finale, the groundbreaking partnership with Meta's Facebook for the show's free online voting component, and the national celebration of the NCCA-recognized Pambansang Videoke Day right where the finest of Filipino culture is most remembered.