Saweetie: I love my Filipino side!
November 10, 2021 | 12:00am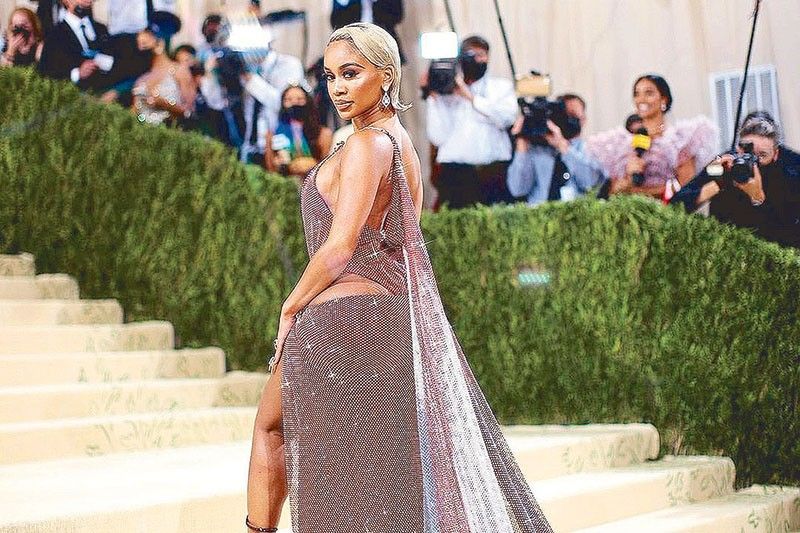 Every chance Saweetie gets, she flaunts her Pinoy roots.
If you've seen the 28-year-old Filipino-American rap star's social media, interviews or appearance at the 2021 Met Gala, where her gown was adorned with the colors of the Philippine flag, her oozing #PinoyPride is something to be proud of.
Saweetie, whose real name is Diamonté Quiava Valentin Harper, was born to a Filipino-Chinese mother Trinidad Valentin, and African-American father Johnny Harper.
After two EPs that produced the viral debut single Icy GRL (2017), her smash hit My Type (2019) and her three-week No. 1 song Tap In on Billboard's Top Triller US chart (2020), Saweetie has made 2021 her year by further breaking chart records.
As per Billboard, her single Fast (Motion) gave the singer the first No. 1 debut of the year and her second Top Triller No. 1, while her Best Friend featuring Doja Cat, soared to No. 1 on the Rap Digital Song Sales, thus making her the fifth female rapper to score three No. 1 songs on the Rhythmic Airplay chart.
More music coming up via her first album titled Pretty B**tch Music, two songs of which, the early release Best Friend and Back To The Streets, she will perform at the 2021 MTV EMAs happening in Budapest, Hungary on Nov. 14 (Nov. 15 at 3 a.m., Manila time with same-day broadcast at 8 p.m.).
Apart from performing, Saweetie is also hosting the music awards show, where she also nabbed a nomination for "Best New" alongside fellow Fil-Am singer-songwriter Olivia Rodrigo.
"We're thrilled to have Saweetie host and perform at this year's EMAs in Budapest," said Bruce Gillmer, president of Music, Music Talent, Programming & Events for ViacomCBS in a media statement. "Saweetie is a multi-talented force who will undoubtedly light up the stage on one of music's biggest nights."
In a recent virtual interview organized by MTV for the international press, Saweetie hinted at serving some serious fashion looks during the show.
"I will have a minimum of 10 looks. I will be utilizing every single corner, platform of the room. So, make sure you watch because we're going to be having a good time. I'll be presenting, performing and I'm also nominated so I'm just really grateful for the recognition," she said.
She also promised "just fun" as a host. "I watched a lot of MTV shows growing up, and one thing that I appreciate and love about MTV is that they're wild and I'm wild.
"So, I want to have a good time with the different sets, different outfits and watching the different artists perform. I'm honestly just really excited."
Asked how it felt to be back on the road and hitting the stage anew after strict travel restrictions due to COVID-19, she said, "Well, there are still strains out there. So, I try to go out only when it's necessary. Because COVID is real and I want to make sure I'm protected. My schedule is so busy, I can't just be risking myself by being outside. So, I go outside primarily for work."
During the early-morning media junket, the two of us Filipino press members scored the first opportunities to ask Saweetie a question. And her face immediately lit up into a huge smile upon the mention of the Philippines.
"Yes (I've been to the Philippines). I've been to Boracay, I've been to Cebu. I've been to Palawan and Manila. My mom's from Tondo," she said.
Filipino fans are in for a special surprise in her album. "You can expect me saying a couple of lines in Tagalog," she teased.
Besides being a musician, Saweetie runs with her grandmother the Icy Baby nonprofit foundation, which is aimed at "making a difference for communities of people who look like me" and shows her entrepreneurial side via her own Icy jewelry line.
Below are other interview highlights:
On how her Filipino and Asian heritage influenced her as a person and music artist:
"Being multicultural, like being Black, being Filipino, being Chinese, I think it taught me at a really young age that no group of people are the same. However, we have to respect them, their cultures, their values, their morals, so I'm really grateful.
"It was kind of difficult as a little kid because both of my families were like night and day. But I love my Filipino side. My mom's an immigrant. All of my aunties, my uncles, my Lolo, my Lola, they're all immigrants. So, I'm very like, honored and blessed to be raised in a family that has traditional Filipino morals and values."
On lessons from her parents that helped her succeed in the music business:
"For one, my mom's a tiger mom. Yeah, she would make me rewrite all of my homework, if it was ineligible, like I had to have perfect handwriting and they ended up paying off. I was really disciplined, people love my handwriting… And then her mantra was if you're gonna do something, do it right. So, if I spent like two hours doing my homework the wrong way, writing it the wrong way, I had to spend the extra two hours correcting it. So, at a young age, she taught me if you're gonna do something and do it right.
"And then my dad, I grew up as an athlete, he's an athlete. He just taught me how to be like a sport, to be competitive and so I worked really hard. I was Female Athlete of the Year. So I'm really competitive. Which is why I think this industry is just great for my mentality. Like, I'm built for this. So those are two things that my parents taught me."
On what it means and what it takes to be Icy Girl:
"So, I felt like I've been doing this thing with changing the connotative meanings of words. Like for me, if I say, Pretty B**ch Music, I'm not talking about your face, your makeup, or how you look. I'm talking about your aura and your confidence and then with Icy, it's a mentality. When I wrote Icy Girl, I was hella broke. And for me, it was like my rap's full of affirmations. So being Icy is hustling; it's just doing what you got to do, of course, with most values. But like it's making a name for yourself and just being an independent woman."
On whether she feels pressure to be an inspiration to people:
"Yeah, I think I do (get pressured). Once I realize that my purpose is to inspire, to empower. I really have to think of everything that I do because fans are looking up to me. You know, when people have fans they have to be careful because fans copy you. It is what it is. So, I want to make sure that I'm always inspiring in the right areas and planning the right seats."
On what she thought she knew but was completely wrong about the industry after becoming famous:
"I thought that it was just fun. I thought it was photoshoots, getting ready, taking pictures, recording but there's a lot more that goes into it. Like, I don't even like it in my glam bed anymore. I'm so over it. So, I think it just looks glamorous because it's the entertainment industry and our point is to entertain, to look at the glamorous and to be glamorous. But it's also lots of looong hours and not a lot of sleep. And I didn't know that."
On what's holding up the release of her album and what songs to expect from it:
"Pretty B**tch Music, I felt like it was a body of work, but it was missing a soul. I feel like when you listen to music, it is supposed to make you feel a way. And I think that I know how to make good music, but I want to make therapeutic music. I want people to really walk away from listening to Pretty B**tch Music and I want them to be empowered and inspired. And the reason why I turned it into an acronym is because I say b**tch a lot in my songs so b**tch actually stands for boss, independent, tough, CEO, and I'm from the Bay (Area), so the H is for Hi Fi and Hi Fi means like having a good time. I think, those are all the things that make a pretty b**ch. Then pretty is your aura, it's your self-esteem, it's your confidence. I think, it's a loaded meaning, but I want people to feel like that when they listen to Pretty B**tch Music."