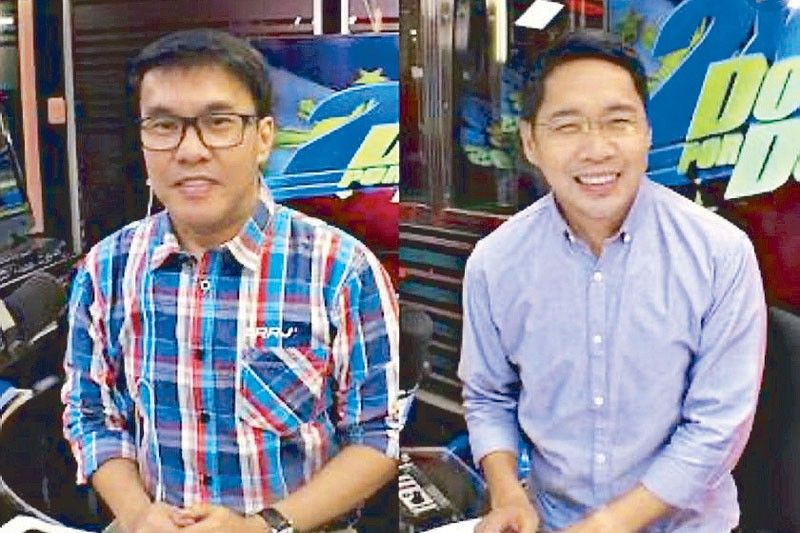 Dos Por Dos tandem Gerry Baja and Anthony 'Ka Tunying' Taberna quit dzMM and will move to dzRH starting in September
Ka Tunying & Gerry Baja find new home in dzRH
FUNFARE
-
Ricky Lo
(The Philippine Star) - August 8, 2020 - 12:00am
It is said that when the Supreme Network Boss closes a door, He somehow instantly opens a window. In layman's term, when the franchise of a network (in this case that of Kapamilya ABS-CBN) closes, not just one but several windows are thrown open, among them (pardon me for starting to sound like a broken record) at the Kapatid Network TV5 that, assured by the Big Kapatid Manny V. Pangilinan/MVP, has spread a welcome carpet for Kapamilya talents to beef up its entertainment content.
Friday last week (July 31), Anthony "Ka Tunying" Taberna and Gerry Baja (both Iglesia Ni Cristo/INC members) bade the listeners of their dzMM program Dos Por Dos a fond farewell, casting a misty-eyed look(back) at more than 17 years of giving erring public officials a deserved hambalos (whack) with a dos por dos (2x2 wooden bat).
Before settling down for the last time on his seat at the booth with Gerry, Ka Tunying took his Facebook followers on a quick tour of the studio, taking a lingering look at the driveway, tapping the guards who responded with a friendly-familiar wave, showing blown-up photos plastered on the walls along the corridors and saying goodbye to the writers and staff with Ging Reyes (head of News & Current Affairs) wishing them good luck as they embarked on a new journey.
Ka Tunying has a chain of eponymous restaurants as fallback, so what would Gerry do? Well, he said perhaps half-seriously and half-jokingly, he would go back to farming in the province.
Before the sun set that Saturday afternoon, a rumor circulated that the tandem was jumping ober da bakod to GMA's radio station dzBB. Hmmm, not true according to a reliable source, "all positions in GMA Radio are filled up." So, why not TV5 Radio? Another rumor, another false alarm (read: kuryente).
As The STAR has it, the next word is not just kuryente but a fact — yes, the same unimpeachable source claimed, "Ka Tunying and Gerry Baja are now with dzRH and they will start their program in September," though not sure if it will still be called Dos Por Dos.
Enough said for the meantime but do stay tuned for further development.
The big intriguing question hangs in the air — why was a long-running, widely-popular program like Dos Por Dos axed without as much as a "warning?" Was it because, according to an insider, the network was "cost cutting" and it couldn't anymore "afford" the two hosts' TF (Talent Fee)?
Will Ka Tunying and Gerry Baja please enlighten us?
Films on the quarantine experience
Entrepreneur and producer Dr. Carl Balita has been engaged in the campaign for the public to stay home during the quarantine, especially in March when the Enhanced Community Quarantine (ECQ) was imposed (and, again, effective Aug. 3 to 17).
Among the strategies that Carl has launched was the Video Home Festival (VHF), a short-film making competition anchored on the theme "Lockdown." The challenge of the competition is the filmmaking while observing social distancing at home without much technology, space and casts available for filmmakers.
"I knew that the filmmakers were oozing with creativity in the new normal and were itching to express their craft even with all the limitations of a quarantine experience," says Carl, who is a film producer. "We were surprised when after more than a month from our launch, entries came in from professionals, film students and enthusiasts."
The festival aims to raise funds for the Mowelfund (Movie Workers Foundation, Inc.), an idea welcomed by board member Boots Anson Roa-Rodrigo and president Rez Cortez.
Mowelfund and Carl's Review Center (CBRC) are exploring how to bring the collaboration to a more productive level. Festival director Jek David noted that some of the entries have international caliber.
VHF will be screened through Binge Wave, an international festival screening platform based in the USA, on Sept. 3 to 4. The Awards Night will be held virtually on Sept. 15. The board of judges is composed of Boots, Rez, director Jay Altarejos, actress Angeli Bayani and film critic Oggs Cruz.
Proceeds from the VHF will be given directly to the MovieMowelfund.
VHF consists of new films from fresh filmmakers of different backgrounds putting their quarantine experience on film, namely Tayo (directed by Armyr Encarnacion), Dead Cough (Bleaux Bastasa), 3 a.m. (Jei Del Rosario), Salmo '91 (Jerico Ellorenco), Witness (Juan Carlos Ojano), Love Letter (Juan Carlo Tarobal), Last Sem na ni Peter (Ken Leviste), Hugas Kamay (Kim delas Alas), Awit (Lander Sy), Why? Fi (Mark Balderama), Dagiti Tallo a Virgen (Three Virgins, Melver Ritz Gomez), Karen Is Trying to Connect (Regin De Guzman), Class of 2020 (Robinson Planilla), Ayuda (Ryan Termoso), Siklo (Sophie Casasola), Ibayo ng Pagtangis (Sophie Casasola, Francis Tavas and Le Anne Flores), Online Classes (Sofia Jornacion) and Sina Xander at Ang Universe (Vahn Pascual).
Fil-Am girl 2020 Youth Recognition awardee in US
Jeanelle Mapili, a Filipino-American student from Adams High School in Rochester Hills, Michigan, USA, was bestowed the 2020 Youth Recognition Award by the board of directors of Rochester Area Youth Assistance (RAYA).
RAYA states that she was awarded for her strong desire to give back to her community as well as those around the world in need. She spearheaded the "Dora Backpack Drive," a charitable program that provided school supplies to a remote village in Isabela, Philippines. In addition, she traveled to the Philippines to participate in a program called "Precious Moments with Senior Citizens," in order to feed and serve senior citizens in the area. While in the Philippines, she also participated in the "Tsinelas Drive," donating flip-flops to needy children.
RAYA programs are provided to help children facing various challenges, but equally important, they strive to recognize those young people who have exhibited exemplary qualities. The awards program honors deserving young people who endeavor to overcome major obstacles to reach their goals, demonstrate perseverance beyond the ordinary, exhibit extraordinary strength in reaching beyond their limitations or volunteering their time in the community.
Set to graduate last June, Jeanelle was born in Manila in August 2002. Still babies, she and her older brother joined their parents who migrated to the US 18 months earlier. Jeanelle offered her award to her Aunt Shirley Mapili (who died in Ontario, Canada, in November last year) who took care of them in the Philippines.
Last January, Jeanelle was accepted into the University of Michigan School of Nursing in Ann Arbor, one of the world's Top 20 universities in 2019 according to the World Universities Ranking by Times Higher Education.
(E-mail reactions at rickylophilstar@gmail.com. For more updates, photos and videos, visit www.philstar.com/funfare or follow me on Instagram @therealrickylo.)