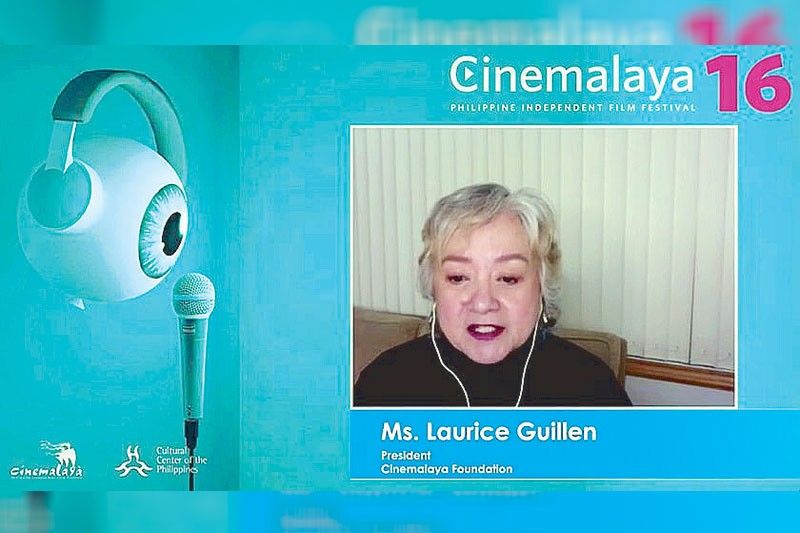 Cinemalaya Foundation president Laurice Guillen during the Zoom presscon. New approach to filmmaking during the pandemic.
The inevitable quarantine path of Cinemalaya 2020
The trouble with Zoom press conferences is that you thought you knew it all.
You press something and the group hears you and then you press another one and you are out of video, but your audio remains.
"You did it deliberately Pablo," said CCP president Nick Lizaso because you forgot to dye your hair today."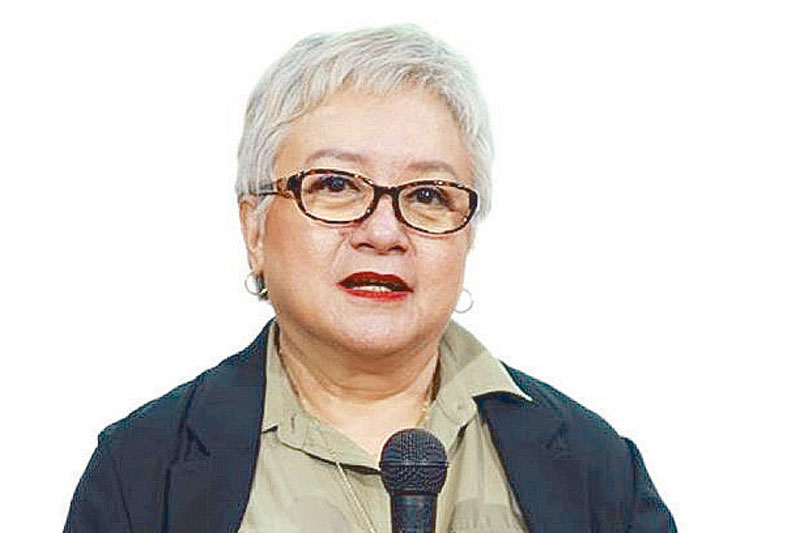 This is how my first Cinemalaya presscon under the quarantine season started.
Holed in my home, I could see faces framed by square boxes. To be honest about it, it felt strange.
Presscons under the pandemic season have been reduced to well-guarded video calls, complete with hidden password to ward off intruders known in pre-quarantine days as gaka.
To begin with, all the Cinemalaya officials were one in saying they couldn't mount the festival the pre-COVID-19 way.
The screening of full-length features films was postponed for next year.
What remained is a festival of short films which attracted more than 200 entries.
The 10 best is the offering of Cinemalaya 2020.
Cinemalaya Foundation president Laurice Guillen admitted the festival had to find an alternative route for its 16th edition caught by the pandemic.
For one, it has restructured the festival's original plans including timetable and new approach to work. "We hope to see how the current situation will impact on the stories that will be told by Filipino directors in future Cinemalaya festivals," she added.
The festival unreels Aug. 7 to 16 with the 10 Best Short Films streaming on Vimeo, a leading professional video platform for as low as P75.
Gone are premiere nights and pre-screening chats with selected actors.
Festival director Chris Millado pointed the good old ambience of the festival would be set aside to adhere to quarantine protocols.
He admitted there is still nothing like watching a film in a packed theater with a live audience reacting. "The tradition of sharing reactions at the theater lobby after screening is a thing of the past now," Millado said.
Director Jose Javier Reyes, chair of the Cinemalaya Competition and Monitoring Committee, said the pandemic will see film directors finding ways to tell their stories with health protocols in mind. "The pandemic is both a curse and a blessing. It brings out the creative in all of us under trying conditions."
He announced the full-length films in competition supposedly for the 2020 Cinemalaya will join the 10 full-length films that will be showcased in 2021.
Out of 244 entries submitted, 10 short films have been selected and are now vying for the Best Film award.
The entries: Ang Gasgas na Plaka ni Lolo Bert (The Broken Vinyl Record) by Janina Gacosta and Cheska Marfori; Ang Pagkalma sa Unos (To Calm the Pig Inside) by Joanna Vasquez Arong; Excuse Me Miss, Miss, Miss by Sonny Calvento; Fatigued by James Robin Mayo; Living Things by Martika Ramirez Escobar; Pabasa Kan Pasyon by Hubert Tibi; Quing Lalam Ning Aldo (Under The Sun) by Reeden Fajardo; The Slums by Jan Andrei Cobey; Tokwifi by Carla Pulido Ocampo; and Utwas (Arise) by Richard Salvadico and Arlie Sweet Sumagaysay.
Aside from the main competition, the Cinemalaya will have a specially-curated Short Films in Exhibition, featuring short films namely: Ang Meron Sa Wala (Beyond Nothing) by Arby and Christine Larano; Ang Nawalang Haligi (Pillar) by Sarah Mya Regacho; Dama De Noche by Lawrence Sibug; Grand Gestures by Cody Abad; Gulis (LINES) by Kyle Jumayne Francisco; Habak by Paolo Matibag and Mia Salisbury; Himagsik ng Hiwaga (Revolt of the Mystic) by Geoffrey Solidum; Igib by Joey Paras; Jepoy by Avid Liongoren; Kung Saan Patag Ang Bundok (Where The Horizon Meets The Mountain) by Dolliete Echon; OctoGod by Shievar Olegario; Paon by Seb Valdez; Pinakanakapagpapabagabag-Damdamin (Most Disturbing Feeling) by Jermaine Tulbo; Si Gloria at Si Juan by Gilliano Salvador; Sumasaiyo, (Yours truly,) by Jermaine Tulbo; Tarang (Life's Pedal) by Arvin Alindogan Belarmino; and The Rooftop by Avirup Biswas.
The festival committee also announced that Cinemalaya will also pay tribute to individuals who have made great contributions to the Philippine film industry — director Peque Gallaga and actress Anita Linda.
Screenwriter Ricky Lee, in partnership with Cinemalaya, will conduct a scriptwriting masterclass. There will also be a virtual reunion of his writing workshop alumni.
Millado said that CCP and Cinemalaya are partnering with iwant.ph and The Filipino Channel for the eventual online screening of the 2020 Cinemalaya films. "This will give the 2020 Cinemalaya a global reach."