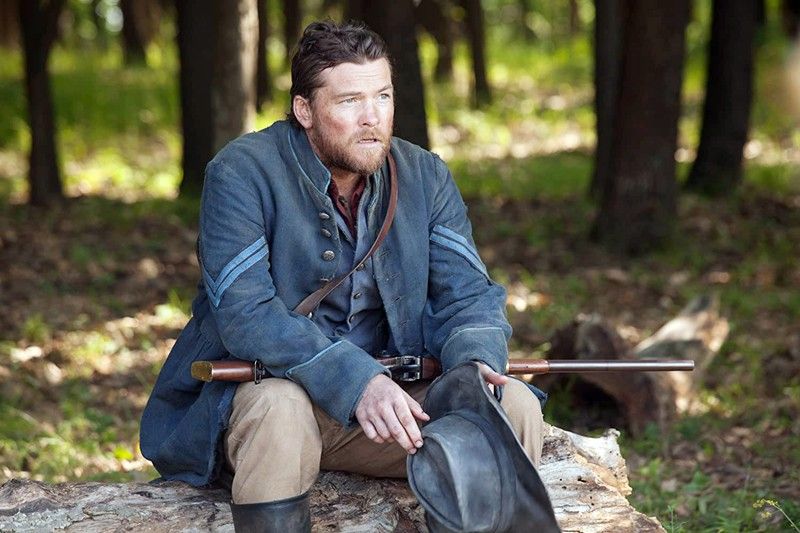 In the 2014 film The Keeping Room, shot five years after he bagged the title role in the James Cameron movie Avatar
Sam Worthington to shoot new movie in Philippines
FUNFARE
-
Ricky Lo
(The Philippine Star) - March 11, 2020 - 12:00am
CONFIRMED: Australian actor Sam Worthington will lead the cast of CounterPlay, his new film to be shot in the Philippines.
The project, which will start shooting in August, is calculated to boost the Philippine film industry, according to 2003 Miss World Top 5 finalist Mafae Yunon-Belasco, the PR/Marketing officer for the film in the Philippines.
Those behind the movie are Scott Rosenfelt as producer, Pedring Lopez as director and Michael McDermott of MAM Holdings, Inc.
"The team is happy and proud to have Hollywood star Sam Worthington be part of a Philippine production and venue," added Mafae.
Worthington, 43, plays John Craig a retired hostage negotiator who comes out of retirement to take on one last job. He will help a young man, played by up-and-coming actor/musician Alex Diaz, who has been wrongly accused of trafficking drugs, to escape and return to his home and family in Australia.
Worthington shot to fame when he played Jake Sully in the 2009 Oscar-winning movie Avatar, said to be the highest-grossing film of all time. He will appear in the sequels to Avatar which will be produced and directed by James Cameron. Manila is close to Worthington's heart after he starred in the 2005 movie The Great Raid which starred both Filipino and Hollywood actors. He played as Pfc. Lucas in the war movie about a raid in Cabanatuan, an island in Luzon.
Worthington was not yet a big name when The STAR interviewed him in Sydney in 2009 for Avatar. He was instantly friendly. As soon as we shook hands, he smiled and said, "I remember you from a Hollywood junket for Terminator Salvation."
When I told him that I came from the Philippines, his eyes lit up. "I've worked with an actor from your country," he recalled, referring to Cesar Montano who played a guerilla in The Great Raid. "We got to blow up a lot of stuff. He played the character who was blowing up bridges. He was in so many exciting scenes; he had more fun than I did. I wished I had his role."
Called "The New Action Hero" by his co-star Sigourney Weaver who played the scientist Grace Augustine in the Avatar program, Worthington graduated from the prestigious National Institute of Dramatic Art (NIDA) in Sydney. He first worked in theater before venturing into international films like Hart's War, and then screen tested opposite Daniel Craig for the role of James Bond in Casino Royale.
"I didn't get the role," Worthington admitted in that 2009 interview, "but it proved to be a perfect 'dress rehearsal' since the following year, I was handpicked by James Cameron for the title role in Avatar. The offer came while I was shooting Terminator Salvation with Christian Bale (the movie grossed over $370 million worldwide)."
Asked how the 007 audition went, Worthington said, "Oh, I was nervous; I was young. It wasn't the right time. The role got into the right man at the right time. Daniel was more prepared and he deserved it." (Craig has just finished shooting No Time To Die, the new 007 film with Rami Malek of Bohemian Rhapsody as the villain.)
MAM Holdings Entertainment is a content development and producing company which will create motion pictures, television shows and online shows that have commercial, worldwide appeal. The company will be based in the Philippines with associate satellite offices in Los Angeles, Europe and Australia, to take advantage of the company's years of experience in Hollywood film industry.
"MAM Holdings Entertainment will be the first company of its kind to work with Filipino talent in front of and behind the camera, along with visiting long-time established Hollywood veterans, to provide content that explores Filipino and Asian stories that have commercial and international appeal," said Mafae.
"A subsidiary of its parent company, MAM Holdings, the company will use another subsidiary, MAM Holdings Institute of Film, Television & Media Arts, as an incubator for talent. The company will also work with another subsidiary, MAM Holdings Production Services, for below-the-line production for all projects produced in the Philippines and other countries in Asia.
"MAM Holdings Entertainment has already identified and controls material that will be developed under its banner. These projects encompass original stories, book adaptations and short pieces for the Internet and other social media platforms." ­— With a report from Celso de Guzman Caparas
(E-mail reactions at rickylophilstar@gmail.com. For more updates, photos and videos, visit www.philstar.com/funfare or follow me on Instagram @therealrickylo.)