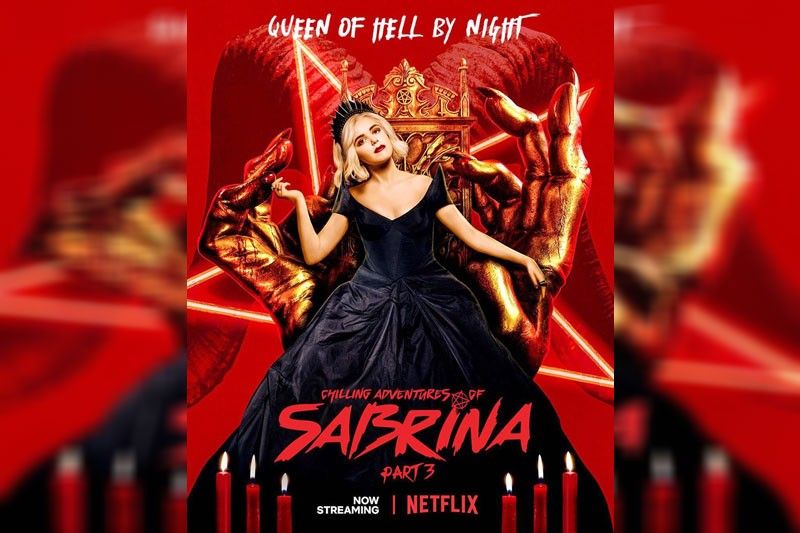 Sabrina descended from a long line of witches
The witch Sabrina sings. The original tune is a perky, dark tinged, danceable concoction that is titled Straight to Hell. Sabrina sings it with a background trio that calls itself Lovecraft. It is cute song although I do not think one can really say that about a song that goes like this. "Knock knock knock on the gates of hell, guess who's back with another spell," because she has, "got a fire in my blood that can burn the sun and I'm not afraid 'cause I'd die for love."
The video of the song comes with footage from Chilling Adventures of Sabrina Part 3. That is the Netflix series about the adventures of the famous teen-aged witch. This season, Sabrina is going down below to rescue her boyfriend Nick Scratch. He is trapped in hell because her father, who is the Dark Lord Lucifer, has taken over his human form. That thought is chilling indeed. And truth to tell, I never thought I would see the day when Sabrina would be Rosemary's Baby now all grown up.
The Sabrina I remember was this nice girl who found out that she was descended from a long line of witches on her 16th birthday and was therefore also a witch. The character was out of the Archie comic books and was also later made into long-running show on television. The series was wholesome and fun with Sabrina using her powers to cast spells only to put mean girls in their places or to get through a difficult exam in school.
That is not so anymore. The Chilling Adventures of Sabrina on Netflix is dark and scary and deals with evil in the extreme. Just think, Sabrina is not only going to hell to rescue her boyfriend played by Gavin Leatherwood. For the third part of the series, she must also assume the throne of hell to restore order in the realm of her Satan dad and fight off the usurper Dark Prince Caliban. At the same time, she must also fight to keep her family and her coven of good witches safe on earth from pagans who plan to resurrect an ancient and unknown evil.
Sabrina is truly in for a lot of danger this time around. But her fans need not worry. She has superpowers. As she sings in Straight to Hell, "I'm a nightmare wrapped in a pretty bow, just wait 'til I get there down below." With all the spells and curses at her disposal, Sabrina has clearly left her early Archie and Riverdale roots behind. She and her comic book colleagues now contend with evil in assorted forms. And viewers love them all the more for those scary adventures. That is why they return to Netflix season after season.
Of course, it is not really Sabrina acting and singing and now becoming a big star. Playing the role is Kiernan Shipka. She was this little girl, who literally grew up in the public eye as one of the stars in the multi-award-winning drama series on television, Mad Men. Kiernan made her big career breakthrough as Sally Draper, the oldest daughter of Don and Betty Draper, the couple played by the hot team-up of Jon Hamm and January Jones.
Considered one of the greatest series of all time, Mad Men was made up of troubled characters and Sally, though created as smarter than the others, was no different. The innately talented and pretty Kiernan played her part very well. In fact, throughout the seven seasons that the show was on the air, viewers saw her metamorphosed from just another scene-stealing kid into a sensitive young actress.
Mad Men ended its run five years ago and Kiernan, who is now a very attractive 20-year-old, has found another TV show playing the lead role in The Chilling Adventures of Sabrina. And how nice that she also gets to launch her singing career. Well, she is not billed as Kiernan but as Sabrina with the Lovecraft for the song Straight to Hell. But no matter, she can always come up with a next single that is her very own.