A bleak Christmas for Filipinos in December 1941
December 22, 2019 | 12:00am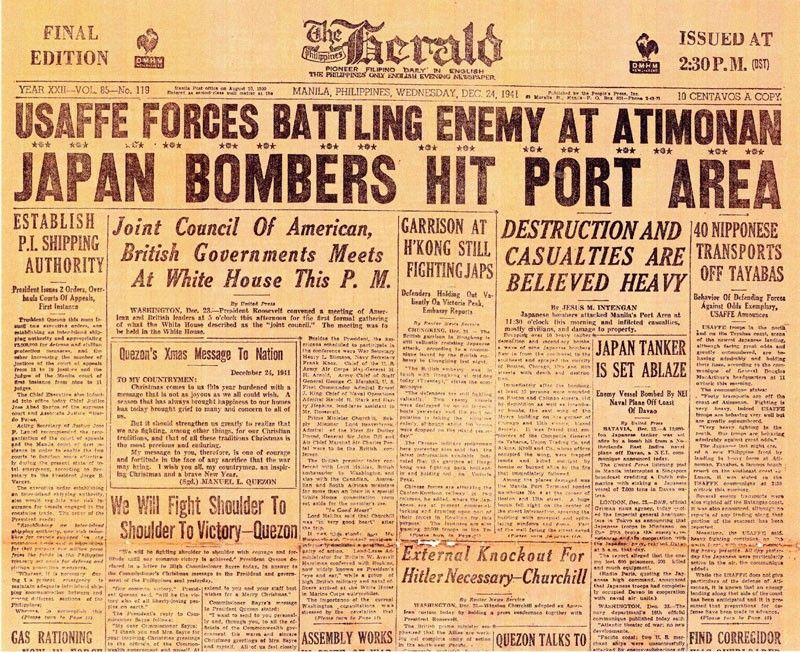 Christmas comes to us this year burdened with a message that is not as joyous as we all could wish.
That was the grim message of Pres. Manuel L. Quezon on Dec. 24, 1941, the day Japan bombers hit Manila's Port Area. The sad news was headlined by The Philippines Herald on that day.
According to the story bylined Jesus M. Intengan, at 11:30 that morning, 'a wave of nine Japanese bombers flew in from the northwest to the southwest and dropped 10 heavy caliber demolition and incendiary bombs and sprayed the vicinity of Boston, Chicago and 12th Streets with death and destruction.'
Pres. Quezon's message to a shocked nation continued, … a season that has always brought happiness to our homes has today brought grief to many and concern to all of us.
But it should strengthen us greatly to realize that we are fighting, among other things, for our Christian traditions, and that of all these traditions Christmas is the most precious and enduring.
My message to you, therefore, is one of courage and fortitude in the face of any sacrifice that the war may bring. I wish you all, my countrymen, an inspiring Christmas and a brave New Year. — RKC