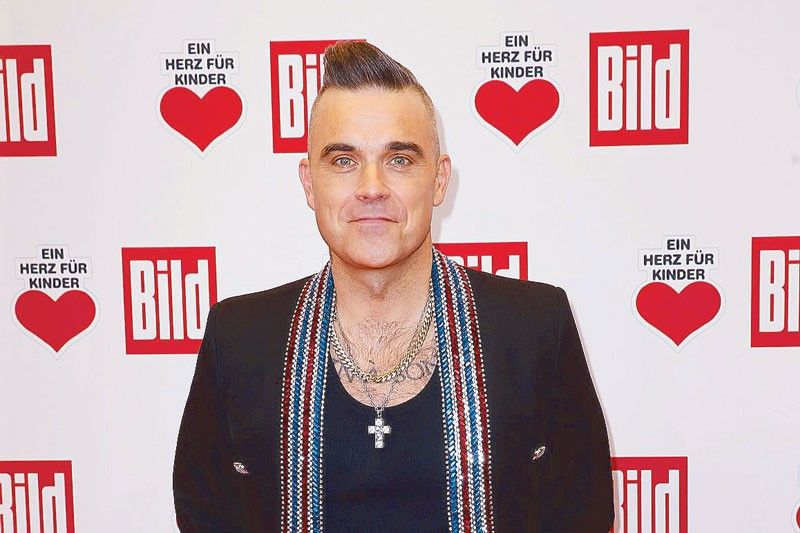 British singer Robbie Williams arrives for the Ein Herz fuer Kinder (A Heart for Children) charity gala in Berlin on Dec. 7.
AFP photo
Robbie's Christmas present
They just keep coming this year. I mean those new Christmas albums. Whoever said that nobody wants to buy Christmas music anymore because all of the songs have already been record so many times, must now be eating humble pie. The albums keep coming out and the buyers just keep on buying. See what came out last week, The Christmas Present by Robbie Williams.
It took Robbie Williams a long, long time to come up with a Christmas album. The former bad boy of the legendary British boy band Take That is now 47 years old and has 20 No. 1 selling albums as Robbie Williams and as part of Take That. But not one of those is about Christmas. So, when he finally got the chance to sing the Yuletide music this year, he really splurged with everything.
The Christmas Present by Robbie Williams comes in a Victorian-inspired setting with allusions to the timeless novella written by Charles Dickens, A Christmas Carol. Hence, the gorgeous cover art of Robbie in 19th-century attire, the album title of The Christmas Present and the disc titles of Christmas Past and Christmas Future which are references to the three ghosts that visited Scrooge one Christmas Eve in the Dickens story.
No, you did not misread that. I meant discs. This album is made up of two discs of 24 cuts with 17 of those songs co-written by Robbie with several of them featuring big-name collaborators. Think Rod Stewart, Bryan Adams, Jamie Cullum, Helene Fischer and even boxer Tyson Fury. Robbie's father Peter Conway billed as Poppa Pete joins his son in the new original It's A Wonderful Life. So when I said Robbie splurged, I meant that he really did.
This splurging includes making the album available on vinyl, compact discs, on streaming and downloading sites and on cassettes. Yes, audio cassettes, those little tablets containing long, long tapes that unspool to play music in a cassette deck. Get your old one out of the bodega or buy a new machine. Cassettes are coming back.
There is nothing Dickensian or even throwbacks to the cassette era in Robbie's music though. This guy must love Christmas in a big way. How else can he come up with the new rockers he composed that sound Christmasy in every way. No wonder the album is selling big and is now No. 1 in the UK.
My favorite is Christmas Baby Please Come Home, a classic from the rock 'n roll era that was first recorded by Darlene Love and produced by the legendary Phil Spector. Robbie sings it with Bryan Adams and it sounds great. Besides, it is nice to hear something new by Bryan after quite a while.
Disc One titled Christmas Past has Winter Wonderland, Merry Xmas Everybody featuring Jamie Cullum; Let It Snow! Let It Snow! Let It Snow! The Christmas Song (Chestnuts Roasting on an Open Fire), Coco's Christmas Lullaby, Rudolph, Yeah! It's Christmas, Let's Not Go Shopping, Santa Baby featuring Helene Fisher, Best Christmas Ever, One Last Christmas and a reprise of Coco's Christmas Lullaby.
Disc Two which is Christmas Future is made up of Time for Change, Idlewild, Darkest Night, Fairytales featuring Rod Stewart, Bad Sharon featuring Tyson Fury, Happy Birthday Jesus Christ, New Year's Day, Snowflakes, Home and Soul Transmission.
Other Christmas releases now available are A Legendary Christmas by John Legend, who is the first EGOT winner to be proclaimed People Magazine's Sexiest Man Alive. EGOT means that he has now won an Emmy, a Grammy, an Oscar and a Tony, one of the very few artists to have accomplished this feat.
John has come up with the deluxe edition of last year's album which was released last month. It includes all the cuts from the first edition plus This Christmas, a Donny Hathaway classic; My Favorite Things from the musical The Sound of Music, which is now an accepted holiday song; the tribute song Christmas in New Orleans; and an updated version of Baby, It's Cold Outside that was produced to please the MeToo movement. I do prefer the seductive original.
And not to forget, there is also the Katy Perry original Yuletide composition Cozy Little Christmas. It is young and quirky and naughty with strong sing-along qualities. It is very much like what a Katy single is expected to be. Expect this to become the Santa Baby of the millennials.
The kids will love the video. It features Santa Claus in a printed shirt taking a break from his duties with a holiday in some tropical island with Katy. I know that Cozy Little Christmas is unlike most Christmas tunes but no matter, the irreverent bop retains the sentiments we associate with the season, peace, love and being with family.
Note that Katy's fun video for Cozy Little Christmas was directed by WATTS, which is made up of EDM star Steve Aoki and Noah Cyrus, Billy Ray's fast-rising other daughter who is sister to Miley.