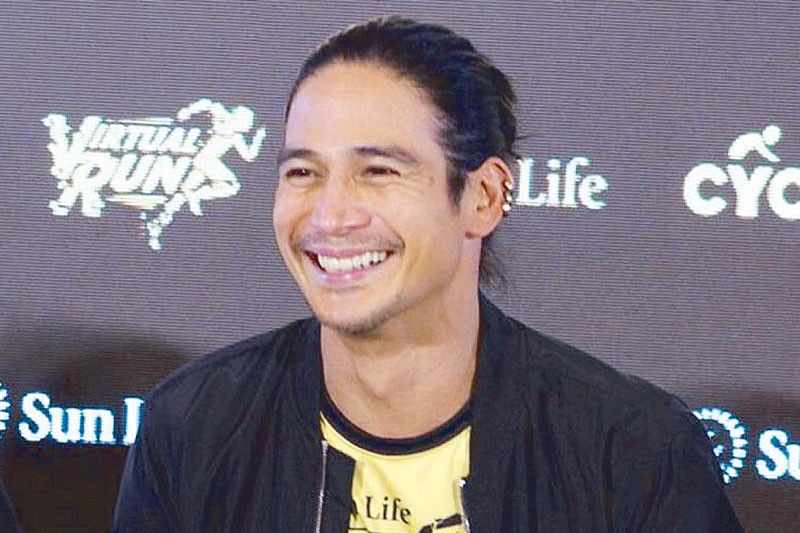 Piolo gets the energy for his fitness projects from 'the mere thought of waking up every day, knowing that you have something worthwhile to do.' One of these is the SunPIOLOgy run-and-bike event which he has been leading with Sun Life Financial Philippines for 11 years now.
Piolo believes in constant reinvention
MANILA, Philippines — Piolo Pascual is sporting a "more rugged look" these days. It's not just for a role he's playing in a film; it's also a personal thing.
"I take it upon myself to always try to look different. To, at least, reinvent through the way you look or cut your hair so that the roles that I play have variety. It's conscious that I diversify with the cuts, para di pare-pareho ang hitsura," the actor said in a recent media interview.
One thing that remains constant and unchangeable is his dedication to fitness and his sports.
The 42-year-old Kapamilya star, who's an avid runner and triathlete, explained, "My body looks for it. Today, after I woke up, I ran, I did boxing, I played badminton before coming here. I was talking to my trainer about it, when it becomes your lifestyle, it's no longer a chore for you. You will see the benefits and advantages of it, you become more agile especially as you're getting older.
He continued, "It's such a good feeling you experience afterwards. I guess, I got addicted to the feeling of the energy I get from it, the happy endorphins that athletes get when you train or sweat. It's not tiring, it revives you. It makes you feel young."
He's looking to level up with more fitness "resolutions." "I've always committed to doing a marathon which I haven't done because maraming labada (laughs). But now, I've decided I was going to do a 42 at 42," he said, referring to his age. "I hope I get to do it soon. That's my goal — to be able to do a marathon."
He hopes that by constantly talking about health, wellness and fitness, he will inspire people. "Personally, I like the benefits but it's also to inspire people. It's not just about doing it one time, but the consistency and the constancy of it. It's not about how you go about it or what, or how old you are, it's really about starting somewhere, somehow. That's really my goal, to really inspire more people to live healthier lives through all these events that we have."
By events, Piolo is referring to SunPIOLOgy, his action-packed charity event in partnership with the international financial services organization, Sun Life. The partnership is celebrating its 11th year.
He said he never thought it would last this long, as he recalled how it started more than a decade ago. "We were actually just starting the triathlon community in the Philippines. For the first SunPIOLOgy, it was mind-blowing. For it to be coined after your name, parang ah (looking embarrassed), okay, thank you! There was pressure, but more important than anything was the experience of being able to share your blessings and make other people's lives better because you support them through education."
As in the past, this year's edition, which carries the theme SunPIOLOgy Xone, is for the benefit of Piolo's Hebreo Foundation plus the Noordhoff Foundation and Star Magic scholars. The main events are the Sun Life Virtual Run, Sun Life Cycle PH and Sun Life Resolution Run.
A new event this year, the Sun Life Virtual Run is a long-distance race that participants can complete anytime, anywhere. Participants from different parts of the country may challenge themselves to complete an accumulated distance of 50 or 125 kilometers which can be spread over 30 days. Check out the details at www.sunpiology.com. Run period starts today until Nov. 15.
Sun Life Cycle PH is back to take cyclists on new and exciting routes from Bonifacio Global City to Pasay City. Participants of all fitness levels can join. It happens on Nov. 23, with registration ongoing at sunlife.cycleph.com until Nov 22.
Sun Life will also mark its 125th anniversary in 2020 through the Resolution Run. It happens in select Asian countries to increase awareness on diabetes prevention and management, one of the company's advocacies. In Manila, the Resolution Run happens on Jan. 18, 2020, at Camp Aguinaldo, Quezon City. Registration begins on Nov. 15 via www.sunpiology.com.
Meanwhile, asked where he gets all the energy for his fitness interests, Piolo said, "The mere thought of waking up every day knowing that you have something to do, something worthwhile to do, like this event. Getting to talk to people, getting to share your life with other people, and knowing that every day is a new chance for you to better your life can be inspiring to a lot of people."
He further reflected, "I've thought of retiring before and I've been emotional in some of our presscons, and I couldn't even talk. But I'm on that point in my life wherein I just go by what comes and really make it worthwhile.Maximize the potential of it with everything I have. For me, whatever I'll do, I'll make sure it's best foot forward. Anything I put my hands on, anything I do, I'll make sure I do more than just 100 percent. I guess, that's what drives me."
As for finding that (lifetime) fitness partner, Piolo said, "You know, honestly, I won't deny the fact that there are days really that I feel sad or parang, OK ka lang ba na mag-isa ka lang? But now, I get to enjoy my quiet moments because I get to really reflect about my life better. And if and when it comes, I know it's gonna be really exciting. And if that happens, I'll share about it."