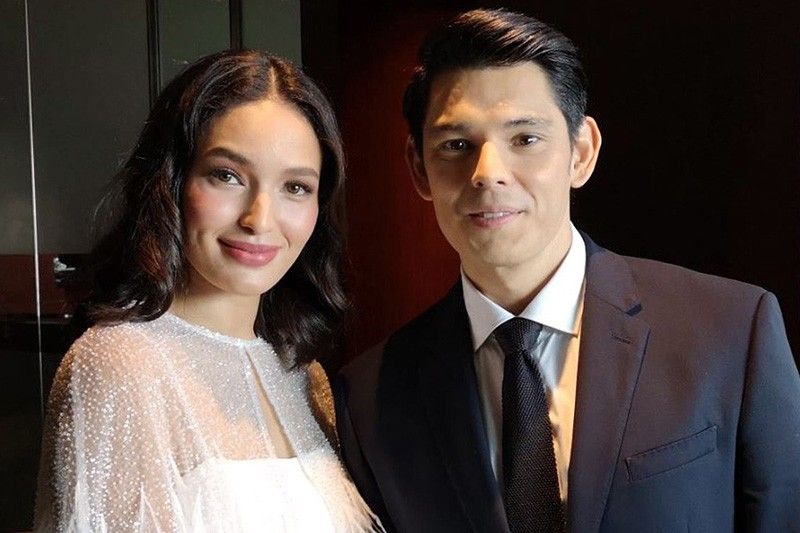 Richard Gutierrez and Sarah Lahbati during the presscon to announce their wedding in March 2020
Richard and Sarah: All the wedding details (so far!)
MANILA, Philippines – After two kids and a two-year engagement, Richard Gutierrez and Sarah Lahbati have finally set a wedding date: March 2020.
March because it's the birth month of their second son Kai, and close to the birthday of their first child Zion who was born in April 2013.
It's the same month Richard, 35, proposed marriage to Sarah, 25, in 2017 in her birthplace in Switzerland.
During a presscon after the wedding announcement on ABS-CBN's ASAP last Sunday, Oct. 6, Sarah recalled that the engagement was totally unexpected because the proposal happened after a long and tiring hike in the famous mountain resort of Zermatt.
Richard said, "Sabi niya sana daw pinag-salon ko muna siya bago umakyat dun. But it just felt the right moment for me. I think the hike also resembled our relationship, it's an uphill climb but at the end, it's all worth it."
The nuptials will be held in Manila, contrary to their original plan of having a destination wedding. "We realized we all want our family, friends and loved ones to be there."
Wedding preps are 50 percent complete, with Sarah picking up her dress (ºabroad?) in the next few weeks. Theme is old-school romance and the bride imagines the affair as filled with flowers.
The groom explained why it's only now that they got to finalize the date. "The truth is, we were really supposed to get married earlier, but then nagkaroon ako ng TV series na La Luna Sangre. I got so busy we had to postpone it," he admitted.
"After La Luna Sangre, Sarah got pregnant again so it got delayed again. But now, finally, we're stable. We really feel it's the right time. This is the perfect opportunity for us to get married."
Richard and Sarah's love story bloomed on the set of a 2012 teleserye in their former network. Richard had "requested" for Sarah, a newbie then, to be cast in his series. She was to be the "third wheel" in the series' love triangle but ended up winning the heart of the leading man.
"First time I saw her, I had an intuition that we would click. After we bonded on the set, I realized that we have a lot in common. Hilig niya, hilig ko din. I also got along with her parents," Richard said.
Sarah, on her part, also developed a crush on Richard immediately. "We got along so well and so fast because we had a lot of things in common, in terms of personality and interests. We love adventures, we're both scuba divers, he's a deep thinker, and I like deep, meaningful conversations."
Richard is Sarah's first serious boyfriend. "When I met Chard (I think I was 18) I felt like yun na yun, that he was The One."
As for Richard, his exes are no showbiz secret, but for him "si Sarah ang naiba sa lahat kasi siya lang ang minahal ko ng ganito at nagpasaya sa akin ng ganito."
"Because of her, I achieved stability as a man. She has been there for me. We're happy and I can see myself being with her for the rest of my life," he added.
It's also no secret that they went through challenges. During the early part of their relationship, Sarah got pregnant, dropped her career and faced a legal battle because of it.
She recalled, "Nahirapan naman talaga ako. Isipin mo ba naman, at such a young age, ang dami mong pinoproblema instead of just thinking about raising a healthy, beautiful boy… But then I'm also very blessed, I'm very lucky that I wasn't alone while I was going through that. I had Chard, my parents, his family and my friends in Switzerland."
Richard shared, "A lot of people don't know this but during that time, I would ask permission from the teleserye I was then working on to leave for four or five days and go to Switzerland to check on her and the baby, and then come back. Scheduled check-ups, I would fly there to be with her. When Zion was born, I had five days in Switzerland. I asked permission from the producer of my (then) teleserye and thankfully, they allowed me. And eksakto, on my last day, Zion was born. Masaya ako dahil naabutan ko si Zion, but then the next day I had to leave. We had a lot of those moments na mahirap, na we had to go through, but made us stronger together."
Richard further reflected that as they weathered through the tough times in their personal lives and careers, all they had was each other.
"There was a time I realized who my real friends are, who are the real people around me and I needed that in my life, and all throughout those times, si Sarah ang kasama ko. I'm very thankful for her during those times and until now."
For Sarah, she has grown so much since meeting and being with "my bestfriend and my love" Richard. "He taught me a lot. We just keep growing together, as parents and as individuals. We cherish what we have," she said.
Meanwhile, the soon-to-wed couple was asked what momager Annabelle Rama's role is in the wedding.
Richard revealed that his mom has her own list of guests and potential godparents that totaled to about 30 pairs of ninongs and ninangs!
"There are two brides," joked Sarah about her future mother-in-law, adding, "We'll try to meet halfway because good intentions naman si Tita."
As for her own parents, Sarah said they're very happy for them because they've been waiting for so long for her to walk down the aisle. "Especially for me, as their only girl, having a Muslim father and a Christian mom. They're very religious and traditional."
Honeymoon plans? "Of course, there's a honeymoon after the wedding. Mga six months, joke!" Richard said. "We don't have definite plans but we have a shortlist (of places to go.)"
More kids? "I've already talked to Sarah about it. Let's see," Richard also said.
One thing is for sure, they can't wait to call each other husband and wife.
Richard said, "We've been through a lot, we've been together for a long time. And now that we're getting married, we're considering this as a new chapter, a new beginning for both of us, you know, with the blessing of our family, and the blessing of God. We're very excited how we're going to face our married life."
More details will be revealed in various ABS-CBN shows in the lead-up to the wedding day.