Joaquin Phoenix amazes
October 4, 2019 | 12:00am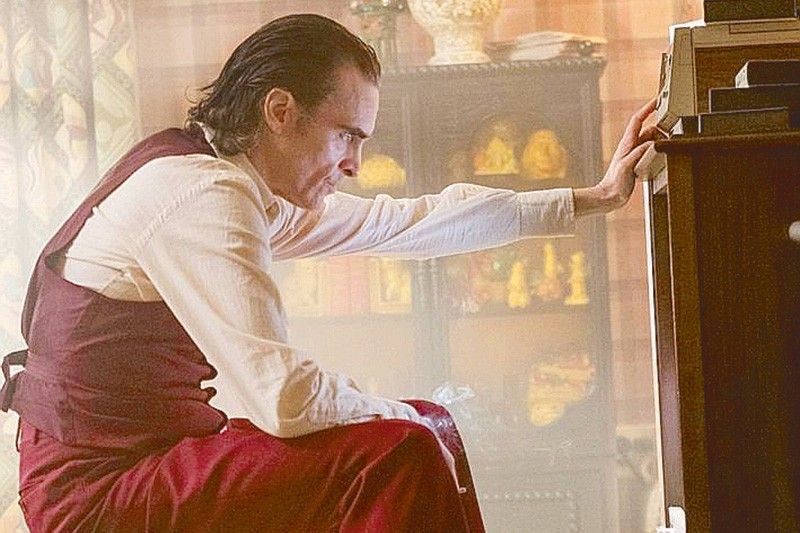 Film review: Joker
MANILA, Philippines – Heading into the film awards season, I can predict that Joaquin Phoenix and his riveting Joker portrayal will be a favorite among many of the Hollywood bookies and pundits to romp away with the Best Actor prize. While it does salute the Jack Nicholson and Heath Ledger's Jokers, this is definitely Joaquin's own creation, and given a long leash to play with by director Todd Phillips, Joaquin has made like his namesake, and has devised a new Joker rising from the ashes of previous portrayals.
It's that good, that entertaining; so that even if at the start, it's a train wreck, road accident kind of character, we can't avert our eyes, and they stay glued to the mesmerizing metamorphosis from sad sack, melancholy, geek-clown to conceited, glib, super-villain Joker. This incredible arc unbelievably has us actually sympathetic to, if not outright rooting for, this dastardly excuse of a human, as he indulges in all sorts of demented villainy. An existential psychodrama disguised as a comic book super villain film, it's this exploration of motive, angst, pathos and hubris that turns us into reluctant supporters of one Arthur Fleck (Joaquin).
The film introduces us to Arthur who's a bottom feeder unsuccessful clown, dreaming of, and trying to, transition to an even more unsuccessful stand-up comedian. A series of vignettes showcases his descent into more humiliation and abject rejection. Then, in a Road to Damascus type moment, Arthur stumbles upon his true calling, as Gotham's avenging "devil." It's beaten into him not because of some evil nature per se, but because life just keeps punching him down, until desperation looks like up. And this would be the big difference of this origins story, that Arthur is the ultimate loser, and villainy is his redemption.
It's set in a Gotham that's very New York pre-Times Square clean up — in other words, it's the Manhattan of Martin Scorsese's Taxi Driver. The film also salutes Scorsese's King of Comedy, where a frustrated wannabe comedian kidnaps the late-night host who makes fun of him. So it's a nifty piece of casting to have Robert de Niro who was Travis in Taxi Driver, and Rupert in King of Comedy, playing the pivotal role of late-night TV host Murray Franklin, here in Joker.
The connection of this standalone film to the DC Universe is evident, with the appearances of Thomas Wayne and young son, Bruce. And Frances Conroy as Arthur's mother reinforces this connection via her own tale of misfortune. But they're all basically orbiting around Joaquin's Joker; so many of the sequences have Joaquin sharing the screen with no one else, and we're still transfixed.
The director Todd Phillips is known for his Hangover films; which means he's made a ton of money, but never got quite the critics' respect. By romping away with the Golden Lion at the Venice Film Festival this year with Joker, Todd now has the inside track on getting multiple Best Director nominations. I think the jury's still out regarding Best Picture consideration — as while Joaquin is masterful in the hands of Todd in creating this new version of Joker, the story does lack narrative punch, and quite often flies, and glides on the basis of us being transfixed with Joaquin.
Joaquin's over 50-pound weight loss for the film rivals that of Christian Bale for The Machinist, and it translates to a physical element to this Joker that's both creepy and insidious. How he twists and contorts his upper body, the featherweight gait and dance that accompany his moments of giddy excitement, and then, there are the trademark laughs that Joaquin invents to mark particular states of mind — they're all part of the arsenal of cues and idiosyncrasies that make this Arthur/Joker a very distinct creation and yes, Joaquin, we are amazed!