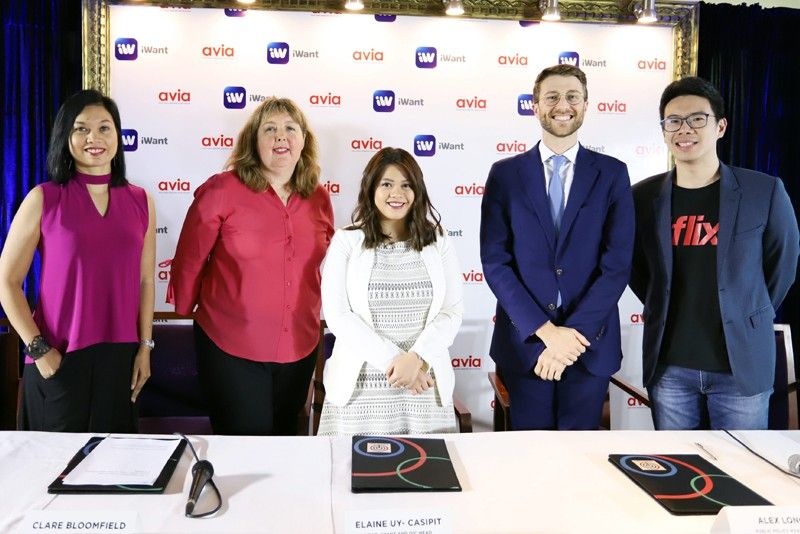 From left: HOOQ country manager Sheila Paul, AVIA's Clare Bloomfield, iWant head Elaine Uy-Casipit, Netflix's Alex Long and iFlix country manager Sherwin dela Cruz
iWant ties up with other platforms in the region
Do not be surprised if in the coming days you get to see new loveteams and more Kapamilya and Kapuso actors work together in acting projects. You think it's too complicated or far-fetched? Well, the local streaming platform iWant is stepping up to make what seems impossible to happen, possible.
iWant head Elaine Uy-Casipit stressed that part of their objective is to partner with external content producers and not just with producers inside the building of ABS-CBN.
"We are open. Actually, there's nothing stopping us from giving opportunities to everybody. As long as the story is right, I mean, if it fits the right profile, then why not. Like for example, who would have thought that Angel (Aquino) and Tony (Labrusca) would click or Kim (Molina) and Kit (Thompson) are a good pair? Kaya masaya that even our content creators give us feedback that iWant is like a playground because they can really express so much creativity," she said.
iWant also serves as an avenue for lots of creativity in order to generate new ideas.
"Aside from that kasi the risk is lower, the cost is not that big and the expectation is not that big also as opposed to, say, if you produce for TV or movies so mas marami kaming pwedeng kwento at tandem na p'wedeng gawin," maintained Elaine.
Since its launch in November 2018, iWant has produced original movies and series month after month, setting itself apart from other streaming platforms and changing the landscape of Filipino entertainment and digital content. It boasts of the biggest library of Filipino video content, and, thus it resulted to have 3.8 million app downloads and 13 million subscribers.
Each and every content being released, Elaine said, is technically being regulated. "We have much deliberation before the release. We discuss whether we do it for teens or mature audience. If you follow some of our originals, talagang malaki ang discussion namin internally — whether do we show this clip or do we edit this down because we want to be responsible with our viewers."
In fact, iWant recently signed the ASEAN Subscription Video-on-Demand Industry Content Code through the Asia Video Industry Association (AVIA), joining other platforms in the region such as Netflix, HOOQ, iFlix, Malaysia's tonton, Astro and Dimsum, and Thailand's DOONEE.
By signing the Content Code, iWant reinforces its commitment to keeping its content authentic, free from hate speech, hate crimes, pornography and other forms of inappropriate content.
The formal signing of the Content Code between iWant and AVIA was held last Aug. 28 and witnessed by Netflix's Asia Pacific public policy manager Alex Long, iFlix country manager Sherwin dela Cruz and HOOQ country manager Sheila Paul. AVIA was represented by policy research director Clare Bloomfield.
According to Elaine, the partnership with AVIA will help widen their knowledge when it comes to self-regulation. "For me, I wanted to learn on the industry as a whole to how they're doing it kasi as we were discussing about us signing in, there's a lot more than they've actually shared with us — on how they're doing it in different markets so it's nakakalawak din on how you think because we're the first (streaming) platform in the Philippines, we really don't know what's the standard out there when it comes to self-regulation, of what the other markets are doing. So, the association helps us to really widen and to be of better service at talagang we wanted to differentiate our content that we are a safer place to be in terms of airing contents so that the parents at home can sleep at night. And as we become more aggressive in doing narrating and storytelling, we want to be more responsible and self-regulating as well."
Original contents on iWant can now also be viewed in other parts of the world with people behind the local streaming platform currently busy doing subtitling for some contents.
Although iWant tries to be "there outside of the Philippines," Elaine assured that the Filipino viewers remain its top priority. "That's why, maraming dapat abangan as we produce contents of different genres and also for the younger audience. We make sure to sustain the market by multiple storytelling that really makes iWant your constant go-to place for contents."