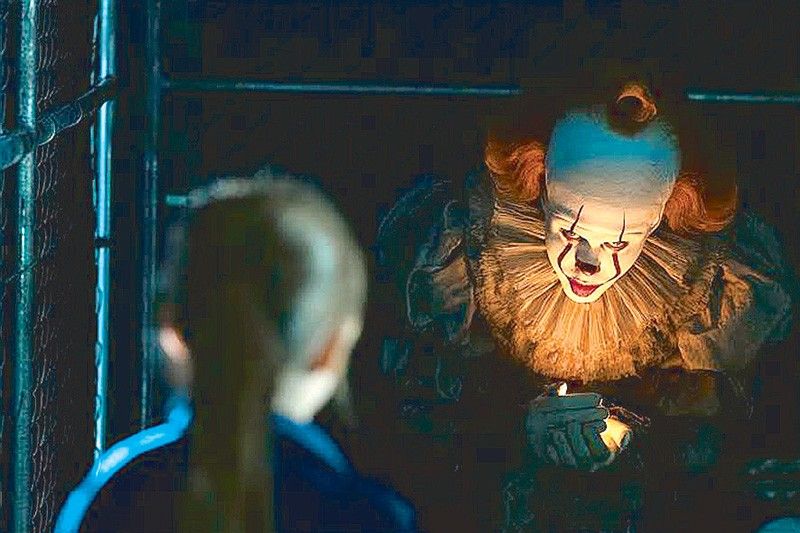 Directed by Andy Muschietti, the new film's premise has to do with 'its 27 years after what transpired back in 1989, and Pennywise is back.'
Hoping lightning strikes twice
Film review: It Chapter Two
MANILA, Philippines – With the first installment, It, grossing over $700M worldwide in 2017, it's a certainty that Warner and New Line are hoping lightning can strike twice with It Chapter Two. That 2017 film was both a commercial and critical success, deftly mixing the right blend of the three H's ­— horror, heart and humor.
Bolstered by a shining and cohesive cast of child actors, and Bill Skarsgård's impressive turn as the villainous Pennywise, there was so much to like about the first film, expectations will run high for Chapter Two.
Well, lower those expectations. Chapter Two does provide the requisite number of jump scares and a procession of extremely violent, grisly scenes, plus footage of blood, gore and fantastical creatures that will make your skin crawl. So on that count alone, I'm certain that the film will still lord it over the box offices all over the world this weekend. And there are enough attempts at humor to bring shafts of levity (take a bow, Bill Hader) to the proceedings. It's in the heart department that the screenplay for this new chapter just doesn't deliver on the emotional core that was such an integral part of why we all loved the first It.
Directed again by Andy Muschietti and with a screenplay from Gary Dauberman, the new film's premise basically has to do with "its 27 years after what transpired back in 1989, and Pennywise is back, wreaking havoc in 2016 Derry." Only Mike (Isaiah Mustafa) still lives in Derry, so it's left to him to call back Bill Hader (James McAvoy), Beverly (Jessica Chastain), Richie (Bill), Ben (Jay Ryan), Eddie (James Ransone) and Stanley (Andy Bean). The original cast of youngsters that portrayed the Losers Club reprise their roles, sharing screen time with their adult counterparts.
And perhaps this is one of the problems of the film. All this sharing of screen time smacks more of the filmmakers' uncertainty that the adult counterparts can carry the film emotionally. Narratives are left hanging or unresolved, and flashbacks are utilized much too often, depriving the adult counterparts of establishing the requisite chemistry. If the first film had childhood traumas, guilt, personal demons and coming-of-age as natural elements of the story's progression, now we're really left with fully-grown adults dealing with a nemesis wearing a clown costume. Somehow, it just doesn't work as well.
Homophobic hate crimes and domestic violence are even introduced to seemingly show relevance and awareness of what constitutes adult issues today ­— but they're left hanging, and other than being depicted, nothing of any substance is being said about these weighty and serious issues. As I mentioned above, Bill Hader provides much of the humor, and Jay Ryan as the new, buff Ben should have women swooning, but it's like they're all merely going through the motions of interacting with the rest of the adult Losers that bogs this overlong film down. At close to three hours, you can't just survive on jump scares and smart aleck humor... or can you?
Without a doubt, Chapter Two is a solid popcorn film that should make a killing at the till. It's just that if you want to keep the popcorn analogy, this one is stamped cheesy on the box. Even the so-called "kilig" moments come at the most incredulous of instances, beggaring suspension of disbelief. Veteran actress Joan Gregson as Mrs. Kersh is one bright spot in the new cast of characters, but even she can't save this film from losing steam midway. So if you're happy subsisting on the jump scares and throwaway comedic jibes, you'll be one happy camper. Me, I missed the emotional heft of the first film that I truly enjoyed and loved as one sterling example of smart filmmaking.