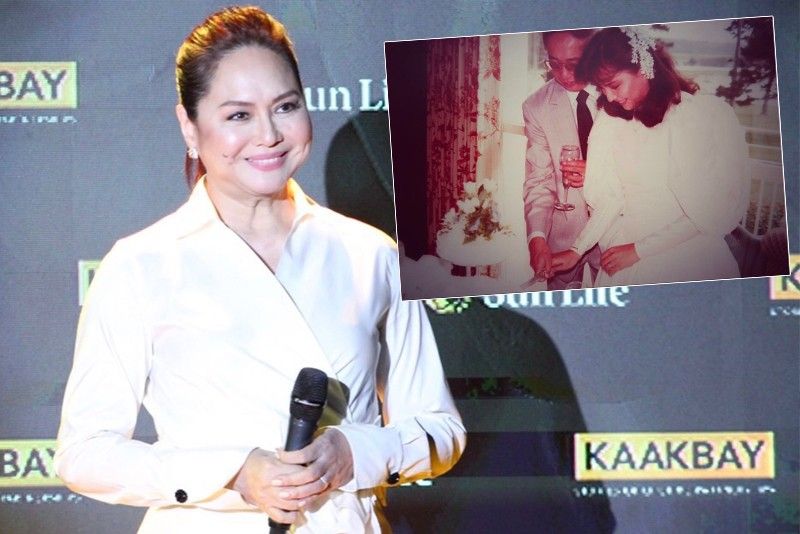 'I feel truly blessed to have found him and every day, I'm inspired to do what I can to prove worthy of the blessing that he is in my life,' Charo Santos said of her husband Cesar Rafael Concio Jr.
Photo from Charo's Instagram
Charo pays tribute to biggest fan & lifetime partner
MANILA, Philippines — Charo Santos-Concio paid tribute to her biggest fan and lifetime partner, saying that she is the person that she is now because of him.
She's referring to none other than her businessman-husband Cesar Rafael Concio Jr., to whom she has been married for nearly four decades now.
"I feel truly blessed to have found him and every day, I'm inspired to do what I can to prove worthy of the blessing that he is in my life," Charo said before the media launch on July 6 of her video titled Greatest Love, where she chose to open up about her love story as one of the celebrity ambassadors of Sun Life's newest and very personal ad campaign, Kaakbay: Stories of Lifetime Partnership.
Charo recalled how her "different" love story and eventual marriage to a man some 20 years her senior shocked family, relatives and friends.
The first time she was introduced to her husband was when she was presented as a print model for his company.
This was in the '80s and she was a fast-rising model-actress in her early 20s. "Cesar was in his 40s, highly accomplished, so we were eventually introduced and I found him to be very warm, respectful, gracious, a true gentleman of the old school. I called him Mr. Concio," she said.
They became good friends that she was no longer surprised when he invited to join him and his friends to tour Europe after the screening of her then film, Mike de Leon's Kisapmata, at the 1982 Cannes Film Festival in France.
She agreed because she needed a break and they were friends. "I felt safe, not knowing that he was going to Europe pala to propose to the girl he was in love with! But the odds were against him. I was half his age. He was separated with children. Our first stop was St. Peter's Basilica (in the Vatican). I asked God to bless me with a good husband. I didn't have the tiniest idea that it was going to be the man standing beside me."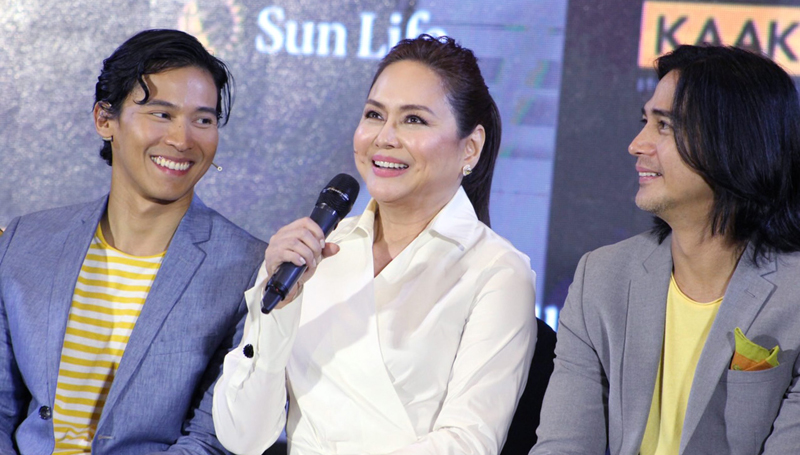 Charo is flanked by fellow Sun Life ambassadors Enchong Dee (left) and Piolo Pascual
One dinner during that Europe tour, Charo recalled asking Cesar if he was thinking of marrying again, and then he replied, "Yes. In fact, I was thinking of marrying you."
The rest is history. They were married on Nov. 9, 1982 in Pebble Beach at Pacific Grove in Monterey, California. They have been blessed with two sons — Francis (now a film score composer) and Martin (a DJ and host).
The full tribute video, Kaakbay: Greatest Love, which offers an intimate look into this important part of the life of a woman who became a towering figure in the media and entertainment sector — premieres Aug. 3, on Sun Life's official YouTube channel.
For someone who is used to telling the stories of others through her ABS-CBN program MMK, Charo told the press that she had jitters sharing hers but "he respected me as a woman and as a person. I'm just paying tribute to the man who loved me unconditionally."
As she rose to become the first woman president of ABS-CBN Broadcasting Network in 2008 (a position she held until 2016), her husband was supportive all the way. "He was very, very happy over my successes," the now ABS-CBN chief content officer said.
From her husband, Charo learned so much about being a leader in the corporate world. She enumerated the leadership lessons she got from him.
"Leadership is not about you, it's about the people that you serve. Don't take things personally. This, too, shall pass if you're going through some challenges.
"Learn to look at things with detachment so that you're able to make objective decisions. The considerations may come in later, but at least you made a fair and objective decision.
"Learn from your mistakes, but don't dwell on them. Move on. Remove the 'kasi naman eh' language or 'kung alam mo sana yung ginawa mo,' parang we tend to blame and point a finger at the world. He also taught me that sense of accountability that if you've made a mistake, then you've made a mistake."
(The Kaakbay series also features stories of lifetime partnership from other Sun Life endorsers, like Enchong Dee who spoke about his swimming coach, which is now available on YouTube, and Piolo Pascual with son Iñigo in Kaakbay: Bro, which premieres on July 27, 9 a.m.)