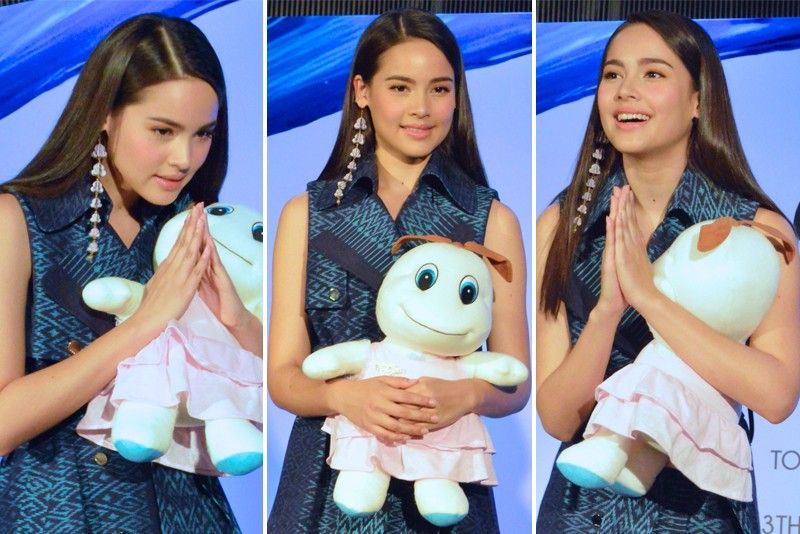 Saying hello with the traditional Thai greeting at the presscon introducing her as the new celebrity ambassador of the Tourism Authority of Thailand (TAT) ­
Photos by Ver Paulino
Yaya Sperbund invites Pinoys to Thailand
The Thai superstar takes pride in being an ambassador for the Tourism Authority of Thailand: 'It's such an honor! I really, really believe that Thailand is so beautiful. We have so many places that are yet to be discovered. We have so many diverse things that people can experience. I feel very lucky to be able to share this message to all travelers.'
MANILA, Philippines — Thai superstar Urassaya "Yaya" Sperbund feels happy and honored to be in the frontlines of promoting her country overseas in her capacity as the new celebrity ambassador for the Tourism Authority of Thailand (TAT).
The Thai-Norwegian stunner was brought to Manila last week to invite more Filipinos to go and visit the neighboring ASEAN country. TAT has made an excellent choice in appointing her, given that she has a fast-growing fanbase in the Philippines after the recent airing of her hit lakorn (a.k.a. Thai soap opera) titled The Crown Princess on Philippine TV.
According to Kajorndet Apichartrakul, TAT director for Philippines and Singapore, "We are so excited and so honored to have her. She's such a perfect ambassador, what she has done in Thailand — through TV dramas and movies — shows that she represents Thailand very well."
He also added that presenting Yaya as tourism ambassador is also part of a series of events celebrating the 70th anniversary of Thailand and Philippines' diplomatic relations.
Wearing a stunning Thai silk gown for the TAT gala show featuring the best of Thai fashion and culture, as photographed by Vogue Thailand...
Meanwhile, Yaya takes pride in being tapped to spread the good word on Thailand. "It's such an honor! I really, really believe that Thailand is so beautiful. We have so many places that are yet to be discovered. We have so many diverse things that people can experience. I feel very lucky to be able to share this message to all travelers."
She promised to drum up interest in the country's hidden gems. "A lot of people go to Bangkok, Chiang Mai, Phuket, but there are so many smaller places in Thailand that people have to experience and we're focusing on the local people and experiencing things from the locals. This year, we're working on that. We've been doing a lot of work together filming on those areas. The food is so good, the views are so unspoiled. It's very raw so, yeah, hidden gems absolutely."
She noted that the Philippines and Thailand share similarities and this fact can be her country's top selling points. "I've had a few dishes here. I think the food tastes are quite similar (to ours). Definitely, (Filipinos) will have a lot of fun with our culinary experiences there."
The STAR had a one-on-one chat with the 26-year-old actress-model after a presscon last Thursday, June 13, at Dusit Thani where she expressed interest to work with Filipino actors. She also graced a gala show featuring the best of Thai culture and fashion last Friday, June 14. Her three-day visit culminated with a fan meet last Saturday, June 15, at the Ayala Mall Circuit in Makati.
Here are excerpts from the interview:
What are your impressions so far of the Philippines?
"I saw your jeepneys. They are so cute! I really, really wanna sit in one of those. And well, my dad comes here very often with my mom (they've been to Cebu, Palawan, Davao and Cagayan de Oro). (They come here) for the diving, for the beaches, and he's been talking so much about the food here. So he's very excited that TAT will bring me to have some nice food here.
"To be honest, (what I know about the Philippines is) all about the beaches. That's the main thing I know. So, Cebu, Palawan, like very serene, very clear waters. I would really, really love to come to your beaches. Cebu is at the top of my list right now."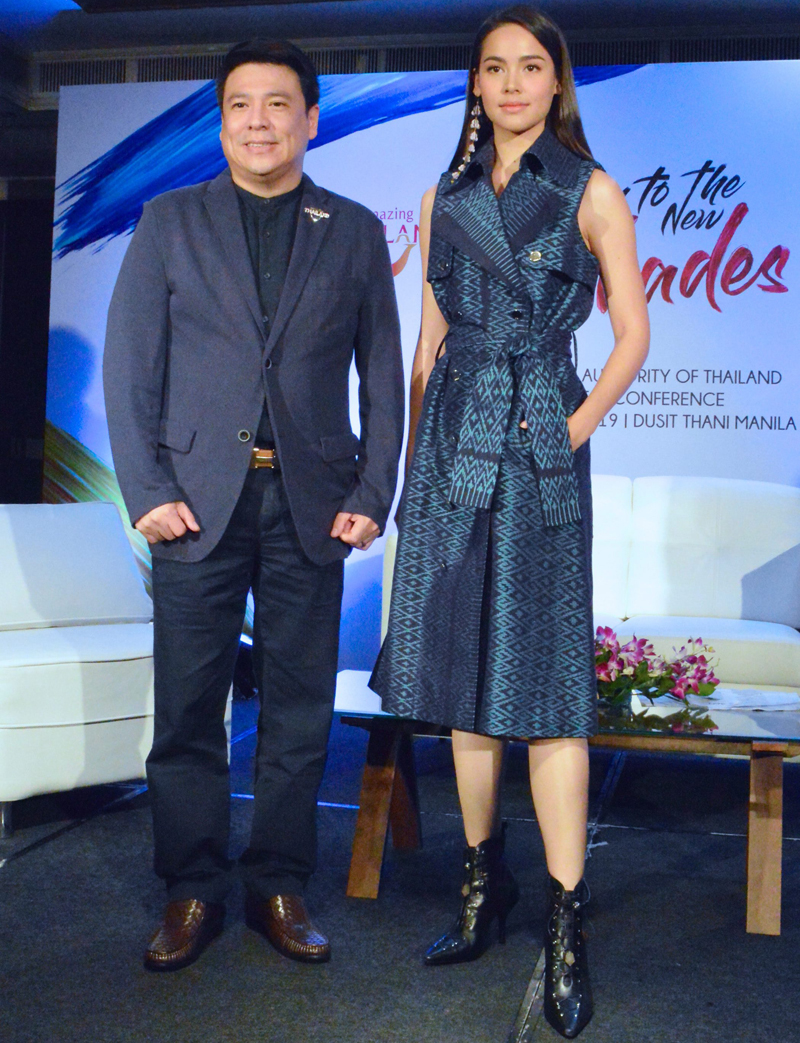 ...with Kajorndet Apichartrakul, TAT director for Philippines and Singapore during the presscon...
Are you aware that you're quite popular in the Philippines? (STAR's Facebook post on her presscon generated over 6,000 reactions as of Friday night.)
"Not really! But I was very pleasantly surprised since at the airport there were quite a few people that greeted me and that was so lovely, that was so nice! And I started to notice — usually in my Instagram, in my pictures as well, were Thai comments. Now, there's a lot of English comments and I've noticed that a lot of them are from the Filipino fans."
Was it a goal of yours to be an international star?
"That wasn't really a goal. It happened by chance and I'm super happy about that. Grateful for it completely. So yeah, I've been very lucky and I've had a lot of chances to like broaden the experience, like work in the international scene."
Would you be interested to work with Filipino actors, like in movies?
"Absolutely! Please contact me. I'm very open to anything. It's been such a great experience working with all types of people and nationalities, and it has really benefited me and so, anything that comes forth, I'm always open."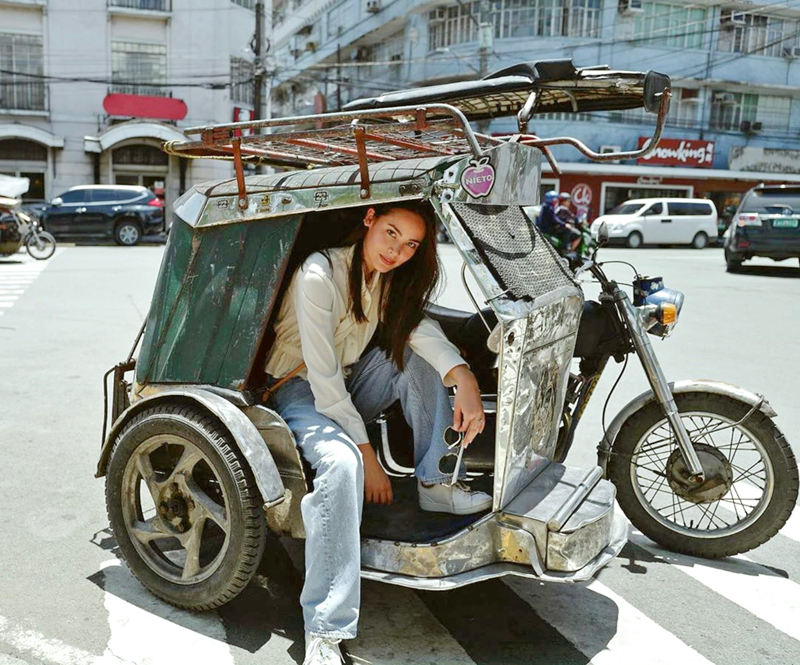 ...and in a tricycle on a tour of Intramuros — doesn't it remind her of Bangkok's tuk-tuk? — Photo from Yaya's Instagram
What other projects can Filipino fans expect from you?
"I have a lakorn that's airing now (Klin Kasalong) and hopefully that will air here. But otherwise, there are other work that I'll be doing with TAT. If there's someone who invites me to come (to the Philippines again), I'll come."
Apart from tourism purposes, as an actor, what makes Thailand an ideal place for filming?
"We have such a diverse landscape, we have beaches, we have mountainous areas, we have forests, we have cities. We're quite big on the film industry. We have a lot of talented people working. Absolutely, it's a great place to work."
Maybe in your next visit, you'll have a bigger show and not just a meet and greet for the fans?
"This is my first time here and I would be here for three days. I guess, starting with something safe is always better, we can always work on that. But it's been so lovely. I've just been here for a few hours and everyone is so nice and welcoming so I can't wait to come back again."