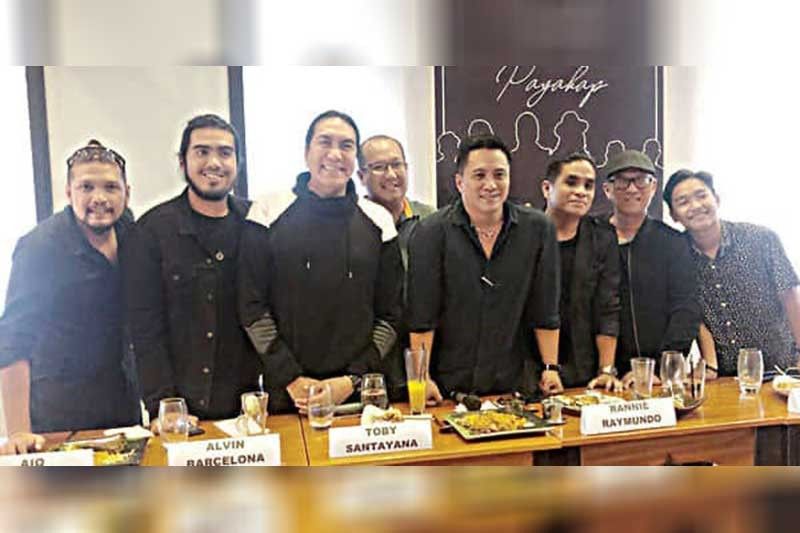 Rannie Raymundo (fourth from right), his business partner Toby Santayana, Himaya band founder Alvin Barcelona (third from left), and the rest of the band members
Rannie takes up the cudgels for songwriters
MANILA, Philippines — Decades after he composed the hit song Tatlong Beinte Singko (popularized by Dingdong Avanzado), singer-songwriter Rannie Raymundo is still having the time of his life as a musician.
That's because he now calls the shots when it comes to his craft. He writes songs because he wants to, not because a recording studio (do we still have them these days?) tells him to. Rannie — all of 51 now — can also release his songs when and where he wants them.
His production studio, Madhouse Radio, releases songs of talented artists who need a big push so they can do so in various platforms.
"We have an abundance of creative songwriters, but they don't have a venue," laments Rannie. "These days, you have to be connected or famous (to be heard). You have to be handsome, beautiful and sexy. But that has nothing to do with ears for music."
Rannie couldn't stand the thought of a fellow musician blooming in an unseen corner of the world. Big talent needs an outlet — the more the better. And in this age of Spotify, YouTube and other social media platforms, that's sky's the limit.
Originality — then and now — is the key. Rannie frowns on copycats who latch on the sound of the latest hitmaker. And he knows there are many of them.
What he needs and wants for Madhouse are songs with a life of their own. Rannie cites Pepe Smith, VST, Basil Valdez, Willy Cruz and Juan dela Cruz, whose songs are recognizable at the sound of its first few bars.
So Rannie made it his mission to look for that original Filipino music that would feed the soul and make today's generation listen well. He stumbled upon Himaya Band, with its fusion of '60s sound, rock 'n roll, classics, pop, ballads, disco, rock, reggae, rap and others — and found the answer. Himaya (from the Visayan word meaning praise) has been around for almost two decades — a survivor of changing musical tastes.
That's because it has kept up with the times. Singer-songwriter Jose Mari Chan knows this, so he asked Himaya's founder, rocker-preacher Alvin Barcelona, also the band's vocalist, to make the songs more millennial-friendly.
Alvin came prepared. His son Aio is a millennial — and most of all, a songwriter like his dad. Gab Espinosa, 16, is a drummer who readily agreed to join Himaya (Alvin's fellow pioneers are keyboardist Jeric Mison, bassist Matthew Perez and lead guitarist-vocalist Mike Nuez).
They gave Himaya that millennial sound that radiated hope, faith, peace and love. Young people sang along to the pop-rock vibe. Himaya's single, Payakap, shot to Madhouse's Top 3 list. Madhouse rewarded Himaya by releasing Payakap and its music video on Spotify, Facebook, YouTube and other social media platforms.
But the road is still long, the campaign to spread the gospel of OPM (Original Pilipino Music) far from over.
Rannie is brimming with plans for fellow musicians. He wants to deploy a jeepney that will stop at high-traffic areas like town plazas to discover fresh songwriting talents all over the country. He and his staff will screen the content and look out for red flags like lyrics about violence.
Rannie may no longer be the teenager frontlining show after show. But he performs with the OPM Hit Men, Tribu ni Boss and Simcha. Most of all, he's mentoring future songwriters.
Rannie's musical journey is as exciting as ever.