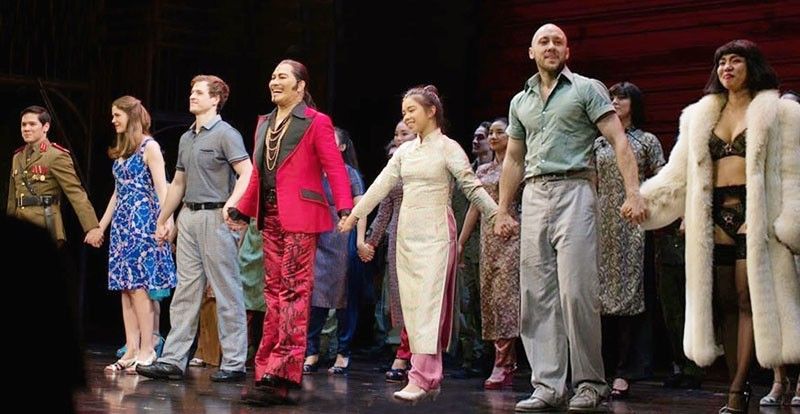 Gerald (leftmost) during the musical's farewell performance in Switzerland with kababayan Leo Valdez (as The Engineer, fourth from left), Joreen Bautista (as Kim, center) and Aicelle Santos (as Gigi, rightmost), and other co-stars.
Gerald coping with'withdrawal blues'
FUNFARE
-
Ricky Lo
(The Philippine Star) - April 29, 2019 - 12:00am
Back from almost two years playing Thuy in the Miss Saigon tour that started in UK and ended in Switzerland, Gerald Santos admitted that he's experiencing (but coping well) with "withdrawal blues" (or "separation anxiety").
You can't blame Gerald because he played the role 553 times, eight times a week, so it had become like second skin to him.
"It's a bit hard but I am managing," Gerald told Funfare. "As the days go by, I feel that Thuy is getting farther and farther away from me so I'm missing him more and more. At lalo kong nararamdaman 'yung sinasabing 'withdrawal blues.' Totoo pala 'yon."
Together with three kababayan who also played principal roles in the Cameron Mackintosh-produced megahit musical…Leo Valdez reprising as The Engineer, Aicelle Santos as Gigi and Joreen Bautista as Kim…Gerald came home early last month.
"I haven't been doing much," said Gerald who recharged himself during a well-deserved two-week vacation in Thailand and Ho Chi Minh (formerly Saigon), the city that brought back memories about the musical. "Sarap ng feeling that I was in the place where the story of Miss Saigon was supposed to have happened."
During his two homecomings during breaks from the UK tour, Gerald was able to record a single titled I'm Yours (composed by Kiko Salazar, now available on Spotify, iTunes, etc.) and he hopes to record another single end of the year.
Gerald's "longing" for the musical will be relieved on May 4 when he stars in The Homecoming Concert at Solaire's The Theatre, together with Leo, Aicelle and Joreen (plus Jake Zyrus as guest performer).
"The audience will feel the Saigon vibe," assured Gerald. "We will see to that."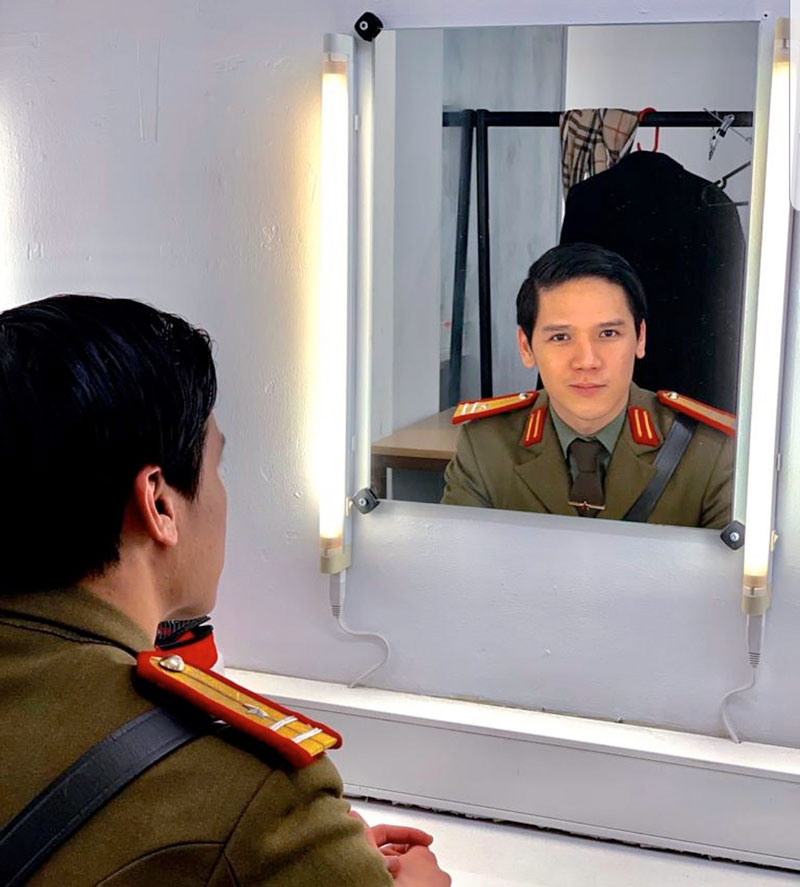 During his nearly two year stint in the Miss Saigon tour, Gerald Santos performed Thuy 553 times, eight times a week, making the character feel like second skin to him
The repertoire includes songs from the musical, with Gerald doing several solos, a duet with Leo, a duet with Aicelle, a duet with Joreen and a production number with all three expected to, well, bring the house down.
"If you have seen the musical, the production number will give you a déjà vu feeling," said Gerald. "If you haven't seen the musical, it will give you an idea how overwhelming the musical is. But I am also doing some pop songs and OPM. They will see 'the new Gerald Santos' in the concert. You see, since I started doing musicals, I've started 'overhauling' myself as a singer and performer. I have to 're-adjust' my vocal cords to suit the demands of the genre."
Before conquering the international stage, Gerald had performed in only two local musicals, Sino Ka Ba, Jose Rizal? and San Pedro Calungsod, both on tour, very much like Rachelle Ann Go who had done only one (local) musical, Little Mermaid, before she embarked on an international career by playing Gigi in Saigon and later graduating to Les Miserables and now to Hamilton.
"I saw Rachelle in Hamilton and she was amazing," said Gerald who watched other musicals during breaks in the three-month rehearsals in London for the Saigon tour.
Besides learning how to live independently (doing the chores and preparing his meals, etc.) out there, Gerald came home with fond memories, among them a heart-warming compliment from Mackintosh no less.
"He watched my first performance and he told me that I made him emotional. Isn't it flattering, coming from the producer himself?"
Anytime now, there will be an announcement involving Gerald who asked Funfare to "keep it off the record" just yet.
A few nights ago when he guested on Jobert Sucaldito and Ahwel Paz's DZMM program Showbuzz, Gerald obliged by singing Empty Chairs and Empty Tables from Les Miz with so much feeling that he moved Jobert and Ahwel to give him "sitting" applause.
"My dream role is Marius in Les Miz," confessed Gerald, keeping his fingers crossed.
He can dream, can't he?
(Gerald Santos The Homecoming Concert is presented by Mediabiz Entertainment Corporation and Twin Productions International, Inc., in cooperation with Solaire. Ticket prices are P5,000; P3,500; P2,500; and P1,500. Call TicketWorld at 891-9999.)
(E-mail reactions at rickylophilstar@gmail.com. For more updates, photos and videos, visit www.philstar.com/funfare or follow me on Instagram @therealrickylo.)