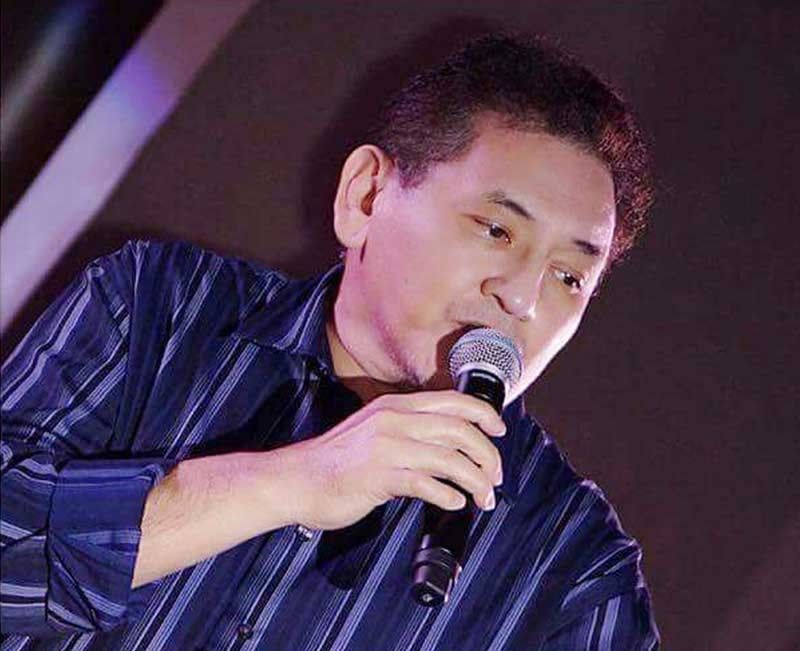 Proud of his accomplishments, Richard Merk is also contrite for all the mistakes he committed. He is thankful that his friends continue to help him in his pursuits and even travails.
MANILA, Philippines — Jazz prince Richard Merk battled with his life at the start of this year. He was at the ICU (Intensive Care Unit) of Medical City in Ortigas after he suffered from diabetes complications.
He was discharged from the hospital but with enormous financial dues. On Feb. 4, Richard's artists-friends in the music industry will mount a fundraising show for him, Our Love, at Johnny B Good, formerly Hard Rock Café, in Glorietta, Makati City.
"We are helping Richard get back on his feet," said one of the concert producers, Mary Anne Meily. "Richard has a diabetic condition and can hardly walk because of a wound on his right foot. We are hoping this show will greatly benefit him."
The artists helped organize the benefit-concert with Richard's siblings, Rachel Anne Wolfe and Ralph Francis Wolfe. Tickets are reasonably priced at P1,000 for an all-star cast show.
Artists who offered to perform include RJ Jacinto, Dulce, Kuh Ledesma, Robert Sena and Isay Alvarez, Jong Cuenco, Kris Lawrence, Henry Katindig, Brod Pete and Rachel Anne Wolfe.
Richard has been singing for more than five decades now, starting when he was seven years old in the TV show, Darigold Jamboree. He has shared the stage with some of the finest performers in the local music scene.
"My brother is once again in the midst of all things that can possibly destroy one's life," wrote Richard's sister, Rachel Anne Wolfe, in her Facebook post which she opened with the line, Habang May Buhay, the pop ballad by Wency Cornejo.
"His physical health is deteriorating; his mental and emotional health is very weak…The cards that he was dealt with all his life, the ups and downs, the challenges, the good and the bad. And if you've experienced being around him these past 20 years, then you'll really know what I mean."
Yet, Richard is undoubtedly a fighter. "The good news is, God is good! And God doesn't forsake. He forgives and heals. And my brother is trying to turn his life around.
"As the New Year rings, I pray that he will get through all negativity that surround him and pray for the chance to be renewed once more."
Rachel knows that her brother has "a very big heart." Through the years, Richard has helped a lot of musicians in the industry. "His talent is incomparable and people in the business know that."
"Regardless of his tainted image over the years of wrong choices in his life, there are great accomplishments and contributions he has made to his friends and to the music industry."
It will be remembered that in 2016, Richard also had a debilitating accident that left him bedridden and immobile for more than a year. He figured in a vehicular accident on his way home along the South Luzon Expressway. He was sidelined from performing for the entire year and his right leg nearly got amputated.
Undoubtedly proud of his accomplishments and musical feat, Richard is also contrite for all the mistakes he committed. He is thankful that his friends continue to help him in his pursuits and even his travails.
Also expected to perform in the benefit concert are lawyer Sal Panelo, Tosca and Rox Puno, Jeannie Tiongco, Mar Dizon, Dix Lucero, Carina Digos, Champagne Morales, Margaux Salcedo, Megan Herrera, Isabella Gonzales, Nants del Rosario, Michael Williams, Billy Melendrez, Jazz Almonacid, Jane Joseph, Joey Bautista, George Sarakinis, Dondi Ong, Arpie and the Multivitamins, Route 70 and Progeny Band (with Dr. Gilbert de la Cruz, his sons ­­— Patrick and David — and keyboardist Jeffrey Virtudazo).