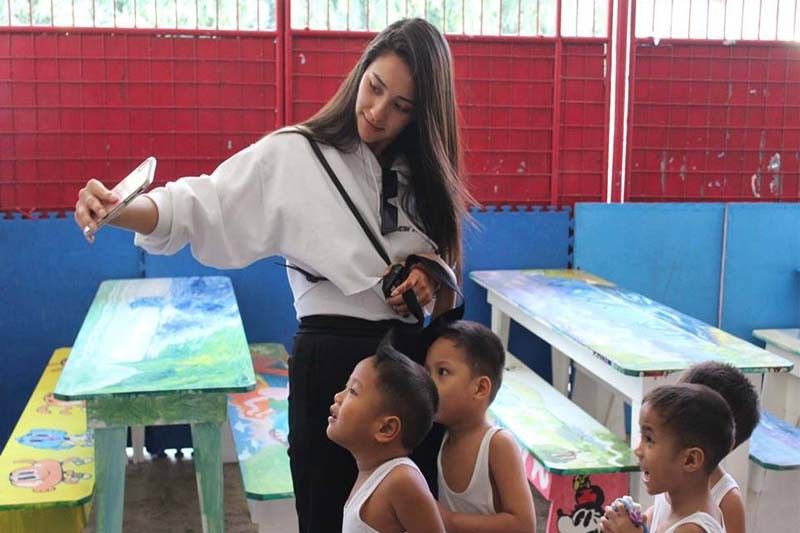 In this Jan. 15, 2019 photo, Filipino-Canadian actress Shay Mitchell took selfies with the children of child-caring institution Virlanie Foundation.
Facebook/Virlanie Foundation
Shay Mitchell visits child care foundation in Manila
MANILA, Philippines — Filipino-Canadian actress Shay Mitchell visited a child-caring institution and mingled with street children while in Manila.
In her Instagram stories on Wednesday, Shay shared that she visited non-government organization serving street children in Metro Manila, Virlanie Foundation. She went to the foundation with her friend American-born composer, writer, producer and classical pianist, Chloe Flower.
Shay informed her followers and friends that the foundation is a "child caring institution looking out for the welfare and empowerment of disadvantaged children." She also called on them to help these children.
"To my friends, the lovely people who live here in Manila, Philippines….If you are around Metro Manila, or nearby their office in Makati City, please drop by and help out! Anything from in-kind donations for their needs or any small donation will definitely go along way!" Shay wrote.
"Help us ensure that these children all reach a better and brighter future that they so deserve," she added.
Shay also shared that they took photos, ate, played games, and asked the children about the toys they want, as well as some other essentials the center needs.
"They were so amazed by the filters," Shay said.
Virlanie then thanked Shay and Chloe for supporting their foundation.
"So grateful that you had fun with our kids last night, Shay Mitchell! We're sure they did too," Virlanie said on its Instagram story.
"Thank you so much for the love and support," it added.
The foundation shared Shay and Chloe visited the center last Monday and Tuesday as they thanked the two anew.
"Virlanie greatly appreciate your kind, genuine hearts in bringing happiness to our children. They surely had a wonderful time with you two!" Virlanie said.
"More than the toys and necessities you have graciously donated, you have brought them the joy of a lifetime!" it added.
Virlanie Foundation is registered with the Securities and Exchange Commission and is duly licensed and recognized by the Department of Social Welfare and Development of the Philippines.
Shay recently visited Manila to promote her hit Netflix original series "You" with co-star Penn Badgley while Chloe joined her in her tour. Shay also met with her Filipino supporters at a special fan event in Greenbelt on Tuesday evening.
RELATED: In Photos: 'You' stars Penn Badgley, Shay Mitchell share light moment with press