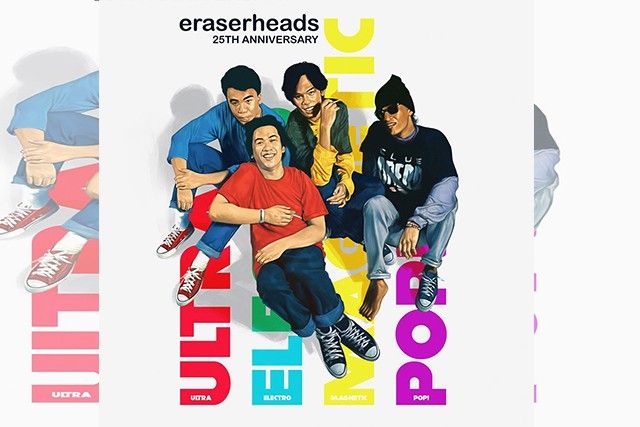 The 25th anniversary album of Eraserheads
Facebook/Offshore Music
Eraserheads' big reveal: 'Ultraelectromagneticpop!' on vinyl mastered by Michael Jackson's audio engineer
MANILA, Philippines — On December 6, Eraserheads' lead guitarist Marcus Adoro declared that his former band will make an official announcement the next day.
On December 7, Ely Buendia, the band's guitarist, songwriter and lead vocalist, made the promised "official announcement": the band's 1993 debut album, "Ultraelectromagneticpop!," is now available for the first time on vinyl.
Produced by Offshore Music and Sony Music Philippines to mark the band's 25th anniversary, the 180-gram vinyl record has been mastered by Grammy-nominated Hollywood audio engineer Bernie Grundman "in all its analog glory," said Buendia.
Grundman also mastered albums such as "Thriller" (1982) by Michael Jackson, three albums by Prince, and "Head to the Sky" by Earth, Wind & Fire.
First recorded in 1993, Eraserheads' "Ultraelectromagneticpop!" featured the hit '90s anthems "Pare Ko," "Ligaya," "Toyang" and "Tindahan ni Aling Nena."
"Pare Ko" became controversial when the Philippine Association of the Record Industry attempted to censor it for including cuss words in the lyrics.
During the '90s, Eraserheads sold over 300,000 copies of "Ultraelectromagneticpop!," making it a certified sextuple platinum.
The mastered vinyl record, on the other hand, will be limited to only 2,500 copies, and will be shipped starting next year, said Buendia.
"Ultraelectromagneticpop!" was also released on Spotify last November 23.
Composed of Buendia on lead vocals, Adoro on lead guitars, Raimund Marasigan on drums, and Buddy Zabala on bass, Eraserheads made headlines recently for being rumored to reunite to perform at the University Athletic Association of the Philippines' Season 81 men's basketball finals, where their alma mater, University of the Philippines, faced off the eventual defending winner, Ateneo de Manila University.
RELATED: Eraserheads reunion for #UAAPFinals? Band reunites to practice ahead of game 2 | Maling Akala: Ely Buendia not in supposed 'Eraserheads band practice' video