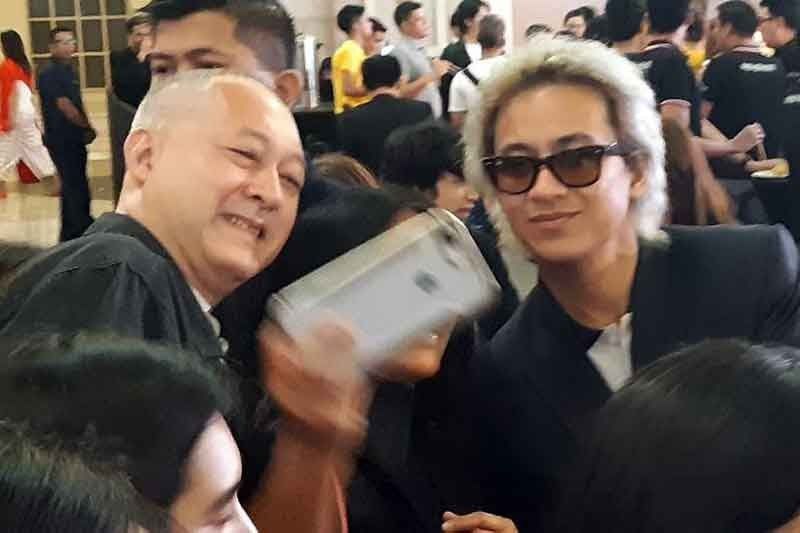 In this August 2018 photo, musician Ely Buendia joins the crowd who watched Resorts World Manila's theater production of "Ang Huling El Bimbo."
The STAR/Edmund Silverio, file
Maling Akala: Ely Buendia not in supposed 'Eraserheads band practice' video
MANILA, Philippines— Former Eraserheads lead vocalist and guitarist Ely Buendia on Tuesday took to Twitter to clarify that he was not in the practice video posted by his former bandmate Raimund Marasigan.
"Whoever that blond guy in the video is, it's not me. Sorry, Philstar. I wish both UAAP teams the best of luck, though," Buendia tweeted.
Whoever that blond guy in the video is, it's not me. Sorry, Philstar. I wish both UAAP teams the best of luck, though. https://t.co/PTrhbSIzko

— Ely Buendia (@elybuendia9001) December 4, 2018
"The blond guy looks like Vice Ganda from the back, tbh. Possible collab with the other three perhaps?" he added.
On Monday evening, Marasigan, tweeted a short clip showing his former bandmates, Marcus Adoro (lead guitars), Buddy Zabala (bass), performing the instrumental version of hit song "Minsan." The song references Kalayaan Residence Hall, a dormitory in UP Diliman.
The 30-second video panned to show a man whom Philstar.com mistakenly identified as Buendia.
Buendia has been photographed with blond hair.
It was not clear whether Marasigan was the one panning the camera.
praktis before game 2 pic.twitter.com/wq8mapAQY8

— Raymund Marasigan (@raymsmercygun) December 3, 2018
Buendia laughed off the "practice" video that sparked rumors of the band's reunion for their alma mater, University of the Philippines, as it bore the caption "Praktis before game 2."
"Laugh trip lang the way the guy taking the video makes pahagip-hagip the blond guy. Making paasa the fans," Buendia said.
"Sometimes these guys are like SEMBREAK. NO CLASS AT ALL," he added.
Over the weekend, Adoro reposted a Facebook post calling on the now disbanded Eraserheads, to perform at the UAAP finals halftime.
"Wild idea: Eraserheads reunion para sa Finals halftime. Buuin niyo na pangarap ng buong UP community, please?" the Facebook post reposted by Adoro on his Instagram read.
Adoro said the post was not an official statement of the band.
Disclaimer: (This is not an official statement. Originally [an] FB post. Patawa lang. Relax it's just [an] ig post)," Adoro wrote.
The UP Fighting Maroons is slated to face UAAP men's basketball tournament's defending champion Ateneo Blue Eagles for the finals second game on Wednesday.