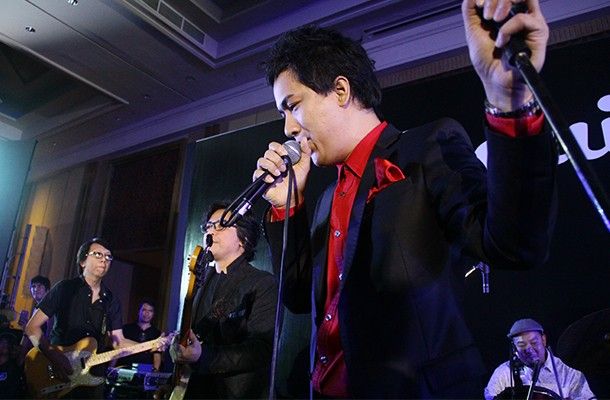 In this September 2014 photo shows Pinoy rock band Eraserheads members reunite and perform as a group during the launch of Esquire Philippines' September issue.
Philstar.com/Jonathan Asuncion, File photo
Eraserheads reunion for #UAAPFinals? Band reunites to practice ahead of game 2
MANILA, Philippines — Legendary OPM band Eraserheads surprised fans on social media after one of its members, Raymund Marasigan, posted a video of them reuniting and practicing ahead of the anticipated 81st UAAP finals game 2.
On Monday evening, the band's former drummer, Marasigan, tweeted a 30-second video showing his former bandmates Ely Buendia (lead vocals, guitar), Marcus Adoro (lead guitars), Buddy Zabala (bass), performing the instrumental version of one of their hits from the Anthology album titled "Minsan."
praktis before game 2 pic.twitter.com/wq8mapAQY8

— Raymund Marasigan (@raymsmercygun) December 3, 2018
Marasigan captioned the video "praktis before game 2," prompting rumors that the band will reunite for the game of their alma mater, University of the Philippines.
The UP Fighting Maroons is set to compete against UAAP men's basketball tournament's defending champion Ateneo de Manila University Blue Eagles in a deciding game on Wednesday afternoon.
This is the Maroons' first appearance at the UAAP finals in 32 years.
The Eraserheads was formed at UP, hence the public clamor for the band to reunite for the historic UAAP finals stint of the MBT.
Speculations that the band will reunite sparked after Adoro over the weekend reposted a Facebook post urging the band to perform at the UAAP finals halftime.
"Wild idea: Eraserheads reunion para sa Finals halftime. Buuin niyo na pangarap ng buong UP community, please?" the Facebook post reposted by Adoro on his Instagram read.
Adoro, however, said he just reposted the idea for fun. He stressed that it's not an official statement of the band.