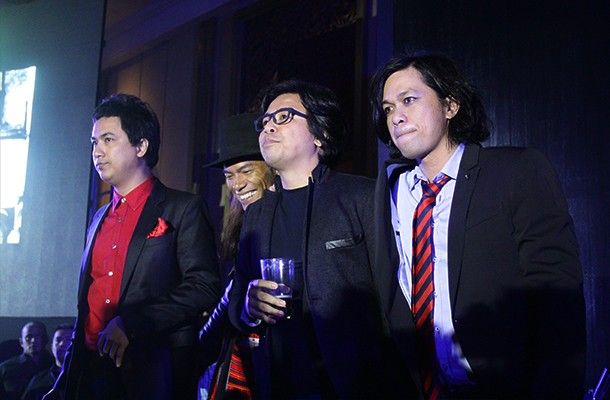 In this Sept. 4, 2014 photo, sensational '90s rock band Eraserheads attends the Esquire Philippines September 2014 issue launch.
Philstar.com/Jonathan Asuncion, file
Marcus Adoro: Eraserheads to make 'official announcement' on Friday
MANILA, Philippines — Former lead guitarist of Eraserheads, Marcus Adoro, on Thursday announced that his now disbanded band will make an official announcement on Friday.
On his Instagram post, Adoro said the official announcement will be made on Friday "a.m." He did not specify the time when the announcement will be made, but clarified that he will not be making one.
He instead advised the fans to check out the social media account of the "boys."
"Oyan! Now here's an official announcement. P.S. Hindi ako magaanounce bukas. Abangan nyo sa social medyas ng da boys," Adoro wrote.
It was unclear whether he was referring to his former bandmates, Ely Buendia (lead vocals, guitars), Raimund Marasigan (drums) and Buddy Zabala (bass), but the post bore an "Eraserheads" heading.
Adoro's announcement came days after speculations stirred that the band will make a reunion for their alma mater, University of the Philippines, which made it to the finals of the UAAP Season 81.
READ: Eraserheads reunion for #UAAPFinals? Band reunites to practice ahead of game 2
The announcement also came days after he and Zabala were seen in a video practicing and performing the instrumental version of their hit E-heads song "Minsan."
Marasigan posted the video of the "practice" on his Twitter account and captioned it "praktis before game 2," just days before the University of the Philippines Fighting Maroons' second game against the Ateneo Blue Eagles.
The post further sparked rumors that they are performing for the finals' halftime.
Nonetheless, Buendia took to Twitter to deny these rumors and also said he was not in the supposed practice.
READ: Maling Akala: Ely Buendia not in supposed 'Eraserheads band practice' video
The video featured a blond man earlier mistaken to be Buendia.
Earlier, Adoro reposted a Facebook post calling on the now disbanded Eraserheads to perform at the UAAP finals' halftime.
"Wild idea: Eraserheads reunion para sa Finals halftime. Buuin niyo na pangarap ng buong UP community, please?" the Facebook post reposted by Adoro on his Instagram read.
Adoro said the post was not an official statement of the band. The post has since been deleted.