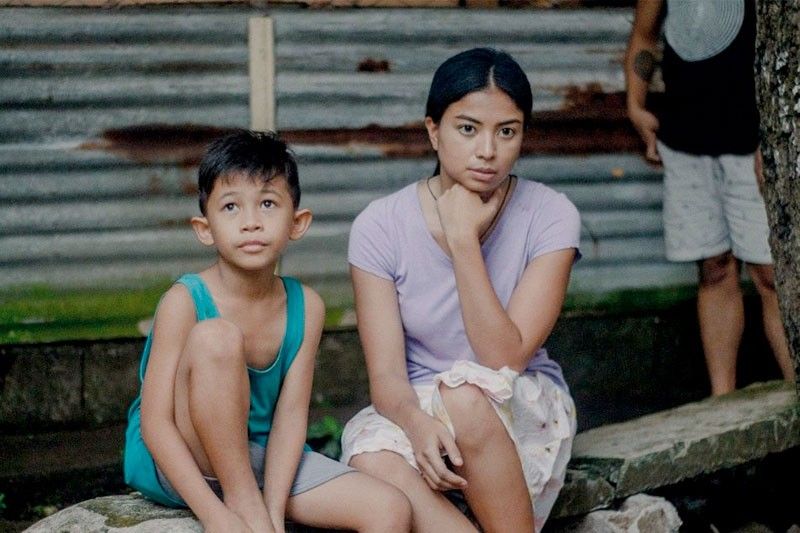 Glaiza de Castro as mother of Kenken Nuyad in Liway. A moving story simply told.
Detention in a boy's eyes
MANILA, Philippines — Everything about Kip Oebanda's Liway is bare as it leads you to a drab detention jail in time of martial law.
Liway (portrayed by Glaiza de Castro) is a political detainee along with husband (Dominic Roco) and with them is a boy named Dakip (Kenken Nuyad) born in the detention cell.
Dakip has known no other world, except the environs around the prison area. The rituals are by now familiar to him including the night they go to bed with the warden (Soliman Cruz) reciting the standard reminder, "Lights off."
He couldn't venture beyond the prison premises and one time, he sees warden and other co-employees watching something with the constant moaning emanating from the TV set. He is driven away for his own sake. One fine day, he climbs a tree high enough to see the world beyond. He wonders what the world is like beyond his parents' abode. When he is finally allowed to go out, he finds himself addressing the sympathizers of her parents. He is often lost in his own thoughts and wonders why people are fighting for something still beyond his comprehension.
Liway is story of life in the detention cell as seen in an eye of a boy born and reared under prison atmosphere. In that limited and well-guarded space, he learns about Liway's life through well-crafted storytelling. Not knowing that the subject is no other than his own mother.
Kenken is a natural actor and his is a profile of innocence that connects very well with the quiet but moving performances of Glaiza and Dominic playing his parents.
Glaiza's acting hues closely to the character she met in real life before the shoot. Knowing the true-to-life Liway must have been an education to her: That a brave woman can fight for her principles beyond the calls of motherhood in the detention cell.
Another actor turning in a marked performance is Soliman as the warden. He is a picture of a stone-hearted jail guard but he carves another layer in his role that all but humanized the character.
As one earlier perceived, everything about Liway is indeed bare and sparse.
Direk Kip kept his storytelling as simple (and yet riveting) as he could make it. He has a story to tell and told it without use for dramatic hysteria. The silence in the storytelling is almost to the point of boredom with very little background music. But he stuck to his directorial vision and came up with a moving story simply told.
The film is not a major masterpiece but in its quiet, simple narrative, it has found a way to recreate another life as led by unsung heroes leading difficult lives in the mountains and ending up as political prisoners not giving up on their country.
Liway is still showing at Glorietta 4 Cinema 7, SM Manila Cinema 11, SM Sta. Mesa Cinema 7, Cinema 76 Anonas, SM Iloilo and Cinema Centenario, which is located at No. 95 Maginhawa St., Teachers Village East, Diliman, Quezon City.