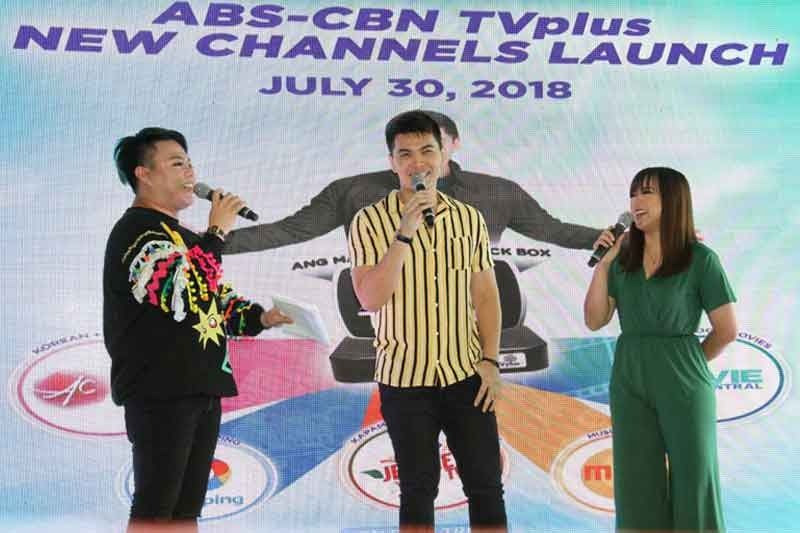 From left: Jeepney TV's DJ Jhai Ho, Goblin theme cover singer Daryl Ong and MYX VJ Ai talk about the Asianovela Channel during the ABS-CBN TVplus presscon
TVplus brings new viewing experiences
KAPAMILYA DAY
-
Kane Errol Choa
(The Philippine Star) - October 10, 2018 - 12:00am
For new ABS-CBN TVplus user John Lloyd Segarra, making the big switch from analog to digital is one of the "best experiences he has ever had" because of the new ABS-CBN TVplus channel offerings on top of the clear picture and crisp sound.
"When I want to watch throwback movies, I'm very thankful that Jeepney TV is right there on TVplus. When I want to see some Koreanovelas, I watch the Asianovela Channel. And since I am a music lover, I really watch MYX," he said with enthusiasm.
Facebook user Ai Bautista Edusada's comment on ABS-CBN TVplus' Facebook page also perfectly sums up the sentiments of her fellow TVplus users when she said, "Mas ma-e-enjoy na ang panonood po namin ngayon dahil sa bagong channels."
The five new channels that keep families entertained all-day long are Asianovela Channel, Movie Central, Jeepney TV, MYX and O Shopping, which were chosen to cater to the viewing preferences and needs of residents who own TVplus units.
TVplus' Asianovela Channel is an answered prayer for Filipinos who love Asian dramas since it airs uncut popular K-Drama and other Asian series and movies dubbed in Filipino every day.
Avid fans no longer have to scour the online world to stream their favorite K-Drama because of the nonstop airing of episodes of notable titles like Goblin, Love in the Moonlight, Legend of the Blue Sea, Warm and Cozy, Oh My Lady and Woman with a Suitcase, among others.
Marathon viewing of Asian movies from horror hits like Shutter, to period dramas such as The Last Princess, are also available every weekend for viewers who just can't get enough of their Asianovela fix.
Since the launch of Asianovela Channel's Facebook page last July 27, over 9,000 Facebook users have liked the page with netizens posting requests of other titles that they wish the channel would air.
So far, the page already earned stellar reviews from fans. Facebook user Solange Magalona said, "Super recommended. I am able to save data because instead of satisfying myself by watching K-Drama through the Internet, I just watch through my ABS-CBN TVplus and enjoy. Saranghaeyo, AC!"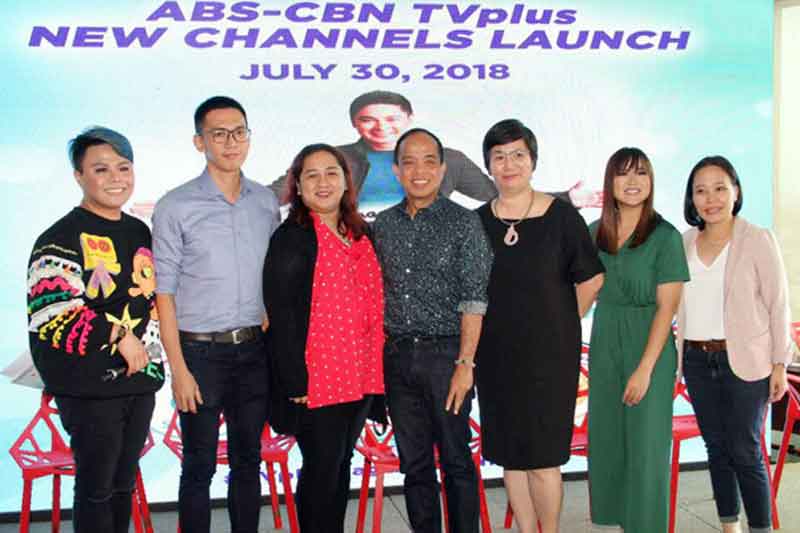 From left: DJ Jhai Ho, ABS-CBN TVplus product manager Alvin Ebrada, Asianovela Channel channel producer Carlota Rosales, Movie Central channel head Ronald Arguelles, Jeepney TV channel head Cindy de Leon, VJ Ai and O Shopping business development head Paper Reyno
Movie enthusiasts also love TVplus' first all-day English channel called Movie Central that features Hollywood blockbusters from award-winning films like La Land to box-office hits like Wolverine.
Another TVplus user, Nette Esltutor, was delighted with the news. She said, "I really love Movie Central. Dati laging CineMo at KBO pag weekends, now puro Movie Central na. Ang cool talaga. Thanks for the new channels, ABS-CBN! Forever solid Kapamilya talaga ako."
Existing ABS-CBN channels Jeepney TV and MYX, two sought-after channels by TVplus users, are also now available on digital broadcast.
Jeepney TV is the home of iconic Kapamilya shows and classic movies that shaped Philippine entertainment. Its collection of programs will make TVplus users reminisce fond memories of watching well-loved programs such as Be Careful with My Heart and G-Mik from way back. The 24/7 channel also gives users a daily catch-up viewing of same-day episodes of Magandang Buhay, It's Showtime and ASAP.
Updates on the most-talked about entertainment news are served fresh to Jeepney TV viewers every Sunday, too, with its first talk show, Showbiz Pa More, hosted by MOR DJ Jhai Ho.
Meanwhile, users who love music and pop culture can tune into MYX for OPM and international music videos, as well as catch fun videos featuring the MYX squad.
TVplus users can even go shopping at the comfort of home through O Shopping, which now has a dedicated channel assignment on TVplus so users can choose from a variety of products without staying late at night to tune into the TV shopping program.
Right now, there are 5.5 million TVplus boxes nationwide that enable families to enjoy clear TV reception, access affordable pay-per-view services and choose from a wider channel selection minus the steep fees. All five channels are initially available in Metro Manila, Rizal, Cavite, Laguna, Metro Cebu and Cagayan de Oro.