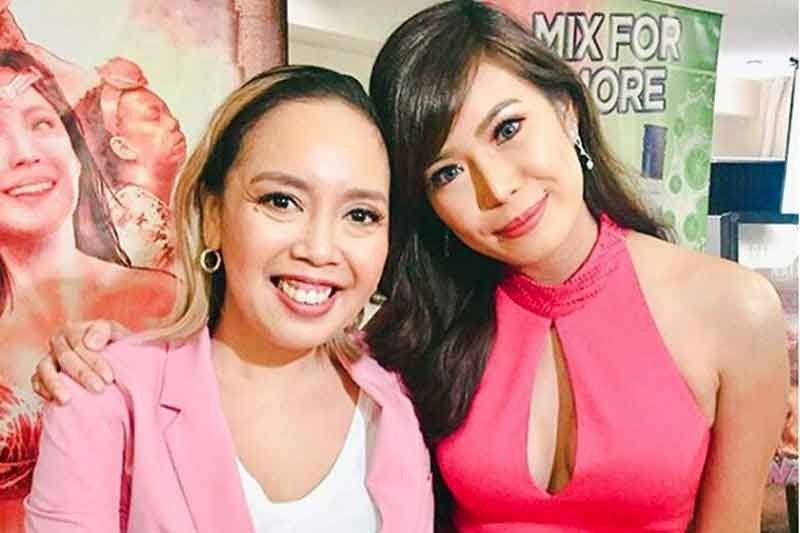 Myrtle Sarrosa (with co-star Kakai Bautista, left) portrays a superheroine in Wander Bra, written and directed by Joven Tan under Blue Rock Entertainment Production. The fantasy-comedy is her first lead role project on the big screen.
Photo from Kakai Bautista's Instagram
Myrtle on the power to do good
Bot Glorioso
(The Philippine Star) - August 31, 2018 - 12:00am
MANILA, Philippines — Myrtle Sarrosa believes people need not be superheroes, clad in fancy costumes we often see in fantasy-themed movies, who wield super powers to defend and save the oppressed. She knows everyone has the power to do good even in this digital age dominated by millennials who are seemingly forever busy tinkering with their gadgets.
"I believe there are still many who are willing to help and through social media, wow, we clearly see that faith in humanity is always there," Myrtle told The STAR after the presscon of Wander Bra, her first lead role movie project under Blue Rock Entertainment Production. "You always see people doing good on social media like those who treat street children in restaurants or you see people who actually offer their time to help others through charities. So, in this modern day and age, there are a lot of superheroes who are just normal people but doing good for everyone in the community."
The young actress may be one of the few who find joy in lending a helping hand but she is not the type who would brag about it. In fact, Myrtle is among the partners of PARF (Performing Arts Recreation Foundation) aside from being a part of Grace to Be Born, a halfway house for pregnant unwed mothers and orphans.
"I joined PARF last February with an aim of helping kids discover their talents. We are focused on kids who really want to get into the performing arts and when they learn, they can put it into practice. We also give opportunities to students who want to enroll in performing arts to learn about music and dancing but they lack funds. When I was a kid, I was blessed to learn about theater — 'yung singing and dancing — kaya ako napunta sa field na ito. So through this, I want to help the children develop their God-given talents."
She continued, "I've been with Grace to Be Born for a long time already, simula pa sa Your Face Sounds Familiar (days) and every year, most of my donations go to them."
Doing heroic deeds sans superpowers is the gist of Wander Bra, written and directed by Joven Tan. The director stressed the movie may have been done as a fantasy-comedy but it is never wanting in life lessons and good values. In the movie, Myrtle is the result of Barbara's (played by Kakai Bautista) transformation into a beautiful and sexy superheroine Wander Bra.
"I really observed and studied all of Ate Kakai's movements — from her facial expressions to her body language — and they were telling me to laugh like this (proceeded to open her mouth wide and imitated the sound of Kakai's laughter) because she's always like that."
Scenes that required her to be in harness were the most challenging for Myrtle. But she had no choice but to deliver, never mind if she has a fear of heights. "I had to climb a tree using a ladder and of course, with my costume, I was also in my heels and I had to carry my own weight. It was scary for me to climb up a tree and I had to jump going down. It's good that Ate Kakai got a double but unfortunately I had none because they were not able to find someone of my build so I had no choice but to do all the stunts. May mga parts na nahulog at nasubsob 'yung tuhod ko but it's fine (with me)."
Who does she consider as her real-life superhero?
"My mom, Tamie Sarrosa, because when I was younger, she had to work here in Manila from Iloilo (her hometown) just to (support) my schooling. She had sacrifices to help me get to where I am now," she replied.
Although she's mature enough to fend for herself, Myrtle still prefers to live with her parents but without depending too much on them anymore. She drives by herself to and from her showbiz commitments. "I think it's good that they taught me to be independent. I decide for myself but I always tell them what's happening to me. They tell me the possibilities or consequences of my actions."
Her parents are equally supportive of her career. Asked how did they find her wearing a sexy costume, Myrtle said it's fine with them "kasi alam nila superhero ang role at may aral ang kwento."
(Showing on Sept. 12 in cinemas nationwide, Wander Bra also stars Zeus Collins, Kiray Celis, Bryan Gazmen, Gardo Versoza and Gina Pareño.)