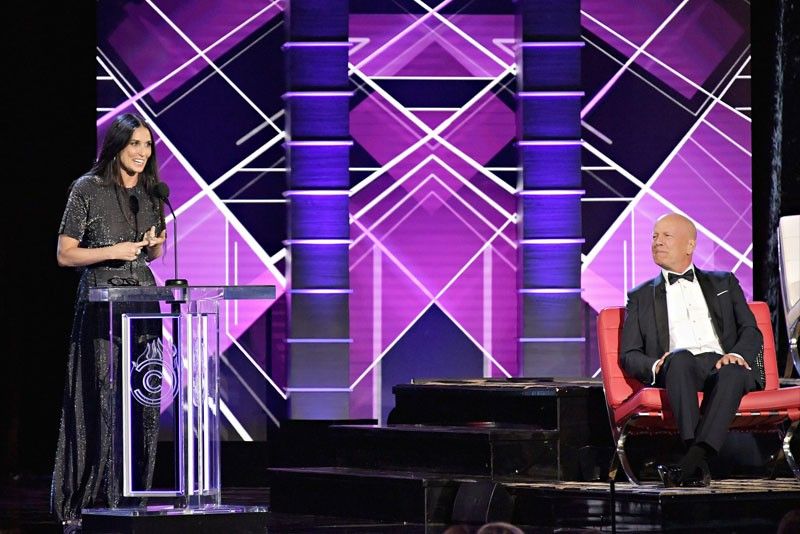 Demi Moore talks affectionately of her ex-husband and father of their three children
Photo by Neilson Barnard
Roasting Bruce Willis all in good fun
Nothing was off-limits! The roasters took turns making fun of Bruce's career, his multiple marriages, his acting and how he has resigned to the fact that he won't get an Oscar so he just decided to look like the statuette!
MANILA, Philippines — Dirty jokes and hard insults flew during the July 14 taping of Comedy Central's roast of Hollywood action hero Bruce Willis at the Hollywood Palladium in Los Angeles — and it was all in good fun!
How is this joke from stand-up comic and perennial roaster Nikki Glaser? "Bruce has been very active with the Make-A-Wish Foundation, which is where they make sick kids meet you so dying doesn't seem so terrible." Offensive? It's not even her worst insult!
Nikki was one of the featured roasters together with Oscar-nominated actor Edward Norton, Bruce's Moonlighting leading-lady Cybill Shepherd, former NBA player Dennis Rodman, Martha Stewart, Kevin Pollak, Dom Irrera, Get Out star Lil Rel Howery and roast master general Jeff Ross.
Joseph Gordon-Levitt, who co-starred with Bruce in Looper, was the evening's host and roast master.
"This is a real personal moment for me, to be here roasting my dead cousin's second-favorite action star," said Nikki in one of her less-offensive jokes. "You had an amazing action film career until Jason Statham started balding."
Nothing was off-limits! The roasters took turns making fun of Bruce's career, his multiple marriages, his acting and how he has resigned to the fact that he won't get an Oscar so he just decided to look like the statuette!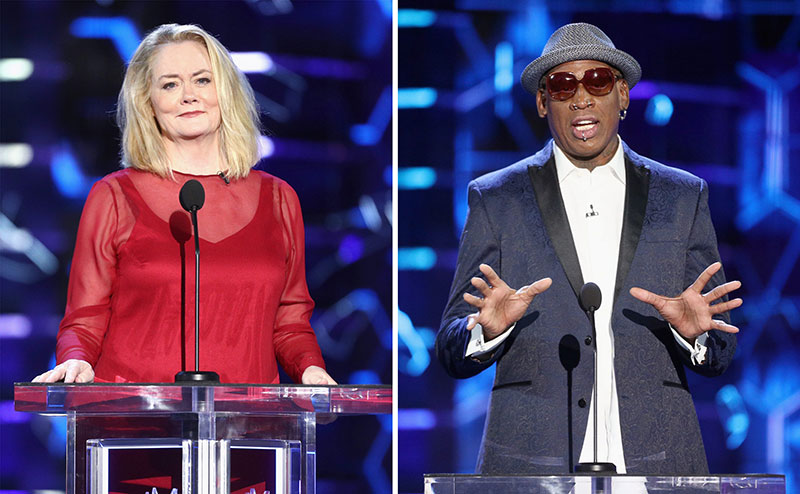 Cybill Shepherd and Dennis Rodman — Photos by Frederick M. Brown
Jeff Ross even dug into The Sixth Sense, one of Bruce's best-reviewed films: "Bruce Willis used to be a big action star. Now when you look in the mirror, you see dead people. I hope this roast doesn't end with you realizing your career was dead the entire time."
Jeff did throw some caution. He quipped that he won't encourage Bruce to run for president because the last time he encouraged one, "the expletive ended up in the White House." US Pres. Donald Trump was one of the celebrities who had to endure two hours of insults in what has become a tradition in Hollywood.
On the red carpet, Dulce Sloan, one of the writers and correspondents on the late-night show The Daily Show with Trevor Noah did not hold back when asked about the huge ratings late-night talk shows in the US are enjoying these days — mainly due to the man in the White House, that is.
"It's so interesting because some days I am, like, 'Ugh! We have to talk about this man again!'" she said.
Her mood lifted up when we talked about the man of the hour. "I love him," she said, expressing her admiration for Bruce.
Comedy Central stars Sam Levinne, Arturo Castro and Chris Distefano also shared their admiration of the actor but did not dare to share even a slight insult when asked how they would roast Bruce. "I am scared, 100 percent!" Chris quipped. "It's hard to give him a roast because I feel like he's going to shoot me with one of his guns from his movies."
One who is definitely not afraid of Bruce is his ex-wife Demi Moore.
Demi made a surprise appearance halfway through the show. She did not join the panel on the dais but was hiding backstage until the right moment.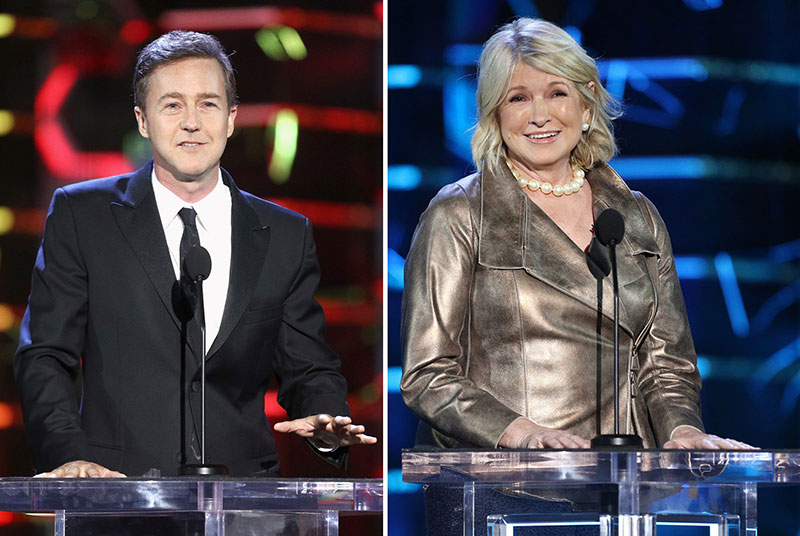 Edward Norton and Martha Stewart — Photos by Frederick M. Brown
"I was married to Bruce Willis for the first three Die Hard movies, which makes sense, because the last two sucked," she joked.
And all those who are still wondering why their marriage ended, Demi finally revealed the reason why. "I think it's because some jealousy started to creep in. Bruce never got over the fact that I rocked the bald look better than he did."
The beautiful actress earned a standing ovation from the crowd who warmly welcomed her to the stage. She talked affectionately of Bruce and the three children they share, telling the audience "our daughters are incredibly well-adjusted, considering two of them are half Bruce Willis!" Their daughters Rumer, Tallulah and Scout sat in the front row, laughing and smiling all evening, in support of their dad.
Edward's roast was less raunchy and the most thoughtful of the evening. The actor, who starred opposite Bruce in the acclaimed Wes Anderson film Moonrise Kingdom, recalled an incident many years before when he was doing a play on Broadway and he found a Four Seasons envelope neatly inserted by the door of his apartment. Inside the envelope was a lovely note from Bruce congratulating him on the success of his show. When he called Bruce to thank him for the note, Bruce promised Edward that he would do anything for him. Fast forward to the present, when Edward needed an actor for a script he was shopping in Hollywood, Bruce was the first one he called and the actor agreed to do the film right away, script unseen. The movie, Motherless Brooklyn, is set to open in theaters in early 2019.
Bruce may have shed a tear during Edward's speech/roast but it did not affect his prepared rebuttal at the end of the evening. He was as nasty and mean as everyone else, and had special insults to each and every one of his roasters.
The full show and unedited jokes — the dirtiest, the raunchiest, the most offensive — were aired on Comedy Central Asia last July 31. And, again, it was all in good fun. Bruce agreed to it and in the end, he thanked everyone. All's well that ends well — and the after-party was just as fun!