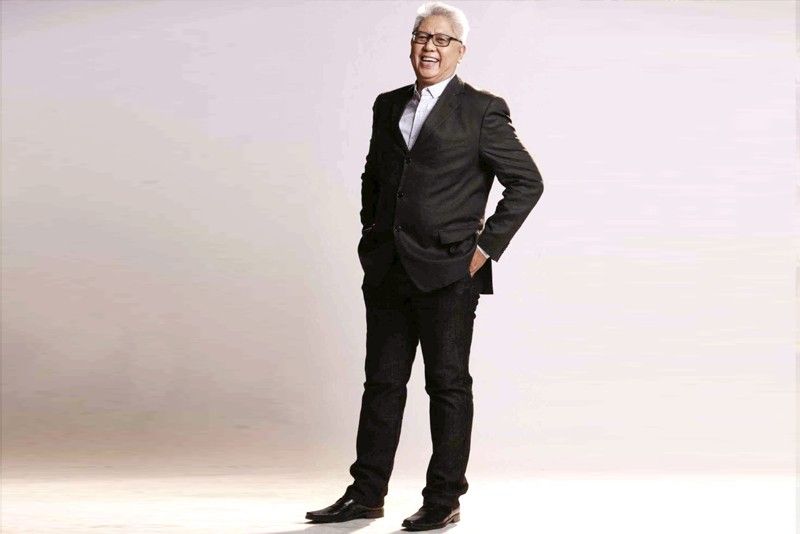 Philpop prime mover Ryan Cayabyab: It is not just a competition. It's a festival of talents and learning opportunities.
The good news is, there is a Philpop 2018. As you most probably know, much to the disappointment of many songwriters and music fans hereabouts, there was no Philpop 2017. But prayers have been answered and there is a Philpop 2018.
Entries are now being accepted. All those interested in joining can simply go to the Philpop Foundation website where they can find the rules and application forms, etc. Deadline for the submission of entries is on May 15.
The bad news is there is now a P200 entrance fee for every song entry. Not all songwriters can afford that, but nothing comes for free nowadays. The MVP Group of Companies has always been very generous with Philpop. But the foundation has to also meet expenses if it will continue to exist. Besides two hundred bucks is cheap if we are to count it against the cash prizes for the winners and all the doors that acceptance at Philpop usually opens.
The renowned composer and arranger and Philpop prime mover Ryan Cayabyab explains what Philpop is very well:
"The Philpop 2018 is not just a competition. It's a festival of talents and learning opportunities. It is a platform where the more seasoned music artists are encouraged to teach the young what we know, not to force on them our own approaches, styles and tastes, but to help them take inspiration from our successes and learn from our mistakes.
"I always say that the next generation should be better than us for our country to move forward. Hence the best way to do this is to teach them everything we know at every instance."
This year, 30 songs will be selected as semi-finalists through an adjudication process out of all the entries. And here is a shout out to songwriters from the south: Five slots will be allotted for the best entries from the Visayas and five more for the best entries from Mindanao.
These 30 songs will be promoted for two months across the country. This means exposure in all platforms that can help turn a song into a hit even before the finals night even for the non-winners. The songs will be recorded and will be heard and the videos seen in the Internet, plus in mall shows, on the radio, on TV shows, etc. etc.
Then the 10 finalists will be selected in a second adjudication process. These will be performed and then the winners announced at an outdoor music festival that will be held in November. P1M pesos awaits the grand prize winner, plus P500,000 for the first runner-up and P200,000 for the second runner-up.
So if you are a Filipino, at least 16 years old, it is time now to get your creative juices flowing. Reminder, please make sure your entries are totally original and unpublished. And when Philpop says unpublished that includes that video you made of yourself singing your composition during your grandmother's birthday that has made the rounds of various websites. Unpublished means never seen and never heard by the public. Good luck.
Philpop is now seven years old. It can use some changes in the way it is done. Good or bad, whatever the results, I am happy that there is a Philpop and that its advocacy remains the same. Our music has to be kept alive.
For an idea of the sort of music that Philipop is at present probably receiving as entries, here are the Top 20 songs on Spotify's Top Viral 50 in the Philippines: Mundo by IV of Spades; IDGAF by Dua Lipa; Nadarang by Shanti Dope; Rewrite The Stars by Zac Efron and Zendaya from the soundtrack of The Greatest Showman; The Middle by Zedd featuring Maren Morris; Hayaan Mo Sila by Ex Battalion feat. O.C. Dawgs; Mine by Bazzi; Psycho by Post Malone feat. Ty Dolla $ign; Tagpuan by Moira dela Torre; Dying Inside To Hold You by Darren Espanto.
Never Be The Same by Camila Cabello; Capital Letters by Hailee Steinfeld; All The Stars by Kendrick Lamar with SZA; Meant To Be by Bebe Rexha feat. the Florida Georgia Line; Finesse by Bruno Mars feat. Cardi B; Kathang Isip by Ben and Ben; Havana by Camila Cabello; Perfect by Ed Sheeran; Love Lies by Khalid feat. Normani; and FRIENDS by Marshmello and Anne Marie.