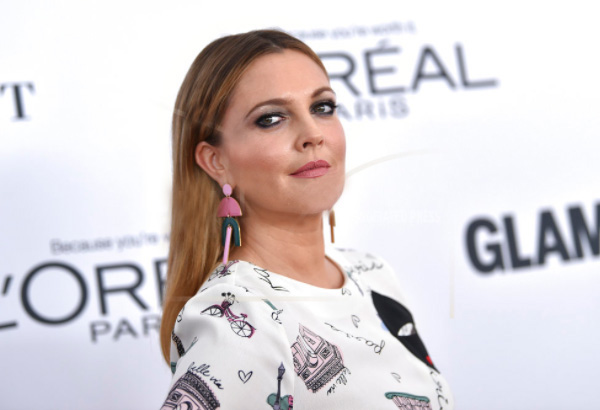 Drew Barrymore attends the 2017 Glamour Women of the Year Awards at Kings Theatre on Monday, Nov. 13, 2017, in New York. Photo by Evan Agostini/Invision/AP
Drew Barrymore to hold red carpet premiere in the Philippines
MANILA, Philippines — Hollywood royalty Drew Barrymore, star of Steven Spielberg's "E.T. The Extraterrestrial" and "Charlie's Angels," will be coming to Manila this March to promote the second season of "Santa Clarita Diet," her series on mobile streaming service Netflix.
Drew will be coming to Manila with her "Santa Clarita Diet" co-star Timothy Olyphant.
In the series, Barrymore plays Sheila Hammond, a successful real estate agent and mother in Santa Clarita, California, who leads a perfectly happy life — until one day she wakes up feeling a little well, undead. Despite her hunger for human flesh and a more adventurous life, she tries to carry on and appear normal to the outside world.
Meanwhile, Olyphant plays Joel Hammond, Sheila's high-school sweetheart and husband with whom she shares everything: a career in real estate, a daughter who means the world to them, a picturesque suburban life. After Sheila develops her mysterious condition, he does whatever it takes to keep his family intact.
Besides playing the lead characters, Drew and Timothy are also among the series' executive producers.
Drew and Timothy will grace the second season's red carpet premiere on March 12 at SM Megamall.
The second season of "Santa Clarita Diet" will be launching on Netflix on March 23.
The season two of "Santa Clarita Diet" finds the Hammonds trying to adapt to Sheila's now-advanced undead state — even though she is desperately working to hold on to her suburban lifestyle and not be defined as just another monster. Unfortunately, while the family has become markedly better at murder, the number of missing people in Santa Clarita is starting to pile up and it is no longer going unnoticed. Meanwhile, the Hammonds are chasing the source of the virus, so they can stop it from spreading and save humanity. Through it all, Sheila and Joel are grounded by their unconditional love for one another.
From acclaimed creator and executive producer Victor Fresco, "Santa Clarita Diet" also stars Liv Hewson and Skyler Gisondo. Aaron Kaplan, Tracy Katsky, Chris Miller, and Ember Truesdell are also executive producers of the series.