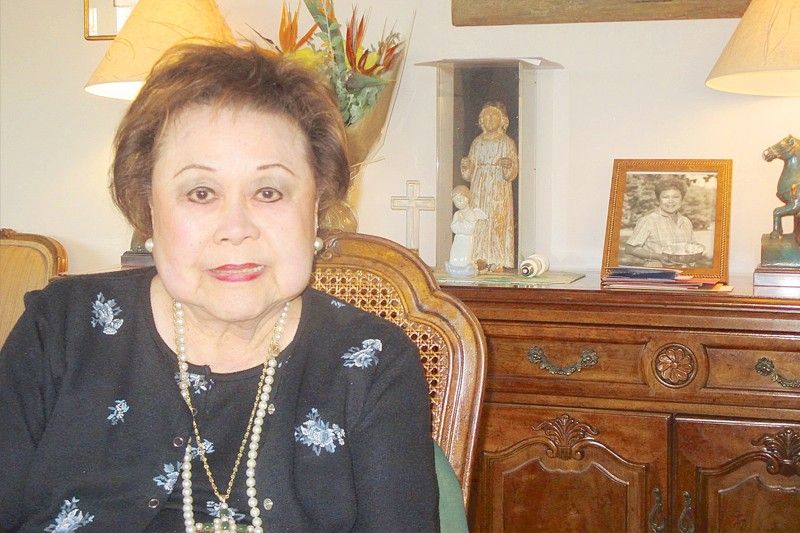 Now an octogenarian, Leila Benitez, the 'first lady of Philippine Television,' is enjoying her retirement in an upscale condominium in New York
Leila Benitez: I'm so blessed
CONVERSATIONS
-
Ricky Lo
(The Philippine Star) - January 14, 2018 - 12:00am
The name Leila Benitez still rings a bell…as it should. After all, she's one of the pioneers in Philippine television, dubbed as its first lady having reigned for over a decade in pre-martial law era as host of the widely popular shows Student Canteen, Darigold Jamboree and The Leila Benitez Celebrity Hour.
Noted STAR contributor Edmund Silvestre who recently interviewed Leila for Funfare in New York, "With her ever-smiling, exotic face, sonorous voice and 'perfect English' that put her guests and fans under her spell, Leila had a classy and dignified style of hosting that set high standards to her successors."
Now an octogenarian living in an upscale Big Apple condominium, Leila spends a lot of time watching American talk shows on TV. She tries to maintain a balanced lifestyle by gracing and emceeing Filipino functions and events ("The Philippine Consulate always include me in their invitations"), dining out regularly with her three sons, attending Sunday Mass, and hosting dinners for relatives and friends, among other things.
In the exclusive interview arranged by Leila's niece Vivian Talambiras Cruz (herself a respected and influential figure in the Filipino-American community), the still upbeat and eloquent TV icon opened up about her private life without her husband of 38 years as she also looked back at her unforgettable career in broadcasting (radio and TV) that spanned over two decades.
Leila's last visit to Manila was in 2003 during the 50th anniversary of her former home network, ABS-CBN.
"They (ABS-CBN) sent me two first-class tickets and booked me in two beautiful hotel suites," Leila fondly recalled. "I had to ask for two suites because my husband snored, hahaha!!! At the main celebration held at the PICC, they brought in every young boy and girl I discovered in my show. They flew them in from around the world and presented them before me. I thought that was a beautiful tribute. My husband told me, 'You must have done something right.'"
That was the last time she would set foot on Philippine soil. Despite the prodding of his eldest son Gerry (a hotel general manager) to fly with him to Manila, Leila said she cannot stand "the traffic and the heat" as well as the strenuous long flight.
But she stays in touch with her close friends like former Senator Ramon (Jun) Magsaysay Jr. and his wife, the former Marilou Kahn ("I was a sponsor at their wedding"), and her Student Canteen co-host (former Sen.) Eddie Ilarde who is still active in radio (his enduring show Kahapon Lamang is aired Saturday afternoons on dzBB).
"Eddie calls me once in a while like during my birthdays and Christmas. He told me he's happy about what he's doing but he's no longer involved in politics. The Lopezes of ABS-CBN also get in touch. Imelda Marcos is also a good friend of mine; her son is married to my niece. (Student Canteen co-hosts) Bobby Ledesma and Pepe Pimentel, as you know, are both gone."
Some two years ago, Leila also lost her husband, Donald McCollum, founder of the first marketing and television research company in the US. His death left a big vacuum in her life, she said.
"Since my husband passed away, I have trouble eating and sleeping," she revealed. "In fact, I have doubled up on my sleeping pills but when I do that it affects my stomach because I also have gastro problems. The doctors tell me, 'Don't think when you go to bed.' Easy to say, right? When I go to bed is when I think. I miss my husband. He's a great man. I miss his companionship. We were together for 38 years.
"But since I'm all alone now, I have to cope with it, especially at night," she added. "I pray and then I turn the TV on; it relaxes me. I'm so thankful I have my three sons and four grandkids who often visit me. I'm also lucky I have a lot of good friends and I'm also well taken care of by my doctors. I take things as they come."
Leila told Edmund that whenever she can, Leila still tries to play golf at the prestigious Ridgewood Country Club in Paramus, New Jersey, where she's a long-time member and five-time club champion.
"When my husband passed away, the country club awarded his membership for the first time to a woman, to me, so I am now the only woman member," she proudly related. "All the other women are 'wives of' and I thought that was a good tribute to my husband, very flattering."
Born in Quezon City to a wealthy family of diplomats and educators, Leila had just finished high school at the College of the Holy Ghost (now Holy Spirit) when her parents sent her to the US under the care of General and Mrs. Carlos P. Romulo. She studied at three US schools, including Georgetown University (where her father Eulogio Benitez finished law, and she, Psychology), before heading back to Manila for a career in broadcasting.
She started as a scriptwriter in the mid-'50s for a classical radio program, then a station manager in a leading FM station (DZYL), and later a disc jockey where she got noticed by tons of young followers.
"After a while, people would come in and sit and watch me," she remembered with a wide smile, "so at the time the Lopezes decided to give me a bigger studio and have a live audience participation."
Leila was eventually offered a hosting job on TV and was given complete control of its concept that was to become Student Canteen, a trail-blazing live talent show dedicated to the youth.
The daily noontime show was such a hit that advertisers had to wait in line for their turn. As a result, a 30-minute game show called Darigold Jamboree was added to the one-hour Student Canteen and established Leila as the first lady of Philippine TV. With TV addicts craving for more of her, she produced The Leila Benitez Celebrity Hour, a controversial and consistent top rating live talk show where a panel of outspoken political rivals were pitted against each other over cocktails.
At the height of her TV career, Leila abruptly turned her back on the limelight — not by personal choice. While joining a European tour promoting the Philippines, Martial Law was declared and her shows, along with her home network, were shut off the air. At her family's advice, she never returned to Manila and instead chartered her destiny in the US.
"The first few years in the US were the most difficult," she recalled to The STAR in a previous interview. "I felt that from the meaningful life with purpose in my career in Manila, all of a sudden, living in the US… hey, it was so empty. What was I to do?"
Leila landed a job with the US Information Agency as news anchor for the Voice of America, a program broadcast over 11 countries in Asia Pacific. She was all set to join CBS News as a field reporter (she would have been the first Filipino) when she met her husband, married him and settled to become a full-time housewife.
And she never regretted it, she said.
"Life has been good to me…and I'm so blessed," she declared. "My sons (Gerardo Gabriel, Guillermo Antonio and Martin John) would tell me, 'Mom, we're lucky to have you,' and I would tell them, 'I'm lucky to be here."
Edmund asked Leila when she would visit the Philippines again.
"I don't know," she replied. "It would have to be something special to get me there."
Like the 100th anniversary of ABS-CBN?
Leila paused, then burst into laughter, "Could be, hahaha!!!"
(E-mail reactions at entphilstar@yahoo.com. For more updates, photos and videos, visit www.philstar.com/funfare or follow me on Instagram @therealrickylo.)