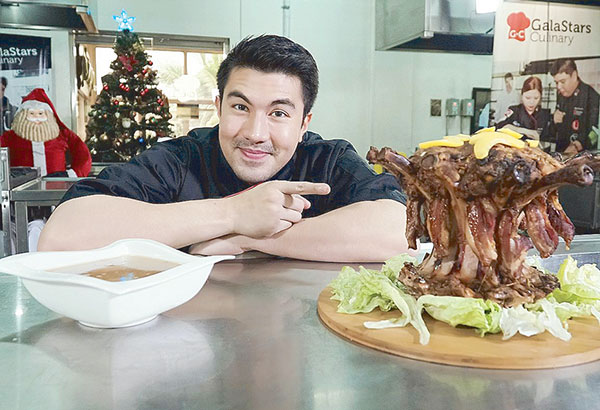 Cooking & baking with Luis Manzano
(The Philippine Star) - December 18, 2017 - 4:00pm
MANILA, Philippines — "A wannabe comedian," proclaims the Twitter profile of Luis Manzano (twitter.com/luckymanzano). He wasn't joking. While cooking at the Gala Stars Culinary recently, the actor was true to that aspiration. At one point, while doing a demo, he picked one of two dishes we prepared, a festive crown roast and choco chip oatmeal cookies, he playfully picked up one of our students, the petite Kath.
"Sorry, akala ko rekado ka," said the 36-year-old actor. "Huwag ka kasing masyadong madikit, muntik na kitang maisama dito." By everyone's laughter, it was pretty obvious Luis isn't just a "wannabe" but a full-fledged comedian. Ask his 5.81 million Twitter followers.
Not everyone knows that Luis — and he did not mention this in his Twitter profile is that he cooks and makes people laugh at the same time. Just last month, Luis posted a shirtless photo of himself right next to a photo of a wagyu and captioned it: "Kung masarap ang karneng WAGYU, walang mas-sasarap pa sa katawan kong pang LuvYu."
Okay. So it's a little bit corny and a little bit cheesy. But his post pokes fun at himself in the same kind of humor his dad Edu is a master at.
Cooking with Chef Erns
When Luis visited our state-of-the-art culinary school Gala Stars Culinary, he felt totally at home. In his own words, he said being here feels like a "homecoming."
Luis graduated with a degree in Hotel and Restaurant Institution Management. "So, I was always inside the kitchen…and it's been a while since I got to hold pots, pans, utensils… It's a one big homecoming for me."
While Luis confesses to having a decidedly sweet tooth, his food favorites are wide ranging from Italian, to Mexican, to Thai while admitting to having what he calls a "Pinoy Palate."
Which is exactly how we do a homestyle handaan during occasions like family reunions. Everyone's favorite has a place on the table — well-loved family recipes such as the heirloom kaldereta together with a gooey "carbonara" with cream and lots of bacon and the comforting familiarity of buko pandan and your favorite niece's frozen mango graham pie, alongside pricey Ladurée macarons (one piece only per member of the family!). We all are Luis Manzano's palate — and that's a good thing because it proves how open we are to the deluge of new cuisines now teasing and challenging the flavor profiles we're used to. Korean spicy noodle challenge, hello. (And with that, learning that milk is the best thing to soothe a mouth on fire.)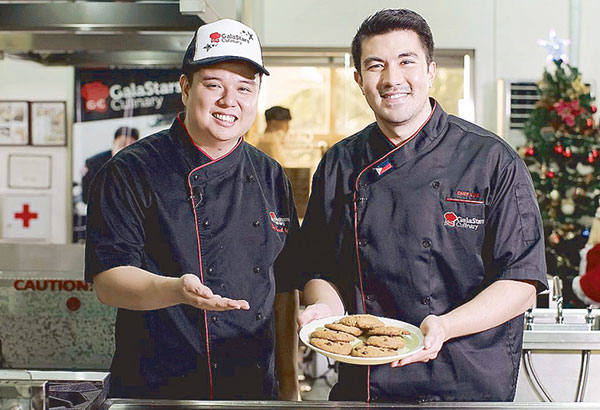 Luis with Chef Ernest 'Erns' Gala
Meal in one
In fact, Luis' go-to comfort food is something that mirrors our predilection for mixing up tastes and dishes. He simply calls it a Meal in One, and credits his mom for making imbento the dish or at least, serving it to him first.
Just last November, he posted photos of the Meal in One on Facebook with the caption: "Sa sobrang sarap binenta ko yung isang pinsan ko pambili sangkap ulit."
So we asked him to tell us more about this special dish.
"As a kid, one dish that my mom would always prepare even up to now, it's still my main dish to go to — it's called Meal in One," said the actor also known as Lucky. "It's basically a pasta dish that has corned beef, cream of mushroom, corn and lots of cheese on top."
It's a combo for the ages and Luis loves this Meal in One so much that he requests his mom to whip up the dish on Sundays, holidays, family visits, nights with the barkada, when he would ask for one of two llaneras of the dish.
"My friends love it," he said. "Wala pa akong nakikilala that did not like the Meal in One."
Salpicao: The family favorite
When asked what he'd cook for his mom for Christmas, Luis said without hesitation: "Salpicao pasta. My mom loves salpicao — my whole family loves salpicao… my brother, my Tito Ralph. And it's something very, very different. I remember an old restaurant a long time ago, they served really good salpicao pasta."
"I tried doing that dish a few times, but there was a lot of hits and misses," he confessed. "So, hopefully, through Erns, I get to do it properly."