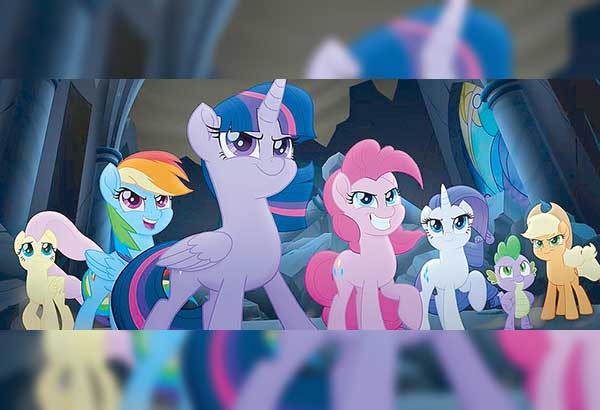 Now showing in cinemas, My Little Pony: The Movie is made in the Philippines
Pinoy animators work their magic in My Little Pony series, movie
MANILA, Philippines — Filipino animators have worked their magic in the My Little Pony: Friendship is Magic series and the My Little Pony: The Movie.
Unknown to many, the My Little Pony franchise, which has become a pop-culture phenomenon, especially after the 2010 series reboot My Little Pony: Friendship is Magic, has been tapping the services of the homegrown animation studio Top Draw Animation, Inc. for all of the popular cartoon show's seven seasons.
The Filipino artistry is now on full-length display in the movie adaptation, which is on its second week of showing in cinemas. It's the first-ever feature film for the 19-year-old Ortigas-based animation company.
Top Draw acquired the big-screen job being a longstanding outsourcing studio for the Vancouver-based DHX Media. The latter was commissioned by the My Little Pony franchise owner Hasbro, a US multinational toymaker that has expanded into gaming and entertainment.
About 80 percent of the film was made in the Philippines. It took a crew of at least 70 people and a year to finish not only key animation, but also other production services like layout, background and rigging or the process of modeling characters for animation.
Top Draw senior EVP Stella Dearing (who co-founded the studio with her husband, former Hanna-Barbera executive Wayne Dearing, in 1999) told The STAR, "With this movie, we're trying to highlight Filipino talent. It's testament to what we can do, and all we can hope for is that it's not going to be the first. Hopefully, there will be more opportunities not just for Top Draw but also for other studios in the Philippines to do something like this."
To celebrate its latest achievement, Top Draw Animation treated its employees to an advance screening of the film.
Upon seeing My Little Pony in its entirety, animation director Lean Lagonera couldn't help but feel emotional. "I felt very happy and super proud. I was even more overwhelmed seeing everything there — the sound effects, the 3D assets that they added, the texturing to the characters. Our work has leveled up so much. It really came to life!"
Dearing added, "The entire crew was very proud. The biggest reaction came when the end credits rolled and the entire theater burst into cheers when they saw their names. (Hasbro) really gave us the space to enumerate all the artists and production people that helped in the making of the film."
During the special screening, they were joined by My Little Pony fans, including the Bronies, which refer to the adult male followers of My Little Pony.
Lagonera shared that some of them, who have long known about Top Draw's involvement in My Little Pony, "thanked us, 'Sir you've changed my life.' All the while, we thought it was just work for us, but little did we know that what we were working on had made an impact on a lot of people."
Dearing said that while My Little Pony targets an audience of young girls, she first learned during an animation festival in France that it has a cult following among grown men. In fact, there's a documentary titled, A Brony Tale, about this unlikely, global community of regular dudes who were introduced to it either through their daughters or nieces, but have somehow connected with the magical adventures and friendship of these pastel-hued ponies of the Kingdom of Equestria.
In the film, Ponyville — the hometown of the leading characters — is being threatened by dark forces. Twilight Sparkle, Pinkie Pie, Rarity, Rainbow Dash Applejack and Fluttershy (a.k.a. Mane 6) journey out of their comfort zones to go on a quest on how to use the "magic of friendship" to save their kingdom.
Animating song-and-dance sequences that featured as many as 70 characters proved to be daunting for Top Draw. For Lagonera, the most complex of them all was the opening scene that showed flying ponies. When the material was done, they had to divide it into four sections before sending it to their client because the software couldn't handle the whole thing. Nevertheless, cliché as it may sound, love for the job beats challenges of varying degrees anytime.
It's also the advice Lagonera, who has had overseas job offers but chose to stay in the country to pursue animation, will give to those wanting the same career path. He said, "If they have the passion for drawing, the passion for animation, go ahead. Di naman kailangan college graduate dito, or yung diploma or anything. As long as the skills are there and the heart, go for it."
For Dearing, drawing skills are very important more so in this digital age. "Artists like Lean and many of our contemporaries, we started animation with pen and paper, they didn't do anything, except to draw, erase, throw the paper out, draw again for eight to 12 hours," she said.
"When the digital age came, you have a lot of software, shortcuts, templates available. The kids, they want to do animation and with the help of some tools, they're able to create animation. There came a time, it was OK. Clients could lower their budget. If we were doing traditional animation 30 years ago, one project would probably be done by 200 to 300 people. Now, we need 60 to 70 per project because of the digital tools."
During the transition to digital, she said many creators and producers embraced it "to a point na OK yung look, alam mo yung digital na yan, kasi hindi na siya kasing lambot, kasing organic yung feel (the look was OK, you know it was digital because the feel wasn't as soft or as organic). But many years later up to the present, these creators and producers are finding ways to use the tools and yet make them look traditional. That's the challenge now and this is what we're faced with: how do you use the digital medium to create something that looks like the old? Sometimes, they say, they want the traditional, paperless method… That makes the work of our animators difficult."
To date, Top Draw has supplied animation services for many TV series aside from Hasbro's My Little Pony: Friendship is Magic, such as Transformers: Rescue Bots, Dreamworks' The Mr. Peabody & Sherman Show, Warner Bros.' The Tom and Jerry Show, Cartoon Network Asia's Exchange Student Zero and Disney's Penn Zero: Part Time Hero. There are other Philippine studios as big as Top Draw which currently has 500 employees. However, it's been touted as the country's leading animation studio in terms of the volume of shows it's doing — close to 250 half-hours per year. "We run as much as 12 projects all at the same time," said Dearing.
The company also has a frontrow seat to the growth of the animation industry in the country. "Animation has been in the Philippines for 30-something years. We've grown old in this business," said Dearing, who together with Lagonera, started their careers in Fil-Cartoons. "There are two schools of thought (as to the direction of the industry). One is that for us at Top Draw, our main core is to continue where we are, providing services or maybe co-producing with other countries. Our license to operate is really for export. We may be going to related businesses later on, like gaming and apps, as that has always been our dream. However, the 2D arena has been keeping us busy and growing for the past 10 years."
"But gaming is gaining ground," she added. "Some other studios are developing their IPs (games). I know the government is also strongly supporting that."
Although the country is facing competition from other Asian countries, particularly China and India, for animation outsourcing work, Dearing expressed high hopes that the industry here can still do so much and attract more opportunities. "I firmly believe that the Filipino are very good artists, we understand western gags, we have the sense of humor. The other side is, we're also very reliable, we can communicate, we can provide services as what the client expects."