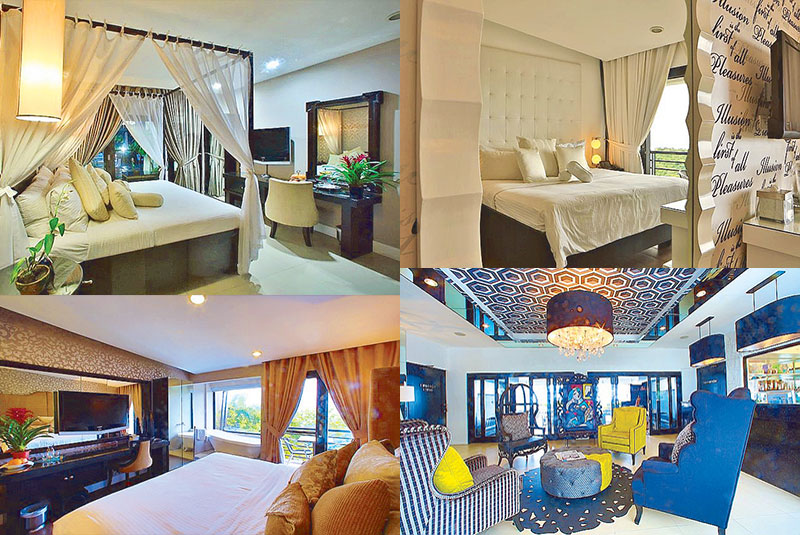 Pictured on this page are some of the seven rooms (with the lobby, below right) of The Boutique Bed & Breakfast at the Tagaytay Ridge, with each room named after an emotion (bottom)
Pick your room: 'I Love' or 'I Lust'?
FUNFARE
-
Ricky Lo
(The Philippine Star) - June 14, 2017 - 4:00pm
When a hot (in more ways than one, hehehe!!!) celebrity couple wanted to steer clear of the maddening crowd, far from the prying eyes and gossipy tongues, they hied off to a place where nobody (or so they thought) would recognize them — never mind if they vainly tried to hide under cover of darkness.
They secluded themselves in a room with an "I Lust" sign at the door and they must have spent a lustfully precious night in…sweet slumber? Your guess is as good as anybody's. That was several years ago and they have since un-coupled under controversy-laden circumstances. Friends suspected that the un-couple's second child must have been conceived in that room.
"I Lust" is the most popular (especially by honeymooners) among the seven rooms of The Boutique Bed & Breakfast, one of the most popular (read: "hottest") places along Tagaytay Ridge with a breathtaking panoramic view of Taal Volcano Lake. The other rooms are: "I Love" and "I Escape" (located at the ground floor next to the restaurant that offers a menu of mouth-watering gastronomic delights), "I Dream," "I Desire," "I Dare" and "I Surrender."
"The Boutique Bed & Breakfast is also known as 'The Boutique of Emotions'," said Happy Ongpauco-Tiu who thought of the unique concept with husband Dexter Tiu whose business partners are travel buddies Allana Montelibano, Melon Santiago and Mark Canete. "It's the only hotel in the world inspired by romance and feelings, so each room is named after an emotion. They are emotions that lead to falling in love."
Upon check-in, you are ushered to the Pamper Me Room where you are requested to choose the scent of your shampoo, conditioner, soap and room, all homemade and from natural herbs coming from Happy and Dexter's farm.
"It's Dexter who collects the herbs," noted Happy. "We are the only hotel that does that."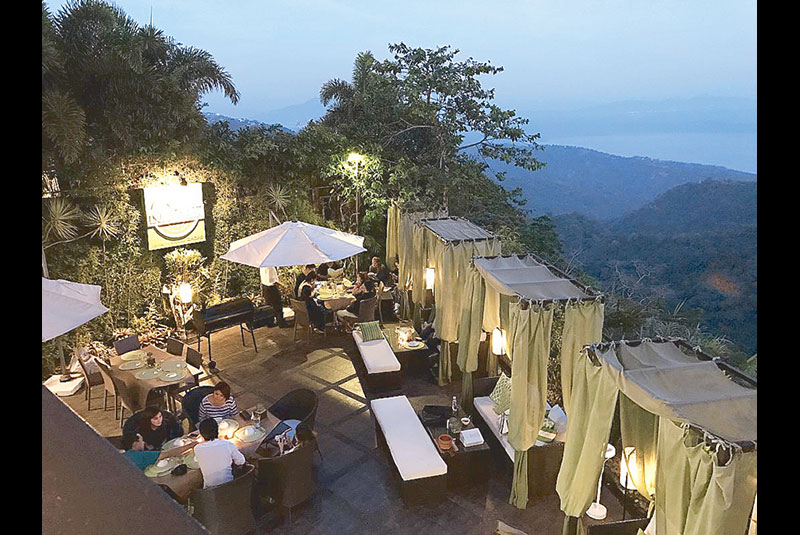 The Tsokolateria at the Boutique's veranda, overlooking the Taal Volcano Lake
Because Happy comes from a showbiz clan (father is retired actor Rod Evans; mother is retired actress Liberty Ilagan; grandfather is the late National Artist Gerry de Leon; among the cousins, are Janno Gibbs and Heart Evangelista; and among the uncles is Robert Arevalo), she and her partners saw to it that clients are duly reminded with throw pillows scattered in the rooms with the likes of Audrey Hepburn, Marilyn Monroe and other iconic celebs staring back at them.
Opened in June 2006, The Boutique was conceptualized and inspired by the owners' fondness for weekend getaways, travel adventures, and passion for food and culture. Happy and Dexter spotted a location in Tagaytay for their second branch of Hawaiian Barbecue Restaurant, but they found it too beautiful and romantic for just a restaurant. Then they called in Allana, Melon and Mark. That was how The Boutique was born.
For that magical effect, order room service and take your breakfast (leisurely now) at the terrace that offers a sweeping, mesmerizing view of Taal Volcano Lake emerging from behind light-blue mist. At dusk, watch the lights flicker like a thousand fireflies from the houses dotting the Taal Lake, and you don't need Benadryl or ZZZZquil to lull you to a dreamy sleep.
Enough said. The Boutique is better experienced than just being read about.
(The Boutique Bed & Breakfast is located at #45 Aguinaldo Highway, Silang Crossing East, Tagaytay City. For inquiries, call landline +63464131798 or mobile +63-9273632660/+63-9175984480/+63-9331988534)
(E-mail reactions at entphilstar@yahoo.com. For more updates, photos and videos, visit www.philstar.com/funfare or follow me on Instagram @therealrickylo.)