Movie list for thrills & chills
November 1, 2016 | 12:00am
MANILA, Philippines – Halloween is upon us again. During this time of the year, one thing is for sure: There will be movie-watching. While there are unforgettable classics worthy of a replay, like Nightmare on Elm Street, Friday the 13th, Halloween, Night of the Living Dead, Child's Play, etc., many have come along for your viewing pleasure. Not that we are throwing out the good old favorites from the list, it's just that we are welcoming new titles for that ultimate Halloween movie fix. And the horror factor has gone scarier, looks a lot more real and is seriously aggressive. Don't say we didn't warn you.
Orphan (2009). Still grieving over the loss of their baby, a couple decides to adopt a nine-year-old girl. Everything seems perfect. She is sweet, talented and thinks beyond her age. As everybody settles in, things get too comfortable and the real deal behind this little girl's secret is slowly revealing. The ending is beyond expectation.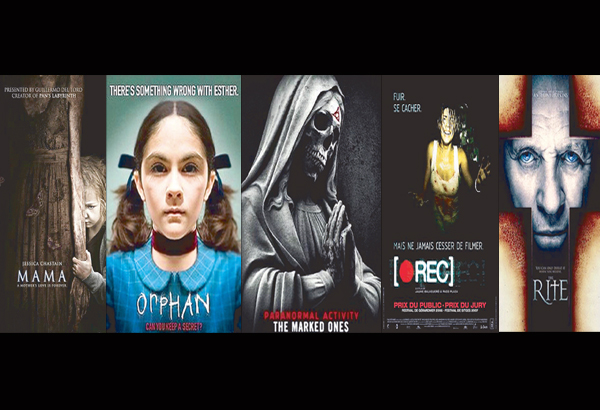 Annabelle (2014). A husband surprises his wife with a prized collectible doll. What he initially thought as a great idea would turn out to be a really bad one. The doll is more than what it is, and it wants a life of its own. The film would definitely remind viewers of Chucky, only this one is creepier and doesn't crack a joke.
Clown (2014). Every parent will do everything to make their children happy. This one did just that, but probably went too far. A father finds and wears an old clown costume to light up his son's birthday party. Problem arises when he can't seem to take it off and he slowly becomes a monster everybody fear.
Insidious (2011). A happy family moves to a new home but realizes later that it may not have been a good decision. When one of the sons becomes comatose for no apparent reason, the parents become desperate and ask help from paranormal experts. What they find out is more than what they can understand. There is a sequel and prequel of the film, just in case anybody wants more of it.
Conjuring (2013). A paranormal expert couple helps a family solve the strange happenings in their newly-bought house. Just when they thought they are dealing with a simple problem, they find themselves up against something wickedly powerful that puts a huge test to their ability. In the film, faith and love are two very important things that should never be taken for granted.
Paranormal Activity (2007). The movie and its sequels gave the horror movie genre a different touch. It may be unusual at first — watching a movie from a recorded video — but it seems to have entertained or rather scared a lot of viewers. Now people are getting paranoid, checking out their videos thoroughly, hoping nothing unwanted is present.
Mama (2013). After five years of wandering around in the forest, two little girls are finally found by their uncle. The girls have grown up differently and seem to have been taken cared of by a mysterious someone they call "Mama." No, they are not referring to a person. This is something far beyond what they have thought of. And it wants the girls back.
Devil's Due (2014). After coming back from their honeymoon, newlyweds Zach and Samantha find out that they're going to be parents soon. Everybody's happy and excited until Samantha's odd behavior becomes disturbing. Little did they know that what they are expecting to be inside Sam is actually something they would never expect.
Rec (2007). It is about the discovery of a certain enzyme that causes demonic possession. As accidents can happen, some of it gets released, infecting humans. As a reporter and a cameraman try to record the happenings, they become part of the chase as well, not knowing if they will survive or not. The film has three sequels.
The Rite (2011). When Father Lucas, an exorcist priest with a strong faith, and Michael, a would-be-priest who seems to be unsure of himself, cross paths, a life-transforming event happens. Michael is forced to perform an exorcism on Father Lucas. With all his doubts and weak faith, will he be able to save Father Lucas?