Meet the cast of Hay, Bahay!
After three years of airing, Vampire Ang Daddy Ko has been replaced by Hay, Bahay! Still produced by M-Zet Production, Inc., the sitcom premiered last night and airs Sunday nights thereafter on GMA Network after 24 Oras Weekend. It will be aired worldwide on GMA Pinoy TV beginning June 26.
We have always seen Philippine showbiz's biggest name in comedy and a Box-Office King Vic Sotto together with his son Oyo Sotto in a project. We are seeing them again in Hay, Bahay! which reflects the daily life of a typical Filipino family.
The series also marks the first time that Vic is paired with Comedy Queen Ai-Ai delas Alas in a sitcom. Kristine Hermosa also makes her much-awaited TV comeback as she takes on the role of Batch, the loving wife of Yoyo, who is played by her real-life husband Oyo.
Real-life couple Oyo Sotto and Kristine Hermosa are husband and wife in the new sitcom
In the story, the newlyweds Batch and Yoyo purchase a well-furnished house with three huge bedrooms and a spacious living room situated in a prime location at a very low price. However, the house was sold relatively cheap because the people who built it mistakenly put in only one toilet.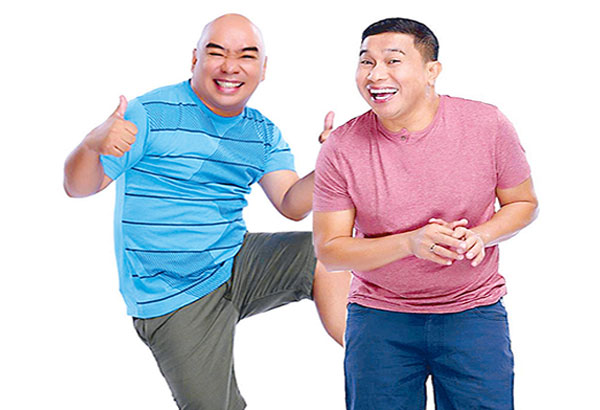 Wally Bayola plays an aspiring comedian named Sikat and Jose Manalo as Lav's cousin Mael
The couple did not regret their impulsive decision of purchasing the house since it is near transport facilities and nestled in a safe neighborhood. They plan to renovate their property but they have to rent out two vacant rooms to save up, finish paying their loan and proceed with the renovation.
First to move in as a tenant is food blogger and bachelor Vio (Vic) who is excessively obsessed with cleanliness, followed by the painfully sloppy and untidy events coordinator Lav (Ai-Ai). With their opposite personalities, the two develop an unfriendly relationship and plot strategies to throw each other out of the house.
Helping Vio to piss off Lav is his cousin Mael (Jose Manalo), a deported TNT who also assists him in his cooking for his food blog while Lav's defender is her half-brother and aspiring comedian, Sikat (Wally Bayola). Meanwhile, offering more problems rather than solutions is Nenuca (Ruby Rodriguez), Batch's meddling mother who joins the riot once she learns that her daughter is pregnant.
What will happen in a house full of clashing personalities? Who wins among the tenants? Will Yoyo and Batch achieve peace and order in their house?
Written and directed by Bibeth Orteza, Hay Bahay! is one of the GMA Network's trailblazing programs as it celebrates its 66th anniversary. It opened the month with the sexy-comedy series A1 Ko Sa'yo!, now airing Thursday nights.
The Kapuso network is also set to debut another comedy series Conan My Beautician, which is topbilled by Mark Herras and Megan Young. Show will air Sundays starting June 26 at 5 p.m. On the other hand, the new Afternoon Prime series Sa Piling Ni Nanay tells the story of a surrogate mother and her selfless love for her daughter. Premiering on June 27, it stars Mark Herras, Yasmien Kurdi and Katrina Halili.
Meanwhile, Julie Anne San Jose is tapped to perform the anniversary theme song Buhos ng PaGMAmahal. The jingle, which was written by Jon Fulgencio and composed by Simon Peter Tan, teases the viewers about the anniversary offerings of the network.
(For comments, call at 571-1569 or e-mail at bibsyfotos@yahoo.com, or text 0917-8991835.)