Direk Jason explores the 'mainstream'
MANILA, Philippines – Writer-director Jason Paul Laxamana feels blessed to have been given the chance to direct a mainstream movie in Regal Entertainment's endearing rom-com, Love is Blind, starring Derek Ramsay, Solenn Heussaff, Kean Cipriano and Kiray Celis. His very first movie was the Cinema One entry, Astro Mayabang, with Megan Young and Arron Villaflor, which failed to impress no one.
A UP broadcast communications graduate, Jason then made a name for himself doing the acclaimed indie film about Internet scammers for Cinemalaya, Babagwa, in 2013, which won plaudits in several international film festivals. In 2014, his Kapampangan movie, Magkakabaung, won for him a couple of Best Director awards. Allen Dizon played the title role of a coffin maker who feels guilty about the accidental death of his daughter. For his touching performance, Allen won a total of nine Best Actor awards, both here and abroad.
Jason himself writes the screenplays of his own movies. He now gets to write and direct for a big movie production outfit in Regal's Love is Blind that opens on Feb. 10 in theaters.
How did he get this big break from indie to mainstream?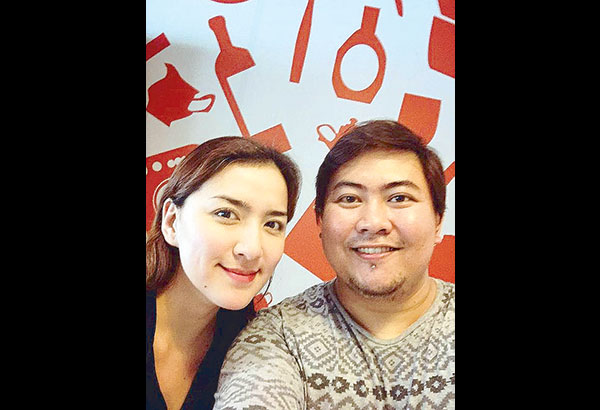 ...and with Ara Mina, star of Nuclear Family.
"I pitched the idea to Roselle Monteverde and she liked it," he says. "It's about a plain-looking girl, Kiray, who falls desperately in love with a handsome hunk, Derek. He won't even notice her but to get his attention, she uses a gayuma or love potion to make him fall for her. Each time Derek looks at her, he sees Solenn."
So how was it directing Derek, Solenn and Kiray? "They're all cooperative. Derek asks a lot of questions, which is good, kasi it was a challenge for him to do this kind of comedic character. Pero nakaya naman niya. He doesn't mind making fun of himself. Solenn plays dual roles, the real character and the imaginary one and she did great in both of them. Si Kiray, what you see in the movie, siya yun. Game siya kasi it's her first time to wear a bathing suit on screen and to do kissing scenes, with both Derek and also Kean, and she did it like a true professional. I really enjoyed doing the movie with all of them and I'm so happy that, sa trailer pa lang, the viewers are already laughing out loud. There are even more hilarious scenes in the full-length movie."
Does this mean he's now leaving his indie roots?
"No, I have just finished shooting the indie comedy, Ang Taba Ko Kasi, starring real heavyweights Cai Cortez and Ryan Yllana, with Mark Neumann, to be shown as part of Cine Filipino Filmfest next month. I'm also doing two more indie films, Mercury is Mine is an entry in the Cinemalaya Filmfest with Pokwang and Bret Jackson to be shot in Arayat, Pampanga, and Nuclear Family for BG Productions which is about an aging woman and her affairs with younger men. Snooky Serna was our first choice for the lead role but she backed out when she learned she is required to do sexy scenes. Ara Mina replaces her."