Next Miss U pageant to be held in Manila?
FUNFARE
-
Ricky Lo
(The Philippine Star) - January 7, 2016 - 9:00am
I'm sure this piece of news will get Miss Universe enthusiasts excited and keep their collective fingers crossed that, the gods of beauty permitting, it will come true: there's a possibility that this year's Miss Universe pageant will be held in Manila.
"It might be," Madame Stella Marquez-Araneta told Funfare in an exclusive interview yesterday at the Novotel Hotel where 2015 Miss Universe Pia Alonzo Wurtzbach will be billeted during her six-day homecoming (Jan. 23 to 29, see story on Page 1). "I was in Las Vegas during the Miss Universe pageant last December but honestly, I didn't feel anything like that. What I know is that for the past two or three years there has been 'conversations' to that effect…you know, that the Philippines would be a nice place to hold the pageant in."
The first time the Miss U pageant was held here was in 1974 won by Spain's Amparo Muñoz (she died a few years ago) who came back to do a movie titled Hayop sa Ganda with former Miss Universe (1969) Gloria Diaz. It was reigning Miss Universe (1973) Margie Moran who crowned Muñoz.The country's bet in that pageant was Guada Sanchez who finished among the Top 12. Then First Lady Imelda Marcos rushed the construction of the Folk Arts Theater for the pageant.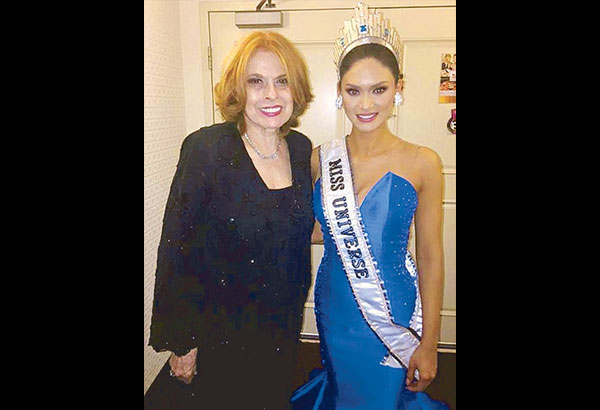 Madame Stella Marquez-Araneta, head of the Bb. Pilipinas Charities, Inc. (BPCI), and 2015 Miss Universe Pia Alonzo Wurtzbach
The second time the pageant was held here was in 1994, at the PICC, won by India's Sushmita Sen. The country's representative, Charlene Gonzalez, placed among the Top 6. Sen was crowned by reigning (1993) title-holder Dayanara Torres (of Puerto Rico) who also came back to start her showbiz career. Torres was romantically linked to Aga Muhlach, now the husband of Charlene; she married singer Marc Anthony and then separated from him (they were divorced).
"Now that the new Miss Universe is from the Philippines," added Madame Araneta, "it might be easier to connect the Miss Universe Organization with the Philippine government."
Hopefully.
Meanwhile, here's Madame Araneta's advice to Pia: "Stay the way you are. You do everything right."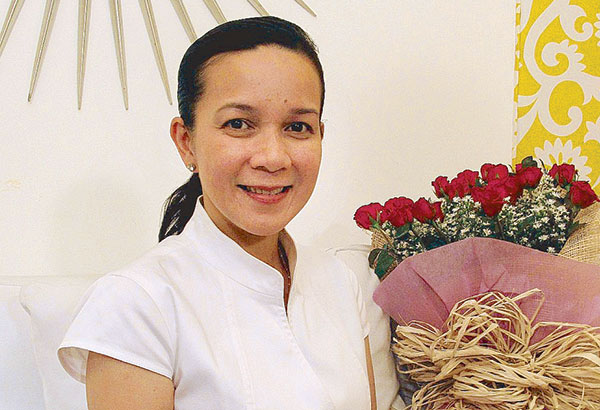 Sen. Grace Poe as her fan Pablo Tariman sees her
In praise of Sen. Grace Poe
This section's contributor Pablo Tariman has been posting his praises for Sen. Grace Poe on his Facebook.
"These are actually personal notes on the life of Sen. Grace. Surprisingly, many liked it," said Pablo who permitted me to print them here so that Funfare readers may also have the pleasure of reading them.
When Pablo saw Grace on the front page praying in a chapel when the Senate Electoral Tribunal (SET) ruled in her favor.
She's human after all. Praying alone in this church and greeting her supporters later, she was teary eyed when she said, "Thank God for the blessing. I thought I'd be jobless today." The big revelation was that she said she was ready for the worst. Some years back, she was magnanimous in victory. Coping with the worst yesterday, she remained strong and willing to confront her fate. I like the stuff this woman is made of.
As Pablo imagined what Grace was going through with all those disqualification cases filed against her.
Whatever is the outcome of the things she is going through, I will remain a fan of this formidable lady. She remains a model of decorum even when some of her colleagues are in various stages of dementia and virtually looking like characters from Saint-Saëns' "Carnival of the Animals." She remains respectful even when the subjects of the hearing deserved to be run over in the railroad tracks many times over. Best of all, she carries her personal hurt very well. To be reminded every day in various forum that she is a foundling is bad enough.
But she carries everything graciously. I often wonder how much longer she can still carry her personal and political cross with aplomb. On the other hand, those after her head should look at themselves in the mirror. The hapless (and hopeless) state of the nation being what it is today, I will pretty much prefer a very sensitive, caring and intelligent "foundling" than a scheming and idiotic "natural citizen."
(E-mail reactions at entphilstar@yahoo.com. You may also send your questions to askrickylo@gmail.com. For more updates, photos and videos visit www.philstar.com/funfare or follow me on www.twitter/therealrickylo.)