Joniver Robles on 'The Voice' dismissal: It was taken away from me
MANILA, Philippines- Joniver Robles denied that "The Voice" Philippines has contacted him to discuss why he was removed from the show.
Joniver was with Team Bamboo. On the January 19 episode of the show, Joniver was able to continue on with the show after the Knockout rounds. Yet at the last part of the show, Bamboo announced that Joniver cannot continue with the competition.
"Dahil sa mga hindi inaasahang pagkakataon, I'm sad to announce that Joniver Robles will not be going forward to the competition. His journey ends for the show, here, today," Bamboo explained.
"After much deliberation, napag-usapan ni Joniver at ng programa na it is best for him not to continue with the show due to personal reasons."
Yet on Joniver's Facebook post on Saturday, he claimed that the management or even his coach didn't reach out to him.
"I NEED HELP. To all my supporters....specially friends and love ones...to my Mom. I didn't know what to do and not hearing anything from my coach and teammates or anyone from the show made me wait until tonight. IT WAS TAKEN AWAY FROM ME," he said.
He also claimed that people "make up lies to be used against me" and this resulted for him to be removed from the competition.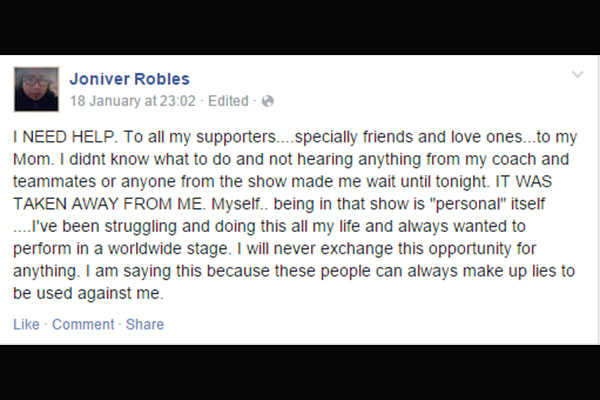 On another post, he dared the people who said that he "broke some rule[s] or did something para magkaproblema yung show. Post it here. Just make sure your facts are straight and speaks for itself at hindi nabasa nyo lang at narinig kung kanino."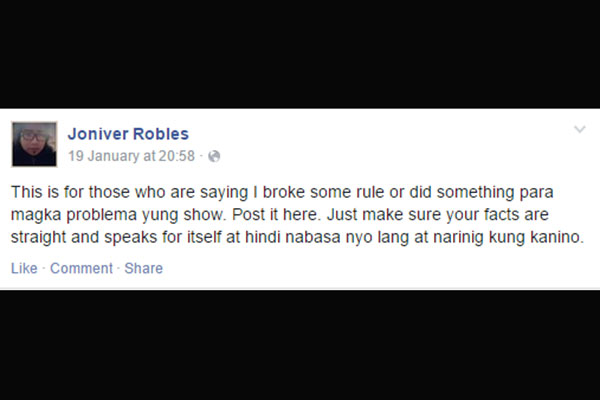 With the turn of events and based on the rules laid by Talpa, the owner of the "The Voice" franchise, Joniver's spot in the competition will be taken over by Rita Martinez.