Pia Wurtzbach gives Bb. Pilipinas a third try
Chuck Smith
(The Philippine Star) - January 21, 2015 - 12:21am
MANILA, Philippines - After failing to clinch a title last year, beauty queen Pia Wurtzbach is giving the Binibining Pilipinas pageant another try for the third year in a row.
The 25-year-old beauty queen is one of the 34 official candidates of the 2015 Bb. Pilipinas pageant, which will be held this March.
This is her third time to be part the pageant, after joining the beauty contest in 2013 and 2014.
"I don't want any regrets, that's why I'm here again," she told Philstar.com during the candidates' visit to the Bb. Pilipinas museum at the Gateway Tower in Quezon City on Tuesday.
Pia was a favorite to win the 2014 Bb. Pilipinas, and so many were surprised when he did not win any of the five crowns during last year's coronation night.
There were even reports that Pia - who was a runner-up during the 2013 Bb. Pilipinas pageant - will give up on the beauty pageant after her loss last year.
But it appears Pia has changed her mind; she now feels it's "the perfect year for me to join again."
"It's gonna be my last year as well because if I join next year, I won't be eligible for the other crowns because of the age limit," she explained.
While women between 18 to 26 years old can join Bb. Pilipinas, some international beauty pageants have different age requirements.
Pia added, "I felt the pressure more last year because that was when I was first runner-up (the previous year) and then I joined again."
"But now, I'm actually more relaxed. I guess, because I've done it twice already, I have a feel of how everything is," she further explained.
"I think I'm at a better place right now."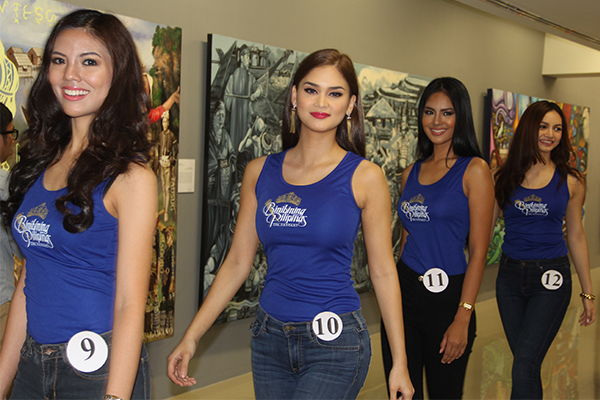 Asked if she's confident about her standing in the competition this year, Pia said: "I have a very good feeling about this year, actually. So we'll see what happens."
She added, "I feel pressure, yeah. But it's the good kind of pressure. I'm relaxed, I'm not stressed. I'm generally at a more relaxed place right now."
Meanwhile, she hopes for the best for Mary Jean Lastimosa, who will compete in the Miss Universe pageant this Sunday (Morning morning, Philippine time).
Pia competed with Mary Jean during last year's Bb. Pilipinas pageant.
"I've been looking at the photos because I follow Ms. Universe. She's a stand out, I must say," she said.
"We're really hopeful we're gonna get it this year. Things are looking for us. The comments about her have been good. The videos, flawless," Pia explained. "So far everything is looking good for her and I hope that continues on until the pageant night."
"And [Manny] Pacquiao is also a judge, so that might work in our favor," she quipped.
The Bb. Pilipinas 2015 pageant is set this March.