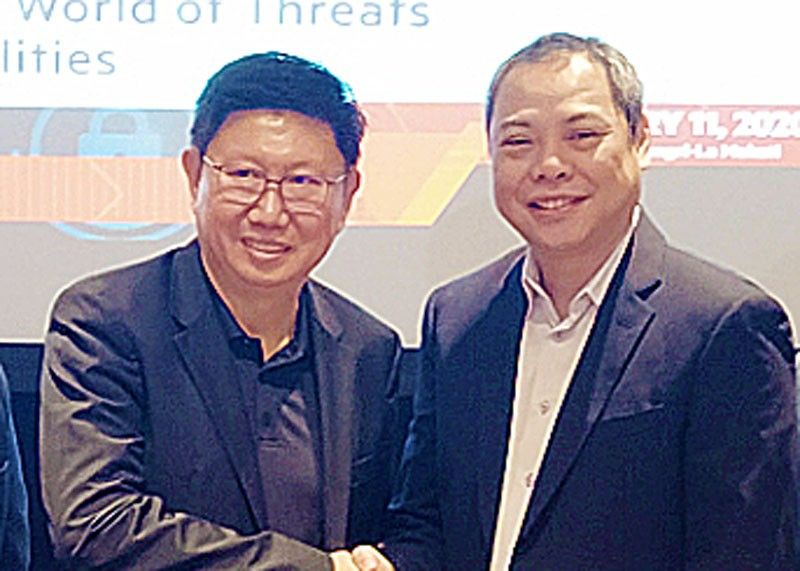 VST ECS Phils, Inc. president and CEO Jimmy Go (fifth from left) and RSA Greater China and Southeast Asia regional director Charles Lim (sixth from left) shake hands in a partnership that designates VST ECS as official PH distributor of RSA products
A new solution to cyber security
MANILA, Philippines — Local information and communications technology provider VST ECS Philippines (formerly known as MSI-ECS Phils. Inc,) recently announced that the company has been appointed as the new PH distributor of RSA's security solutions. RSA is a network security firm and subsidiary of Dell Technologies.
Forging partnerships for better security
The latest deal officially delegates VST ECS as the official Philippine distributor of RSA products — giving local firms easy access to much-needed security solutions in the face of changing threats and vulnerabilities.
"We are deeply honored that RSA chose to partner with us. Today, we are adding RSA to our portfolio of products. As a value-added distributor in the Philippines, we would like to offer different kinds of solutions for the ICT world, especially since digital transformation has always been the topic across all industries," VST ECS Phils Inc. president and CEO Jimmy Go said.
"We are truly excited to be here in launching this partnership together with VST ECS. RSA has been a leader in the cyber security space for over 35 years now. We are here today to promote and advocate a new way of looking at cyber security and digital threats. We truly believe that this partnership will take us to a new level, leveraging on VST ECS extensive channel network," RSA Greater China and Southeast Asia regional director Charles Lim added.
RSA'S line of business-driven solutions
RSA products hold leadership positions in Gartner Magic Quadrants and protect over 50 million identities and over a billion consumers worldwide. With over 700 dedicated security practitioners and a global ecosystem of over 400 partners, RSA delivers unified capabilities in four essential areas of business-driven security: evolved SIEM and threat defense, identity and access assurance, integrated risk management and fraud prevention, as well as services for risk and cyber security.
RSA's business driven security solutions provide a unified approach to managing digital risk that hinge on integrated visibility, automated insights and coordinated actions. The RSA solutions suite include RSA Archer Suite, which empower organizations to manage multiple dimensions of business risk using a single, configurable, integrated risk management platform and solutions built on industry standards and best practices; RSA Fraud and Risk Intelligence Suite for organizations transforming their digital, multi-channel strategy the ability to protect consumers against fraud while improving user experience and reducing transaction friction; RSA NetWitness Platform to provide an evolved SIEM that gives end-to-end visibility across organizations.
Engineered to immediately identify high-risk threats on devices, in the cloud, and across the entire visual enterprise. It also optimizes security processes to reduce attacker dwell time and make analysts more efficient and effective; RSA SecurID Suite provides end users with convenient and secure access to any application from any device. Trusted by more than 25,000 organizations worldwide, RSA SecurID Access delivers a full range of modern, multi-factor authentication methods to protect assets that matter most, from the cloud to the ground; and RSA Risk and Cyber Security Practice to offer a range of strategic services designed to help customers develop business-driven security posture, build an advanced security operations center and revitalize their integrated risk management platform.