Premiere Horizon, LDA sign P71-M subscription agreement
October 19, 2021 | 8:30am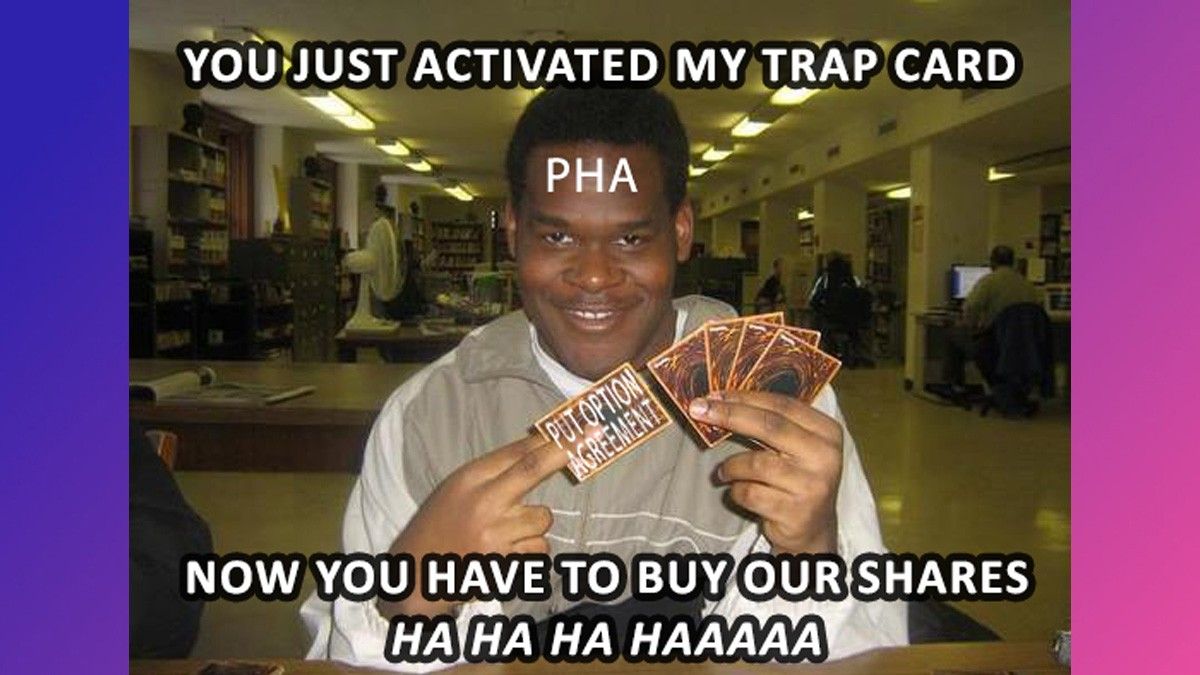 LDA Capital is the distressed lender that signed that odd options-based investment agreement with Premiere Horizon Alliance [PHA 0.79 2.47%] some months ago, which allowed PHA to trigger a sale of its shares to LDA Capital at any time of its choosing, provided that it gave LDA Capital a 10% discount on the volume-weighted average price (VWAP) of PHA's shares.
We learned on July 21, when PHA was trading at P1.42/share, that PHA had given notice to LDA Capital of its intent to trigger a sale. PHA's price immediately tanked over 33% in the following days, down to P0.95/share, and then gradually faded further until yesterday's close at P0.79/share (down almost 45% from PHA's notice to LDA Capital). PHA's disclosure yesterday indicates that it was able to sign the subscription agreement with LDA Capital, stemming from that July notice, for it to purchase 70.835 million shares from PHA at a price of P1.01/share, based on a P1.12/share VWAP at the time of PHA's notice on July 21.
PHA was able to raise over P71 million in equity at a 28% premium over its closing price at the time of the announcement. PHA said that it would use the proceeds for "expansion of its projects in real estate", and for "new investments in fintech and mining".
MB BOTTOM-LINE
I have to give credit where credit is due. PHA managed to play the agreement with the distressed lender to its advantage, triggering the sale at just the right moment to monetize the SquidPay speculation demand that had seemingly pushed the stock up from P0.22/share in Q4 of last year to nearly P3.00/share during the basura-fest the PSE hosted at the beginning of the year. PHA timed its own stock price collapse with skilled precision that I'll (generously) assume came from an amazing sense of self awareness. Top-calling your own stock? Legend.
The cherry on top, though, has got to be PHA's bit about the use of proceeds to expand its projects related to tourism real estate. Epic troll job. What person hit "buy" on PHA this year to get a piece of that sweet tourism development portfolio? I've talked to hundreds of people about PHA, and not a single one has ever talked to me about its pedestrian pre-SquidPay endeavors. So with the market dying to invest in fintech-related investments, and an ownership group that has teased us with bringing SquidPay public through the PHA backdoor for nearly a year, PHA decides to take that chunk of new equity and throw it into tourism. In a pandemic. I love that PHA made lemonade from its own lemons, but I really don't understand the split personality of this company. Are you doing to do this SquidPay thing or what?

--
Merkado Barkada's opinions are provided for informational purposes only, and should not be considered a recommendation to buy or sell any particular stock. These daily articles are not updated with new information, so each investor must do his or her own due diligence before trading, as the facts and figures in each particular article may have changed.