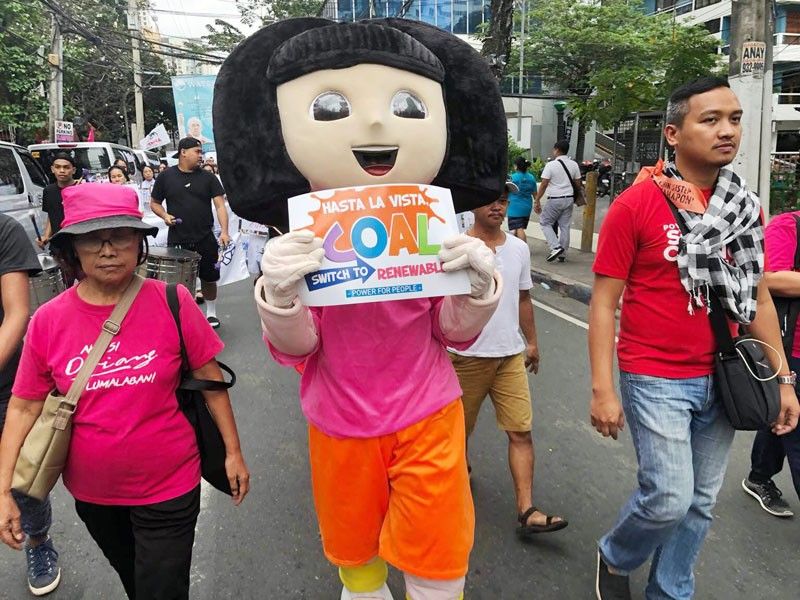 Climate justice groups led by one dressed as Dora the Explorer take to the streets of Manila before the weekend as a climate change conference convenes in Madrid.
Edd Gumban
Coalition calls for end to coal
MANILA, Philippines — Climate justice groups have demanded an end to the use of coal in the country.
Power for People Coalition (P4P) and other climate advocates held actions across the Philippines on Nov. 29, two days before the 25th Conference of Parties (COP) to the United Nations Framework Convention on Climate Change in Madrid, Spain.
In Manila, the P4P advocates included one parading in a costume of the Spanish-speaking cartoon character Dora the Explorer to urge global leaders attending COP 25 to say "hasta la vista" to dirty and costly energy from coal.
"It has been a quarter of a century since COP negotiations to avert catastrophic climate change began. Yet after 25 years of talks and pledges, we are seeing emissions rise to an all-time high," P4P convenor Gerry Arances said, adding that 85 percent of the world's energy comes from coal and other fossil fuels.
National coordinator of the Philippine Movement for Climate Justice Ian Rivera said targets set in past COPs have been lackluster so far.
"Coal makes up 40 percent of global fossil fuel emissions. Climate impacts like Haiyan and Ketsana and the long drought in the Philippines in 2016, the forest fires in California and flooding in Europe – all these should have spurred an iron-handed approach toward coal among global leaders," he said.
The call to end coal was supported by groups from communities across the country, including La Union, Quezon, Palawan, Masbate, Pangasinan, Cebu, Negros Occidental, Leyte, Lanao del Norte, Davao and Cagayan de Oro.
Rara Ada of the Youth for Climate Justice said the youths are taking to the streets of Mindanao.
"We refuse to allow coal and its proponents to continue stealing, swiping away our future and that of generations to come," she said.
The groups, however, reminded people that the great obligation of developed countries in ensuring the shift to a net-zero carbon future does not give the Philippines freedom to recklessly expand coal use.
"Of the 60 countries still seeking to add to their coal fleet, the Philippines is the ninth biggest with 12 GW of coal projects in the pipeline," Arances, also executive director of the Center for Energy, Ecology and Development, said.
Avril de Torres, convenor of the Ecological Justice League of Youth Leaders, said climate-vulnerable Philippines must do its part in cutting emissions and strengthening resistance against coal.
Bishop Gerry Alminaza of San Carlos emphasized that the resistance of communities uniting against coal is vital to the clean energy movement.
Recently, the provincial governments of Negros island issued proclamations against the entrance of coal, thanks to the persistent demands of residents.
Father Edu Gariguez of Caritas Philippines said leaders must do their part in addressing the climate emergency people are facing today.