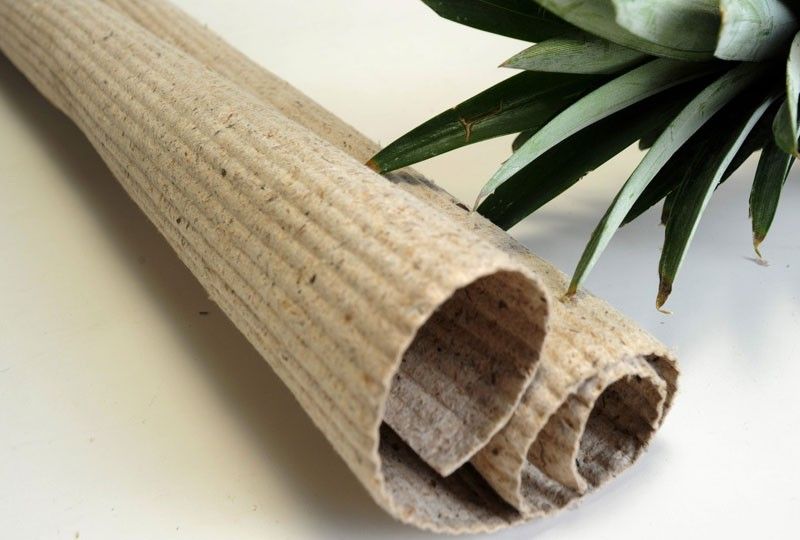 Handout photo shows specialty paper made out of pineapple leaves which is to be presented an award for future impact design this week in New York City.
Alt-plastic pineapple paper gets future impact award
MANILA,Philippines — The Philippine-made Pinyapel, a specialty paper made from discarded pineapple leaves being developed as an alternative to single-use plastic food packaging, bagged a Wood Pencil award from the prestigious Design and Art Direction (D&AD) Future Impact program.
Getting the Wood Pencil gives the Pinyapel development team a place on the D&AD Future Impact Accelerator program, specially designed to accelerate its development in their category area within 12 months.
The D&AD Future Impact Program supports great ideas that have the potential to change the world.
The award will be presented in New York City on Nov. 6. Industry professionals consider the D&AD pencil as equivalent to "career knighthood."
Pinyapel is seen to have a huge impact on environment and sustainability as it is proposed to be a food packaging alternative to single-use plastic.
?The specialty paper is reinforced and print-viable for secondary packaging applications. It may also be used for gift bags, paper cup sleeves and corrugated paper.
Production involves harvesting the discarded leaves from pineapple plantation, drying the leaves under direct sunlight, pulping and rinsing the cut leaves, and pounding the rinsed pulp. Reinforcing solutions are used to improve the mechanical properties of the material. Once dry, the paper sheets are either run in machines for corrugated paper and cup sleeves or cut for paper bag production.
Pinyapel leaves during production and post-consumer can be used as raw materials to produce brown bags and cardboard.
Aside from being included in the accelerator program, the Pinyapel development team will get an opportunity to pitch for funding at the D&AD Festival 2020 to gain support from venture capitalists (VCs) and creatives, a pass to the D&AD Festival 2020, a dedicated space at the Impact exhibition in London, 12-month membership and a year of exposure to a global audience through D&AD and third-party press.
D&AD is a British non-profit that exists to celebrate, inspire and nurture excellence in design and advertising in the United Kingdom and worldwide. More than just being an awards program, D&AD also offers world-class training program, an accelerator platform and festival to support the industry toward creative excellence.
"Pinyapel's recognition in the international scene is a big leap in our move to promote Philippine design and innovation excellence. It highlights the Filipino brand of design point of view that is anchored in 'malasakit' which brings an authentic Filipino design perspective on developing impact-driven solutions that address the problems of today and tomorrow, while protecting the future generations and ensuring a better future for them," Trade Secretary Ramon Lopez said.
Pinyapel was the result of a research and development initiative led by the Design Center of the Philippines on pineapple leaves. After its breakthrough research on developing the material, it collaborated with Nature's Fresh Pineapples for the supply of raw materials; CDO Handmade Paper for paper sheet processing; and Ideatechs Packaging Inc. for paper sheet conversion to food packaging applications.
The Design Center's program aims to produce sustainable, cost-effective and commercially viable materials and contribute to strengthening local businesses.
"Pinyapel is reflective of Design Center's quadruple bottomline approach to circular design. The project began with the intent of maximizing the use of agricultural waste to improve the livelihood of farmers (prosperity), address concerns on dwindling natural resources and offer alternatives to plastic (planet); collaborate with local enterprises (people); and consequently, show the world what the creative and design mind of Philippines can do (purpose)," said Design Center of the Philippines executive director Rhea Matute.
"With the country's desire for a more value creating economy, Design Center hopes to develop and unlock more commercialization opportunities for impactful ideas like Pinyapel," Matute said.
With the challenges faced by the pulp and paper industry in sourcing pulp locally, Design Center's move to develop Pinyapel and partner with local businesses provided an alternative and sustainable source for paper.
It is also seen as an additional income source for farmers in the country's large pineapple production area, with a total hectarage of 63,904 according to the Philippine Statistics Authority's April-June 2019 Quarterly Bulletin on Major Fruit Crops; thus, providing new purpose and value to what was previously considered agricultural waste.
The Design Center's materials research and development program has explored the potential of agricultural waste and otherwise overlooked resources as raw materials for various product applications, impacting the design and value of Philippine products.