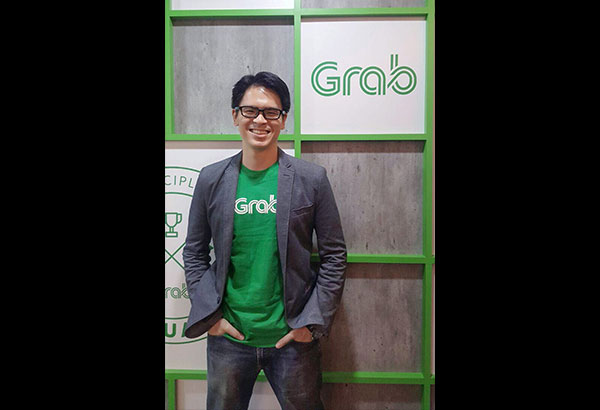 Grab Singapore head Lim Kell Jay briefs visiting journalists about Grab's operations in Singapore during the company's 5th anniversary celebration held in the city state recently.

How crowdsourcing is changing bus transport in S'pore
And lessons Phl can learn from the city state
There has never been an easier time to take buses in Singapore. Seats can now be booked through a state-created ride sharing application and the public can even suggest the creation of new routes.
In the city state that greatly values time and productivity, making transportation seamless and adaptive to the needs of the public has become a highly-collaborative effort between the government, the private sector and the riding public.
Even with the country's efficient public transportation backbone firmly in place, Singaporeans residing in areas far from business districts had to endure multiple bus transfers daily to get to work.
In an effort to shorten commute time and increase worker productivity, the Land Transport Authority (LTA) collaborated with the Infocomm Development Authority (IDA) – the government's technology agency – to develop Beeline, Singapore's first crowd-sourced bus service platform that enables riders to book seats on private buses.
When Beeline was first launched in August 2015, it served only four fixed routes from Marine Parade, Pasir Ris, Punggol and Tampines to the central business district (CBD) during the morning rush hours. In the evening peak commute hours, seats can be booked for buses coming from CBD going back to Marine Parade. Since then, the network has grown to hundreds of routes and is still evolving.
The phone app is available for free in the Apple App Store and Google Play Store. Passengers also enjoy fuss-free payment methods through PayPal or credit card. Commuters can also save more on their rides by purchasing a package ride five times a week at 20 percent off the regular cost. A Beeline bus ticket reflects on the app once payment clears.
Tech driven
Like other ride-sharing apps, commuters can monitor the location of the bus as well as other updates pertaining to their booked ride.
"We invest in technology to help the government deliver better services," said Liu Feng-Yuan, director of data science at IDA, during a recent event hosted by ride-hailing app Grab in the city. "The expansion of mobility is important because it affects everybody. Singapore is quite a stressful place so when people go to work in the morning they have high expectations about their commuting experience."
When Beeline first went live in April 2015, IDA crowdsourced around 3,400 route suggestions and collated transport-related payments made through EZ Link card. A so-called heat map of the transportation sector in Singapore was then created to determine areas with peak demand for bus services.
Through the use of analytics, IDA was able to identify routes that would best serve commute demand and bring good returns to operators listing buses on Beeline.
EZ Link data was also used to approximate commute time during peak hours.
"In Singapore, about 70 percent of people take public transport. There are also concerns from people who want a faster ride. So it's important to provide a full diversity of options," said Liu. "A common determinant of happiness in any city is how long people get to work. And if their commute in the morning is one and a half hours, it's a very big factor."
The result of this innovation: some commuters who had to endure three transfers to their destination now enjoy the comfort of a single bus ride to their workplace.
Beeline now has a dedicated team of 150 software engineers and data scientists to maintain the platform as routes are expanded through crowdsourcing.
Expanding Beeline's route network requires firm commitment from the government and the private sector. For instance, new routes continue to be created based on suggestions from the riding public but the government requires booked rides to be paid in advance. Only when there are enough payment bookings will the new route be created.
"We have to do something more than just get suggestions. We need to get people to commit. So based on the suggestions, possible routes are planned, but they don't start just yet. If only a certain number of people booked tickets for a bus, the route will be triggered," said Liu. "If not enough people booked, they get their money back."
This strategy is aimed at fostering community effort in filling up seats, therefore making the creation of a new bus route worthwhile.
"This helps the commuter. You can tell your friends to take the same ride as you and it also helps the (bus) operator," Liu said.
Beeline's app for bus drivers allows them to communicate with their passengers if their ride will be late or has broken down. IDA also provides real time analytics for bus companies so they can monitor if their drivers are on time or whether the routes well-planned.
"So we really see this as a ground up citizen approach. It's not about the government necessarily planning the right routes but really using crowdsourcing to listen to the passengers to activate routes," Liu said.
Open app
Beeline is an open application that allows transport companies "passionate about innovation" to plug-into the system.
Among transport companies that integrated with Beeline recently is Grab, the Southeast Asian ride-hailing app that is competing with US-based Uber.
The company launched in March GrabShuttle, a fixed-route shuttle that likewise allows commuters to pre-book rides on express private buses. It started with 15 routes and was able to expand it to 47 as of this month, thanks to crowdsourcing.
"We are really happy Grab shared our vision for better options and we think GrabShuttle is a great initiative. We partnered not only with Grab but with a range of major operators and the way the technology is designed is to enable the back end system to be easily plugged into applications. The government is open to collaborating with partners passionate about innovation," Liu said.
Lim Kell Jay, head of Grab Singapore, said GrabShuttle became a hit because Singapore is hungry for the so-called transient transportation services or those that are only available during peak commute hours.
Singapore, a small city state of 5.5 million people, sits on only 719 square kilometers of land 12 percent of which are now roads. The land allocation to roads in this country is already higher compared to five percent in other developed countries in Europe.
"A lot of our land had been dedicated to roads and we can't have any more roads in Singapore. But at the same time, people need to move around, and maybe the population will increase or these will be more economic activities. So we need to figure out a way to make this work," he told visiting journalists from Southeast Asia.
"We also want to move more people in groups instead of just one or two passengers, why not five, why not 10 15 passengers at once. That's why we also introduced GrabShuttle," he said.
Grab, said Lim, takes pride in being able to take part in a collaborative approach with the government to provide for the changing needs of Singapore's transport environment.
"One of the things we do differently from our competitors in the market is we've always taken a collaborative approach with other development partners," he said.