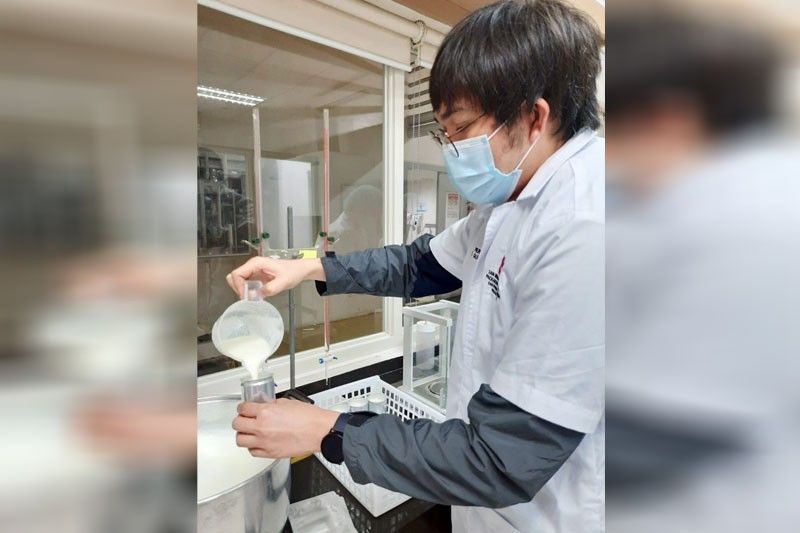 A product development specialist works with carabao milk at San Miguel Yamamura Packaging Corp's. facility in San Fernando, Pampanga.
STAR/File
SMC develops carabao milk packaging
MANILA, Philippines — Diversified conglomerate San Miguel Corp. (SMC) has created a new packaging to extend the shelf life of carabao milk by six months to reach more markets and consumers.
In a statement, SMC said the new packaging developed by its packaging unit would extend the life of carabao's milk without the need for preservatives. This, in turn, will improve the local product's marketability and potentially spur the growth of the carabao industry.
SMC president and COO Ramon Ang said the San Miguel Packaging Group has been working to help carabao farmers find a solution to preserve the freshness of their product.
"This will be a major boost for carabao farmers and the carabao industry in general. The main limitation perishability that kept farmers from maximizing their income and growing their business, has been solved. Now, their products can be sold to more consumers in more markets," Ang said.
"Carabao milk is very nutritious so there is a big market for it. We see this as potentially jumpstarting growth of the carabao industry. We look forward to continuing to help them in any way we can to further grow their industry," he said.
Ang said the company invested in new equipment at its beverage filling facility in San Fernando, Pampanga, to equip it for the new retort process.
The process can also be used for a variety of beverage products, including teas, coffee, soya, and other milk-based products.
Ang said the company is open to farmers, farmer-cooperatives, and small producers of similar products, who may want to learn more about the process, and engage SMC's packaging unit as a toller or packaging provider, to grow their business.
"We are more than eager to work with and help small producers. At the end of the day, this technology was developed with our farmers and entrepreneurs in mind, to help them through this critical period as the economy is still not what it was," Ang said.
"By providing them a way to distribute their products to more customers, we're hoping to help them stay in business, grow their industry, and support food security for our country as we deal with the pandemic," he said.
SMC helped carabao farmer cooperatives mitigate financial losses at the height of pandemic restrictions last year when it bought up their excess milk inventory of 5,000 liters, which were instead donated to poor communities.