DTI orders imports of masks as local supply tightens
February 4, 2020 | 12:00am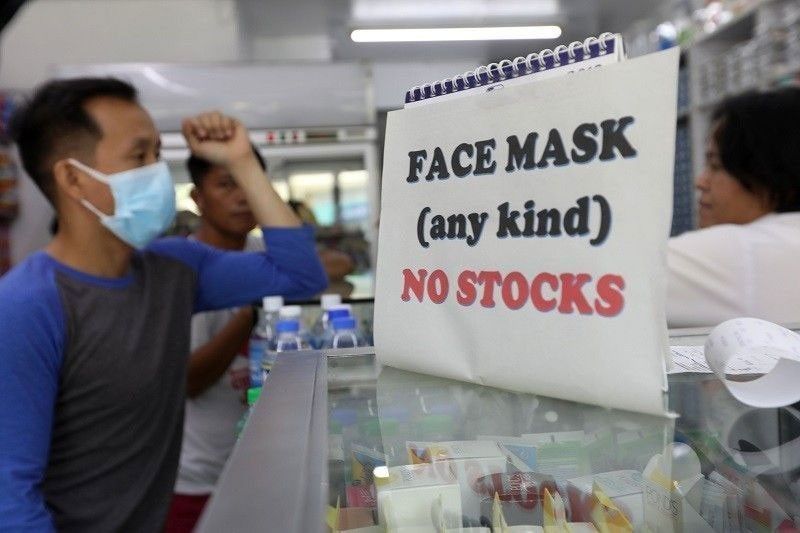 MANILA, Philippines — Amid a surge in demand and tight supply of face masks following confirmed cases of novel coronavirus (2019-nCoV) in the country, the Department of Trade and Industry (DTI) has ordered attached agency Philippine International Trading Corp. (PITC) to start sourcing masks from suppliers overseas.
In a Viber message to reporters, Trade Secretary Ramon Lopez said he has directed the PITC last Friday to start sourcing five million masks from overseas suppliers.
He said the move is intended "to augment local supply, especially the needs of the Department of Health (DOH) and other health workers."
Based on initial information gathered by the PITC, he said suppliers from other countries also have limited stocks of the N88 surgical mask amid a surge in worldwide demand due to the spread of the nCoV outside of China.
In the Philippines, Lopez said Watsons still had stocks, while others like Mercury Drug, SouthStar and most wholesalers ran out of masks as of Friday last week.
He said the drugstores have reported there would be incoming stocks for this week.
Over the weekend, the Philippines reported the first death due to nCoV outside China. The 44-year old man was from Wuhan where nCoV originated.
So far, PITC has been in touch with other countries for supply of masks.
Lopez said countries like India, Pakistan, US and some from the European Union have indicated limited stocks.
Meanwhile, PITC is waiting for feedback from Thailand and Vietnam.
In the meantime, Lopez said Medtecs International Corp. Ltd., the sole producer of masks in the country through its facility in Bataan, has committed to provide masks to the government through the DTI.
He said 100,000 pieces would be given this week, and 400,000 pieces per week thereafter.
"They can commit to supply Philippines around two million pieces per month, until this quantity is needed. While they produce on a limited capacity (80,000 pieces per day), Medtecs is now airfreighting more machines to increase their production capacity," he said.
Earlier, Medtecs has donated 500,000 surgical masks for those affected by the Taal Volcano's eruption.
Apart from getting in touch with suppliers of face masks, Lopez said the DTI is also engaging with parties with core capabilities that can extend to production of masks. These include foreign companies in the country that have the technology, local companies that can readily provide factories and workers, and local producers in garments and sanitary paper or cotton-based products.
"The Department continues to intensify its prices and supply monitoring activities to ensure that masks are sold within the price range set by the DOH, and that offenders will be dealt with the fullest extent of the law," he said.
The prescribed price range for surgical masks is P1 to P8 per piece.
In the event consumers find overpriced masks being sold in the market, they are encouraged to report to the DTI by calling the One-DTI (1-384) Hotline or by sending an email to consumercare@dti.gov.ph.